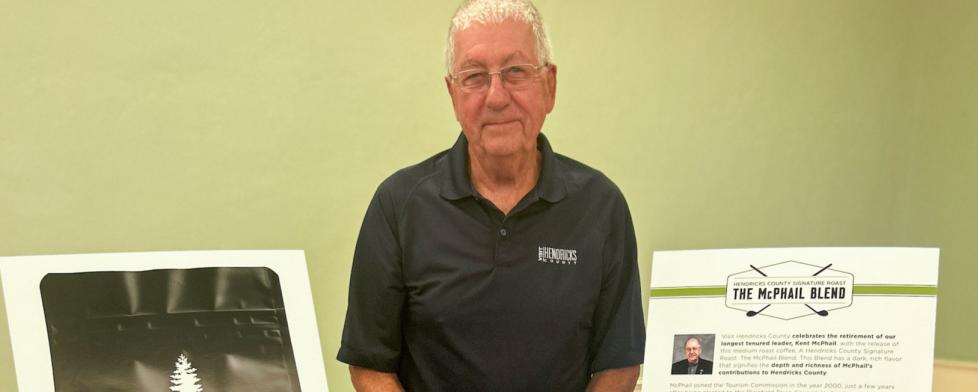 DANVILLE, IN (November 9, 2023) – Visit Hendricks County (VHC) in conjunction with Plainfield-based Timber City Coffee announced today a special, limited-time coffee blend to honor the service of a long-time Hendricks County Tourism Commission and VHC Board member.
Kent McPhail will retire from his post on the Tourism Commission at the end of this year after 23 years, the longest serving member ever. To commemorate his years of dedicated service, Executive Director/CEO of VHC Jaime Bohler Smith unveiled a limited time Hendricks County Signature Roast: The McPhail Blend, a medium roast coffee boasting a rich, dark flavor. It will be available for purchase in store and online at Timber City Coffee through January 2024.
 "This coffee is so great because it really identifies me," McPhail said just after trying it for the first time today. "I believe God puts people in the right places to contribute, and I'm truly blessed to have been here on this commission to contribute to tourism in Hendricks County."
During McPhail's tenure, the county has realized unprecedented growth in every possible tourism metric including visitation, visitor-supported wages, jobs and spending. Having served multiple times as commission president, he was instrumental in advocating for tourism in community planning, purchasing and rehabilitating the current offices of VHC on the historic courthouse square in Danville and helped secure the county's only full-service hotel and conference center in Plainfield.
McPhail's servant leadership goes well beyond his work in tourism. He serves on the Plainfield Town Council and previously worked as the executive director of the Plainfield Chamber of Commerce. The logo for his signature blend includes two golf clubs signifying his love of golf, which he hopes to enjoy more during his retirement, he said.
"It's rare to have such a vested leader after 23 years of service still supporting the mission and vision of an organization," Smith said. "The Tourism Commission and VHC could not have asked for a more dedicated advocate for creating a quality place to visit and live. Kent truly leads by example."
Bags of the McPhail Blend are 12 ounces and can be purchased in whole bean or ground if requested. Timber City Coffee is located at 2481 E. Main St., Suite 190 in Plainfield, and online at TimberCityCoffee.com.
The Hendricks County Convention and Visitors Bureau, Inc., d/b/a Visit Hendricks County attracts visitors to the county by promoting and developing tourism, which stimulates economic growth and enhances quality of life.  For more information, visit our website at VisitHendricksCounty.com or call (317) 718-8750.