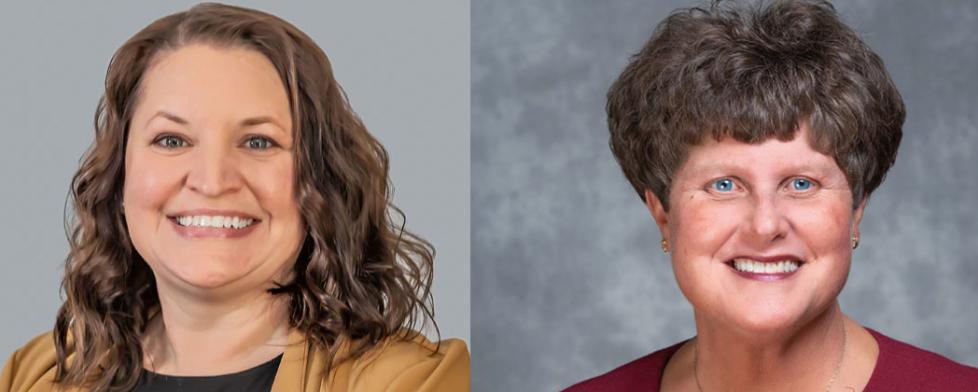 DANVILLE, IN (April 5, 2023) – Two Hendricks County tourism professionals celebrated their 15th year with Visit Hendricks County.
Vice President/Chief Marketing Officer Sarah Ferguson and Senior Manager of Partnerships Tracy Whetstone joined the organization within weeks of each other back in 2008 and have made a difference locally in developing the destination and in helping position Hendricks County as a state leader in tourism.
"VHC is fortunate to have both Sarah and Tracy with our organization for so many years," said Jaime Bohler Smith, executive director/CEO. "It's a testament to the organization, our Board of Directors and our community to have such exceptional community and industry leaders choose to work at Visit Hendricks County for such an extended period of time. The benefits we have received, and continue to receive, are significant."
Ferguson joined Visit Hendricks County as its Marketing Coordinator and has risen through the ranks to become second in command while heading up Visit Hendricks County's Marketing and Sales team. Through many of her efforts including developing and implementing the organization's marketing initiatives and building the company's digital presence, the organization has grown to more than $3 million in innkeeper's tax collections.
Under her leadership, which includes overseeing Visit Hendricks County's tourism research program and setting the marketing goals and objectives, Hendricks County tourism continues to thrive in tracked metrics including visitor spending, increased hotel occupancy and advertising effectiveness. That success correlates directly to boosting the local economy and developing a vibrant community.
She just graduated from the Indiana Tourism Academy as part of its inaugural class making her a Certified Indiana Tourism Professional (CITP). She also serves as Vice President of the Tourism Travel Research Association Central States Chapter. Locally, she is a Leadership Hendricks County graduate.
Whetstone joined Visit Hendricks County as its Community Events Manager and has primarily focused on promoting the destination through group tours and community outreach during her tenure. In many ways, she has become the face of the organization to visitors and locals alike.
In her role at VHC, she partners with local organizations like the YMCA, the local Chambers of Commerce and National FFA to ensure Visit Hendricks County continues to develop communities where people want to visit and live and ultimately share its mission and vision throughout the county.
Whetstone was one of the faces for Super Bowl XLVI, won the Zup's Imagination Award in honor of Tom Zupancic for her community involvement supporting United Way. She graduated from Leadership Hendricks County and was named Hendricks County ICON of the Year in 2021 and Hendricks Regional Health YMCA Volunteer of the Year in 2022. She also serves as vice president of the Avon Chamber of Commerce and sits on many local nonprofit organizational boards and event committees.
The Hendricks County Convention and Visitors Bureau, Inc. d/b/a Visit Hendricks County attracts visitors to the county by promoting and developing tourism, which stimulates economic growth and enhances quality of life. Find us on Facebook at Facebook.com/VisitHendricksCounty and become a fan for updates and reminders, contest info and much more. You can also follow us on Twitter @HendricksCounty or get updates by following or subscribing to our tourism blog at VisitHendricksCounty.com/blog. For more information, visit our website at VisitHendricksCounty.com or call (317) 718-8750.