It seems like all of us grow up with big dreams of what we want to do someday.
Andrea Snyder was no different. Whenever she visited her grandparents in Brown County, Indiana, working alongside them in their candy shop, she would dream of one day owning her own shop.
What child wouldn't?
Fast forward a few decades, and Andrea, now a wife and mother, had a good job as a paralegal at a family law firm. Instead of making and selling candy, she had settled into a secure office job making a good living.
But she wasn't happy. She sat behind a desk 40 hours a week and often had to deal with families being broken apart as couples fought over custody of children or their portion of the estate following a bitter divorce. The job had taken a toll on her.
Fulfilling a Lifelong Dream
So, when the global pandemic hit earlier this year and Andrea found herself at home, she remembered that little girl's big dream. She purchased a steam kettle, just like her grandpa used, and decided she would start a little side hobby of making fudge just like his.
She began by selling it out of her house offering porch pickup. That went so well she opened a booth selling her candy at the Brownsburg Farmers Market.
At that same time, she continued working her paralegal job at home though she admits it made her physically ill whenever she sat down at her computer.
That's when she began weighing her options. Was she really going to consider leaving a good job to open a candy store during a global pandemic?
You must understand Snyder isn't a risk taker, and she had never owned her own business. But she also had been through her own bitter divorce and survived cancer in the past. So, she had seen hard times before and come out ok on the other side.
With the full support from her current husband and the rest of her family, she decided to go for it.
The Fudge Kettle Opens
So within months of starting her 'hobby,' she had signed a lease and held the grand opening Aug. 22 for The Fudge Kettle, 8100 E. U.S. 36, Suite J in Avon, Indiana.
She knew it seemed crazy. But as she tells it, she had a captive audience. People were stuck at home because of the pandemic. They had more time to shop online and quite frankly they were finding reasons to eat their feelings.
The Fudge Kettle always has 15 flavors of fudge on hand though Snyder has recipes for hundreds more flavors, so they change regularly. She always carries a few tried and true flavors like peanut butter fudge and peanut butter chocolate swirl.
What Makes Her Fudge Different
She is very particular about how she makes it following her grandfather's precise standards.
She uses the steam kettle and once all the ingredients are mixed, stirred and cooked properly she pours it into trays to cool. Unlike some candy shops, she never cuts into the fudge until it is ordered by the customer ensuring proper freshness.
Whatever her methods, it works. I tried the fudge myself, and it was fresh, rich and delicious. My family has returned a couple of times since to buy more fudge.
Other Candy
The Fudge Kettle also carries other chocolate candies, Albanese candy, about 27 flavors of Taffy Town saltwater taffy and a large selection of Pez and Jelly Belly. She also offers a lot of nostalgia candy that she remembered her grandfather carrying in his store such as lemon drops, Boston baked beans, rock candy and many others.
Local Artisan Products
But she doesn't stop there. She also has a room full of handmade products from about a dozen local artisans including T-shirts, mugs, earrings, string art, soy candles and much more.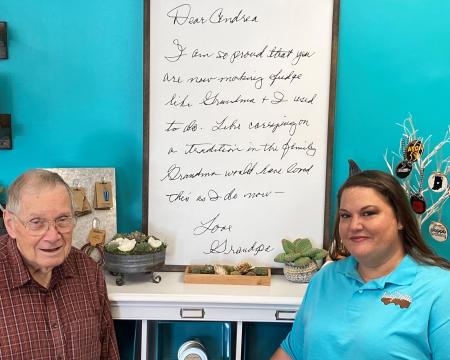 It has been a long, winding road for Snyder and her family, but I for one am glad she made it through all the turmoil that life brought her way to fulfill a childhood dream. Snyder even has a wall hanger in her store that she had made from a handwritten letter given to her by her grandfather.
It reads in part: I am so proud that you are now making fudge like Grandma & I used to do.
The Fudge Kettle
8100 E. U.S. Hwy. 36, Suite J in Avon, Indiana Facebook Website