There are many things about summer in Indiana that I love, and high on that list is fresh produce. Indiana-grown fruits and vegetables are second to none, and our local farmers markets allow me to get them when they're in season and at their most delicious.
However, Hendricks County, Indiana farmers markets offer so much more than produce. There's farm-raised meat and dairy, handmade items and, best of all, a chance to connect with both the farmers that grow our food and others in the community. 
A few farmers markets already kicked off their seasons a few weeks ago. Starting in June, however, every market will open. Where can you go for tasty, farm-fresh delicacies? Hendricks County offers many excellent options:
Danville Farmers Market
The first of our farmers markets to open each year, the Danville's Farmers Market opened May 8 and will operate every Saturday morning through Sept. 4 on the east side of the historic Hendricks County Courthouse Square in Danville.
From 8 a.m. to noon, you can enjoy the scenic square while discovering local treasures like fruits and vegetables, meat and eggs, local honey, handmade soaps, kettle corn and much more.
Hours: 8 a.m. to noon every Saturday through Sept. 4
Location: East and south sides (Washington & Marion streets) of the historic Hendricks County Courthouse Square, Danville
Avon Farmers Market
The Avon Farmers Market is open every Tuesday from 4 to 7 p.m. June 1 through Sept. 14 in the south parking lot of Hendricks Regional Health along U.S. 36 just east of Dan Jones Road.
In addition to delicious local produce, you can usually find food vendors and many other handmade creations. This market usually boasts about 30 vendors.
Hours: 4 to 7 p.m. every Tuesday June through Sept. 14
Location: South parking lot of the Hendricks Regional Health facility,  8244 E. U.S. 36, Avon
Brownsburg Farmers Market
The Brownsburg Farmers Market offers the perfect spot to spend a summer evening. Every Thursday from 4 to 7 p.m., local vendors gather at Brownsburg Town Hall.
The market will run June 3 through Sept. 30, with numerous vendors. You'll find a variety of fresh produce, local meats and dairy and other handmade items. Taken over by the Brownsburg Parks Department and sponsored by IU Health West Hospital, this year's event also will host live music and food trucks on select weeks.
Plainfield Farmers Market
Plainfield has another excellent farmers market, operating every Wednesday June 2 through Sept. 8 at Plainfield Friends Church along U.S. 40.
The Plainfield Farmers Market hosts numerous vendors offering local produce and handmade crafts. This market often has live entertainment as well.
Pittsboro Farmers Market
The Pittsboro Farmers Market started up May 5 at the Pittsboro United Methodist Church, 227 E. Main St and is held every Wednesday evening through Sept. 29. Local vendors offer produce and foods to the community.
This market was started in 2010 by local residents and continues to grow and offer more items. The market operates from 5:30 to 7:30 p.m.
North Salem Farmers Market
The this small-town farmers market attracts several vendors and includes live music and other weekly activities. Held from 5-7:30 p.m. every Thursday right next to Town Hall, the North Salem Farmers Market commonly has vendors sell out of their products, so you may want to arrive early.
It is the newest farmers market in Hendricks County after it was established in 2018. So, it continues to grow and improve each year with a variety of products, produce and even food by Hatchett House BBQ being sold.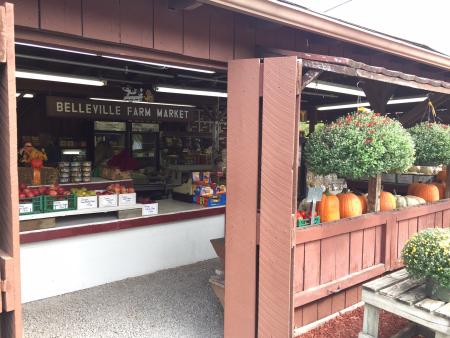 Belleville Farm Market
Open April through October, this family-owned market in Clayton sells locally grown plants, produce, honey, jams and more. The Belleville Farm Market is open every day from 10 a.m. to 6 p.m. and is located at 1882 E. U.S. 40.
Along with your produce, I highly recommend taking home some Amish Country Popcorn. You won't regret it!
As you can see, there's no shortage of locations to find excellent farm-fresh food. Take some time this year to discover just how yummy summer in Hendricks County can be!