There are many things about summer in Indiana that I love, and high on that list is fresh produce. Indiana-grown fruits and vegetables are second to none, and our local farmers markets allow me to get them when they're in season and at their most delicious.
However, Hendricks County, Indiana farmers markets offer so much more than produce. There's farm-raised meat and dairy, handmade items, and, best of all, a chance to connect with both the farmers that grow our food and others in the community. 
A few farmers markets already kicked off their seasons a few weeks ago. Starting next week, however, every market will open. Where can you go for tasty, farm-fresh delicacies? Hendricks County offers many excellent options:
Danville Farmers Market
The first of our farmers markets to open each year, the Danville's Farmers Market opened May 9 and will operate every Saturday morning through Sept. 5 on the west side of the historic Hendricks County Courthouse Square in Danville.
From 8 a.m. to noon, you can enjoy the scenic square while discovering local treasures like fruits and vegetables, meat and eggs, local honey, handmade soaps, kettle corn and MUCH more.
Safety Measures: We already covered the steps the Danville Farmers Market is taking due to the COVID-19 pandemic in a previous blog post. You can read more about that by clicking here.
Avon Farmers Market
The Avon Farmers Market is open every Tuesday from 4 to 7 p.m. June 2 through Sept. 8 in the south parking lot of Hendricks Regional Health along U.S. 36 just east of Dan Jones Road.
In addition to delicious local produce, you can usually find food vendors and a Kid's Zone. It's typically a great spot for a family night out, but they will make changes this year including suspending some of their activities because of the pandemic.
Safety Measures: As I mentioned above, this year's weekly event won't look the same as the Kid's Zone, live events and any other special activities will not take place this year. In addition, this year's market will open with a reduced number of vendors.
Organizers do plan to increase the number of vendors as the season progresses. They also ask that visitors allow vendors to serve them to limit contact and maintain a physical distance from others of six feet while at the market.
Brownsburg Farmers Market
The Brownsburg Farmers Market offers the perfect spot to spend a summer evening. Every Thursday from 5 to 8 p.m., local vendors gather at Brownsburg Town Hall.
The market will run June 4 through Oct. 8, and with numerous vendors, you'll find everything from egg rolls to handmade ice cream though lots of fresh produce remains a staple. Live music and a Kid's Club, where little ones can do fun activities, usually make this a family experience but for safety reasons that will change this year.
Safety Measures: This year's market will have a new vendor layout and crowd-management practices targeted at keeping guests safe. Organizers will also open the market early at 4:30 p.m. for guests 65 and older and those with underlying health conditions. Additionally, they recommend shoppers use masks while at the market though it won't be required. The number of shoppers within the market will be limited to 50 people at a time.
Other changes for safety include:
One-way directional signage will guide shoppers through the market.
Hand-washing/sanitizing stations will be provided at the market entrance and exit, and all vendors will have hand sanitizer available for guests.
Shoppers are asked to stand six feet apart at all times, and only one customer may be at a vendor booth at a time.
All produce at the market will be pre-packaged, and shoppers will be asked not to touch the goods; the vendor will select and bag it for them.
No food or drink at the market.
No animals allowed.
Plainfield Farmers Market
Plainfield has another excellent farmers market, operating every Wednesday June 3 through Sept. 2 at Plainfield Friends Church along U.S. 40.
The Plainfield Farmers Market hosts numerous vendors offering local produce and handmade crafts. This market often has live entertainment and kids' activities as well, but that like the others will change this year.
Safety Measures: Organizers will start with a modified market in June with just a select number of vendors spread throughout two paths on the church property. They are even asking shoppers to preorder and prepay when possible by contacting vendors ahead of the market day.
Other safety measures include:
Shoppers should quickly make their purchase and immediately exit the grounds.
Guests should wait in their car if a line forms.
Masks are recommended but not required.
No pets allowed.
Do not touch products unless you are purchasing.
Wash hands with sanitizer before entering market.
Practice social distancing staying six feet apart.
Children must remain with their parents at all times.
Restrooms will not be available.
Pittsboro Farmers Market
The Pittsboro Farmers Market will start up again June 3 at the Pittsboro United Methodist Church, 227 E. Main St. Held every Wednesday evening through Sept. 30, local vendors will offer local produce and foods to the community.
This market was started in 2010 by local residents, and continues to grow and offer more items. The market operates from 5:30 to 7:30 p.m. 
Safety Measures: Organizers are strongly encouraging both shoppers and vendors to practice safe social distancing guidelines staying six feet apart from other people. Masks will be encouraged but not required, though vendors have been asked to use both masks and gloves. Shoppers will not be allowed to consume food they purchase on site and will be asked to grab their items and leave.
Vendors have been asked to offer preorders if possible and to package items into bundles to expedite the process.
North Salem Farmers Market
The only other farmers market on this list that has already opened for the season, this small-town experience attracts several vendors. Held from 5-7:30 p.m. every Thursday right next to Town Hall at 5 W. Pearl St., the North Salem Farmers Market already had vendors sell out of their products when they opened last week, so you may want to arrive early.
It is the newest farmers market in Hendricks County after it was established in 2018. So, it continues to grow and improve each year with a variety of products, produce and even food by Hatchett BBQ being sold.
Safety Measures: The market provides hand sanitizer on every table and has gloves and face masks available. They ask shoppers to allow vendors to load any items to minimize touching. All tables will be placed six feet apart.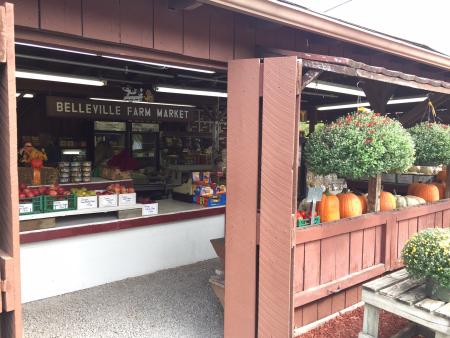 Belleville Farm Market
Open April through October, this family-owned market in Clayton sells locally grown plants, produce, honey, jams and more. The Belleville Farm Market is open Monday-Saturday from 10 a.m. to 7 p.m., and Sundays from 10 a.m. to 6 p.m. and is located at 1882 E. U.S. 40.
Along with your produce, I highly recommend taking home some Amish Country Popcorn. You won't regret it!
Safety Measures: The market has increased its signage reminding customers to adhere to CDC guidelines. They also have provided hand sanitizer and continue to clean counters often.
As you can see, there's no shortage of locations to find excellent farm-fresh food. Take some time this year to discover just how yummy summer in Hendricks County can be!