On the first Friday of every month usually beginning in May, the historic Hendricks County Courthouse Square in downtown Danville, Indiana, provides the perfect backdrop for a true summer tradition. But as we all know, this year has been a little bit different.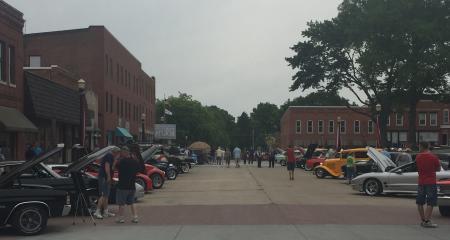 Instead of its traditional start in May, The First Friday Cruise-In returns this Friday, June 5 and will reoccur on the first Friday of each month through October from 5-9 p.m. This free event boasts an impressive variety of pristine cars including classics, antiques, vintage and even muscle. Even a novice, like me, can enjoy this free, outdoor event that will have you reminiscing about simpler times.
Most of the vehicles have the engine hoods propped up and windows down so that you can see what's inside and out. Proud owners also are around and are usually more than happy to tell you about their trophies and the work that went in to restore them. 
I might not know too much about the gorgeous cars I see when wandering one of the Cruise-Ins, but I really admire the attention to detail and time the owners have invested. Getting a chance to slow down, entertain the family and enjoy the summer evening air is also much appreciated.
While the cars take center stage, this event provides the perfect opportunity to take advantage of the evenings in our beautiful town of Danville. Socialize and patronize the many restaurants and shops on and around the square.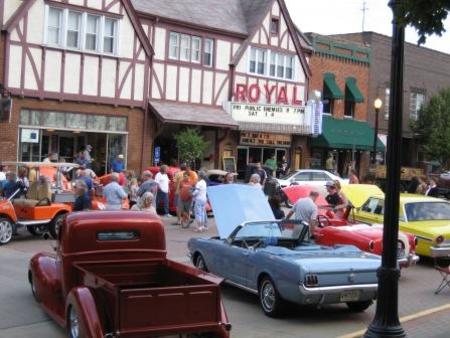 The Beehive offers a variety of sandwiches, salads and delicious coffees or teas and is located just a block east of the square. Right next to it, Two Guys Pies serves up some delicious pizza, wings, sandwiches and a variety of beer and wine. Then there's the legendary Mayberry Cafe on the north side of the square, which takes it's guests back to simpler times and homestyle cooking at its finest.
All three are offering limited dine in and outdoor dining. Click here for our Danville Restaurant Guide for more information on what all the locally owned Danville restaurants are doing.
You can also shop at Seize the Night Designs and Forget-Me-Nots and other stores around the square that are back open.
Bring your favorite folks and wander the square, taking in the well-preserved and beautifully crafted vehicles on display. Chances are, you'll meet some new folks who just might become friends.