The Mayberry Cafe, located on the historic Hendricks County Courthouse Square in Danville, is one of the most iconic attractions in Hendricks County. Both locals and travelers alike have flocked to the Mayberry Cafe for heaping helpings of great food and Andy Griffith Show nostalgia since 1992.
When Brad and Christine Born took over ownership of the restaurant more than 30 years ago, it was called the Main Street Cafe.
It continued under that name for about three years until Brad's love of The Andy Griffith Show led the couple to turn the corner building into a themed restaurant. 
Since it became the Mayberry Cafe, the restaurant has become a destination luring its share of celebrity visitors from Indianapolis Colts players, government officials and even actors from The Andy Griffith Show including the late Jim Nabors (Gomer) and George Lindsey (Goober).
My own parents were all too willing to join me on my latest visit to the Mayberry Cafe to do a bit of research as I prepared to write up the 10 tips you need to know before making your next visit to the Mayberry Cafe. 
1. Iconic Squad Car
Before you even step inside you will be greeted by a replica of Andy Griffith's iconic squad car. Car enthusiasts as well as fans of the show will want to spend some time marveling at this Ford Galaxie squad car.
For years the car was parked right out front of the restaurant. But after a few literal run-ins by other motorists, the beloved car was restored and moved to a safer spot on the side street just west of the restaurant.
Mayberry Cafe's squad car may be the most popular photo op for Hendricks County visitors. So go ahead and take a selfie with the squad car as you do your best Barney Fife impersonation!
In warmer weather, you can even opt to sit outside as you dine and continue checking out this legendary police cruiser.
2. TV Dinner
Once inside, the smell of scrumptious food won't be the only thing to tickle your senses.
TVs in the lobby and placed throughout the restaurant perpetually show reruns of The Andy Griffith Show. 
As you see and hear your favorite characters from the show, you will feel as if you have gone back to a simpler time and found yourself right in the heart of Mayberry.  
A visit to the Mayberry Cafe is the perfect opportunity to relax the no-screens-at-dinner policy. Settle in for some wholesome TV, serving as the perfect backdrop to your family meal.
3. Family Friendly
The Mayberry Cafe appeals to diners of all ages, making it a fabulous family-friendly dining option.
Kids are not only welcome at the Mayberry Cafe, but they instantly become members of Opie's Kids Club and receive a special token if they clean their plates. Then they get to decide how to use their token as they can exchange it for an ice cream sundae or a toy from behind the front counter.
While the younger generation may not be familiar with The Andy Griffith Show, the more senior members of your clan (including my dad) will likely be whistling along to the famous theme song and laughing at Barney Fife's latest caper.
Family bonding is sure to ensue as the older generations recall the good-ole-days for the youngsters, all while gobbling down comfort food.
4. Home Cooking
While references to the iconic TV show is often what brings people in the door, it is the mouthwatering, home cooking that keeps them coming back.
Many diners revel over the fried chicken and made-from-scratch soups. The fresh salad bar also receives high marks.
With numerous pasta dishes, specialty sandwiches, burgers, wraps and plenty of tempting appetizers on the menu you really can't go wrong. Both lunch and dinner options are plentiful and the serving sizes are generous. Those who struggle making decisions may suffer a twinge of anxiety with all the tasty options!
I'm a sucker for a good tenderloin, which might as well be the official sandwich of Indiana. So I quickly settled on Andy's Tenderloin, breaded (as if there is another plausible option!). Add a side of onion rings, and I was in deep-fried heaven!
With just the right amount of breading and cooked to perfection, this may have been the best tenderloin I've ever eaten! If you are a tenderloin connoisseur, I highly recommend giving the Mayberry Cafe a try for their breaded tenderloin alone.
5. Delectable Desserts
My biggest piece of advice when visiting the Mayberry Cafe? Save room for dessert! Or plan a visit to Mayberry Cafe just for their delectable desserts. You won't regret it!
This is not the time to count calories. Instead, order several desserts and pass them around the table so you can try a variety of sweet offerings.
My mouth is watering just thinking about Clara's Peach Cobbler, the Apple Pie Supreme and their Old Fashioned Shakes. Be bold and go for something a bit less traditional and try Ernest T's Mountain Dew Mug Cake!
My parents opted for Aunt Bee's Sugar Cream Pie...and it did not disappoint. We were armed with three forks, and yet somehow this generous slice was still more than we could manage after our hearty meal. My parents were more than happy to take the rest home to enjoy another sweet treat that evening.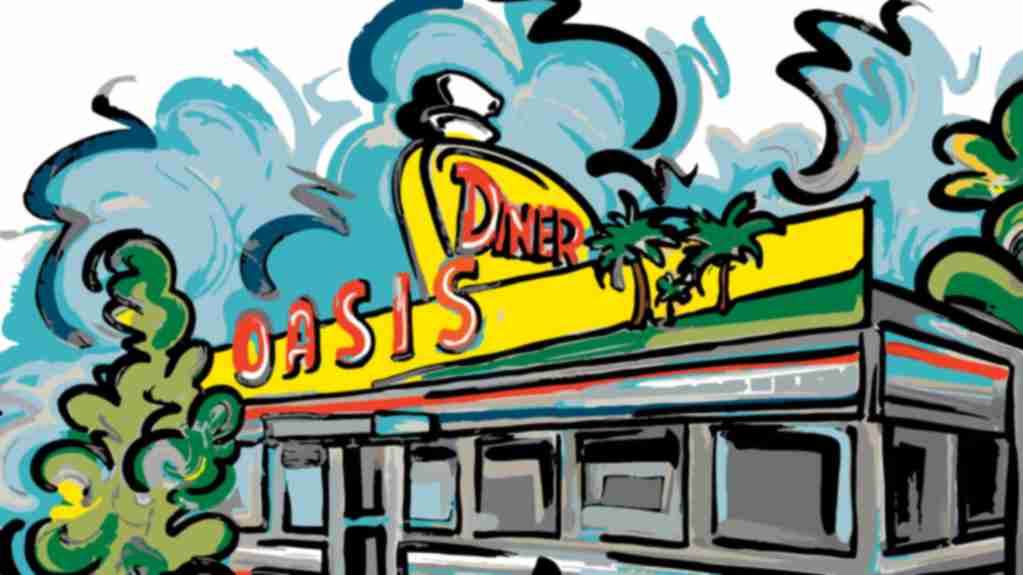 Free Visitor Guide!
Get your insider guide to all things Hendricks County by ordering a FREE Visitor Guide.
6. Specials
While the regular menu provides plenty of mouth-watering options, visitors will also want to check out the specials. You can rest assured that whatever the special is on a given day it will be both delicious and a great deal!
Check the board near the register to learn the daily special as well as today's soups and extra dessert options.
During our recent visit, my mom opted for the special: BBQ Sandwich with 1 side for $8.99. She thoroughly enjoyed her sandwich and the heaping side of mashed potatoes with brown gravy. YUM!  
7. Plenty of Nostalgia
Great food isn't the only thing dished up at the Mayberry Cafe. Around every corner, you will also find a heaping helping of nostalgia. It is worth wandering around the restaurant a bit to check out the memorabilia hanging on the walls and along the staircase.
Recall a simpler time as you spot Andy, Barney, Aunt Bee, Opie, Goober and many others from the famed Andy Griffith Show in pictures hanging throughout the restaurant. 
Special events offer guests a chance to get in on the fun of the good-ole-days. Every Tuesday evening is Goober Hat Night. Wear a wacky hat to dinner and you will be entered into a drawing to win a free meal. 
Every April, the Mayberry Cafe holds an Opie Look-a-Like contest. If you have a boy that is the spitting image of little Opie be sure to pop in. The winner is chosen by the customers each April and the winner gets a special surprise.
8. Merch Available
If you want to take some of that nostalgia home with you, Mayberry Cafe also sells lots of fun merchandise.
Purchase a Barney Fife T-shirt for yourself or a gift for someone special. Summon your inner Opie and stock up on old-school candy from the candy jars behind the counter. Or pick up the Mayberry Cookbook and see if you can create your own fixins as good as Aunt Bee's.
Mugs, hats, jars of apple butter and more are available for purchase as well as DVDs of the iconic tv series set in Mayberry. 
9. Group Friendly
Mayberry Cafe is the perfect spot for large groups to dine and celebrate. In addition to the spacious downstairs seating area, there is also a large room upstairs. 
You will get the same tasty food when dining upstairs in this bright and cheery dining space. Plus you get a great view of Danville's Historic Hendricks County Courthouse just across the street.
The upstairs space can even serve as a private dining area, which seats nearly 80 people. Both stairs and an elevator make the upstairs accessible to everyone.
If you are bringing a large group, reservations are recommended. Call the number below and they will happily accommodate your hungry crowd.
10, Carry-Out and Catering Available
You don't want to miss the opportunity to dine in and soak up all the nostalgia dished up at the Mayberry Cafe.
But when dining in isn't an option, and you need some good home cooking without the hassle and mess of cooking it yourself, just call ahead to place a to-go order. The full Mayberry Cafe menu, from appetizers to full meals to delicious desserts, is available for carry-out.
The Mayberry Cafe also offers catering, which would be perfect for your next family reunion, bridal shower or retirement party. Simply fill out the catering inquiry form found on the website listed below.
Mayberry Cafe
78 W. Main St., Danville, IN, 46122
(317) 745-4067
Hours: 11 a.m.-9 p.m. Tuesdays-Sundays; closed on Mondays
Website