The Mayberry Cafe on the historic Hendricks County Courthouse Square in Danville has become one of the most iconic attractions in Hendricks County serving up a heaping helping of great food and Andy Griffith Show nostalgia since 1992.
Anybody who has visited the Mayberry is well aware of their non-stop reruns of the show running on numerous TVs throughout the restaurant that can be seen from virtually any seat in the house, and the tons of memorabilia from the show that line the walls.
But I have 10 tips you need to know before making your next visit to the Mayberry Cafe. I even have some nuggets that perhaps even Mayberry regulars may not know. Thanks to Brad and Christine Born, owners of the Mayberry Cafe, and their crew for helping us with these insider tips.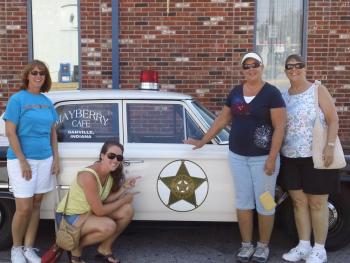 Before Mayberry - When the Borns took over ownership of the restaurant, it was called the Main Street Cafe. It continued under that name for about three years until Brad's love of The Andy Griffith Show led the couple to turn the corner building into a themed restaurant.
Squad Car - The most visible sign that you have arrived at the Mayberry sits out front and has become one of the most common photo ops for visitors. But did you know that the Borns actually have two Ford Galaxie 500 squad cars that they use and both are in working condition. In fact, weekdays the squad car has to be moved every couple of hours to avoid getting a parking ticket. So, that is why you may occasionally find it parked on the side of the building instead of out front.
Family Friendly - Kids are not only welcome at the Mayberry but they instantly become a member of Opie's Kids Club in which they receive a token during dinner if they clean their plate. The difficult part for each child is deciding how to use their token after dinner as they can choose an ice cream sundae or a toy from behind the front counter.
Celebrities - Over the years, the Mayberry has had its share of celebrity visitors from Indianapolis Colts players to the Governor's wife and even actual actors from The Andy Griffith Show including Jim Nabors (Gomer), George Lindsey (Goober) and most recently Maggie Peterson (Charlene Darling).
What about the food? - I often tell people that the food is so good that you would swear Aunt Bee herself was back in the kitchen. My personal favorite is their fried chicken. Other dishes that receive high marks include their fresh salad bar, their amazing made-from-scratch soups (I haven't found one I didn't like yet) and they have perhaps the best tenderloin around. But no matter what you order you can't go wrong.
Specials - On Wednesday nights, they add a pasta dish to their salad bar offerings with their homemade lasagna being one of the most popular.
Wacky Hat Night - Every Tuesday evening if you wear a hat to dinner, you can be entered into a drawing to win a free meal.
Barney Express - Make sure to ask a staff member to see the Barney Express elevator. They are even working on a mural to make it even more interesting.
Group Friendly - If you are bringing a large group, I would recommend making a reservation, but the restaurant has a private dining area upstairs that seats nearly 80 people.
Opie Look-a-Likes - If you have a boy that is the spitting image of little Opie from the show or even has a faint resemblance, make sure to bring them to the restaurant during the month of April to be entered into the annual Opie Look-a-Like contest. The winner is chosen by customers that month and gets a special surprise.