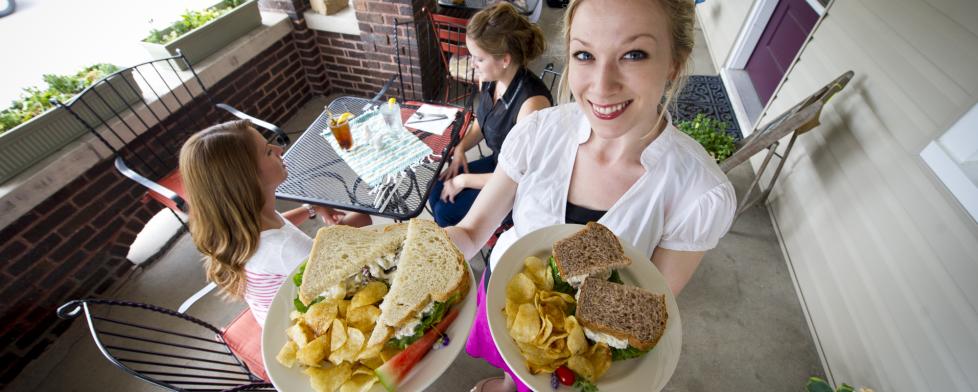 We all know, at this point, that Hendricks County, Indiana, boasts an impressive variety of top-notch restaurants. What you may not have known is that Yelp is now integrated in our listings for that ever-growing list of dining options. So, we had our friends at Yelp help us put together a list of the top-ranked establishments. Whether you're visiting and need some good guidance, or you're a resident looking for some new restaurants to try, this list is one you'll want to read.
The list includes the best restaurants in Hendricks County according to Yelp. We identified businesses in the restaurants and food categories, then ranked those spots using a number of factors including the total volume and ratings of reviews.
I frequent several of these establishments regularly and wasn't the least bit surprised by their ranking, others are restaurants I've been meaning to visit. After reading reviews, I'll make it a point to check them out soon.
Here we go...
Where: 46 S. Tennessee St., Danville, IN 
What: Known for their large portions, friendly service and laid-back atmosphere. Delicious baked goods -- pies, cakes and every kind of specialty dessert you can think of. Try their Cinnamon Roll French Toast for breakfast -- an enormous, freshly-baked plate of heaven. For lunch you'll find a variety of sandwiches and salads. You can't go wrong with any selection. Enjoy any dish with a cup of freshly brewed tea or coffee. There's a reason this restaurant earns the top ranking.
When: Breakfast and lunch. Hours: 7:30 a.m.- 3 p.m. Tuesday-Saturday; closed on Sunday & Monday
Yelp Insight: My favorite breakfast place in Danville or Avon. The cinnamon roll French toast is so good. It's like having dessert for breakfast. The peppered pig omelette is also very good. I could only eat half; it was so big. The staff are super friendly.  They are open for lunch, too. My favorite for lunch is the grilled ham and cheese. The decor has a cozy feel. - Stephen B., North Carolina
Where: 9269 E. U.S. 36, Avon, IN
What: Thai restaurant with a full bar. Elegant atmosphere and impressive food presentation. Known for their authentic Thai dishes with various spice levels to accommodate those that like it hot and those that prefer a milder dish. Their pad thai, crab rangoon and drunken noodles receive rave reviews as well as a number of cocktails.  
When: Lunch and dinner. Hours: 11 a.m.-9 p.m. Monday-Thursday; 11 a.m.-10 p.m. Friday and Saturday; 11:30 a.m.-9 p.m. Sunday.
Yelp Insight: Best kept secret in Avon! I'm here on a Saturday night with no waiting and plenty of tables. We had the Hawaiian fried rice and the spicy basil chicken. Great presentation and flavor! The lemon drop martini has a rich lemon flavor without a strong alcohol taste. Service was awesome. Nice atmosphere for a small restaurant. - Jim L., Central Indiana
Where: 2368 East Main St., Plainfield, IN
What: Known for their homemade crust, value and size options. Delicious New York-style pies, fresh ingredients, wings, appetizers and salads. Their "logs" get rave reviews -- a flaky crust roll available in savory varieties such as pizza or ham and cheese or dessert varieties including cheesecake.
When: Lunch and dinner. Hours: 11 a.m.-10 p.m. Tuesday-Thursday; 11 a.m.-11 p.m. Friday-Saturday; 11 a.m.-10 p.m. Sunday; closed Monday.
Yelp Insight: Their pizza is GOOOOOOOD. My sister and brother in law introduced me to this place and also really like their calzones, logs, salads, pretty much everything. - Valerie S., Fort Worth, TX
Where: 1447 E Main St, Brownsburg, IN
What: Delicious pizza, pasta, salads and calzones. Known for their fresh toppings and variety. Rave reviews for their "Big Noony" which can literally feed a crowd. Fast and friendly service.
When: Lunch and dinner. Hours: 11 a.m.-9 p.m. Sunday-Thursday; 11 a.m.-11 p.m. Friday-Saturday.
Yelp Insight: I don't think that this place could make a bad pizza if they tried. The crust is really good and they make it very easy to customize your combination of toppings to any pizza they offer.  Even when they are really busy, the speed at which they can get your order out to you is surprising most of the time. The "Pile Up" is my favorite, but there is a good selection of different pizzas. This place also offer subs, wings, pasta, breadsticks, etc., if pizza isn't calling your name. - Chris P., Indianapolis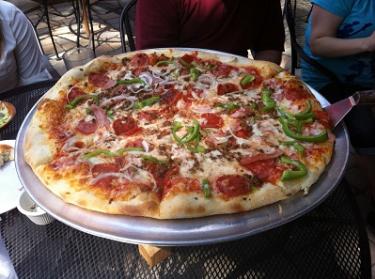 Where: 5 S Broadway St., North Salem, IN
What: Known for their small-town charm, awesome service and great dining atmosphere -- both indoor and patio. Great specials including draft beer. Delicious pizza, fresh ingredients and great price with a pizza by the slice option. Large, fresh Italian entrees. Gluten-free options. Great salads and massive calzones. Cash only.
When: Lunch and dinner. Hours: 10:30 a.m.-9 p.m. Monday, Wednesday and Thursday; closed Tuesday; 10:30 a.m.-9:30 p.m. Friday-Saturday; 10:30 a.m.-8 p.m. Sunday.
Yelp Insight: Great little drive through the countryside from Avon to North Salem and the best pizzeria around. Great atmosphere, friendly service and delicious food. Pizza, subs, pasta, wonderful appetizers and desserts. Super reasonable prices BUT no credit cards. If you haven't experienced Perillo's yet, do yourself a favor and try it. I think you will be pleasantly surprised. - Kathy H., Indianapolis
Where: 9655 E. U.S. Hwy 36, Ste. C, Avon, IN
What: Authentic Vietnamese restaurant. Known for their spring rolls, pho -- offered with a variety of meats and in a variety of sizes, authentic soups and sandwiches. Plenty of vegetarian options. Friendly service and excellent specials.
When: Lunch and dinner. Hours: 11 a.m.-8:30 p.m. Monday-Thursday; 11 a.m.-9:30 p.m. Friday-Saturday; closed Sunday.
Yelp Insight: Pho 36 is quickly becoming one our regular stops if we're looking for quick, cheap eats on the west side. Their pho is flavorful and delicious, and the large is plenty for two to share, and it is filling when paired with a banh mi sandwich.  The staff is courteous and the establishment is clean. - Sabrina S., Indianapolis
Where: 411 N. State St., Lizton, IN
What: Pork, chicken or beef smoked to perfection. On a bun or on a plate, it all receives praise. Unique sides such as tomato and zucchini salad, cheesy grits and ranch beans. Great beer selection. Traditional southern cooking, coupled with small-town charm. Don't forget dessert -- their banana pudding and pecan pie get rave reviews. 
When: Lunch and dinner. Hours: 11 a.m.-9 p.m. Monday-Saturday; closed Sunday.
Yelp Insight: Brisket sandwich is delicious and yummy! Cheese grits and potato salad are amazing as well. I have tried to come before and the place is always packed! Finally today I was able to get a seat and was not disappointed definitely will be back to try the other meats they offer. The bourbon pecan pie is the perfect choice to top off this delicious meal! - Kim F., Avon, IN
Where: 814 E Main St., Brownsburg, IN
What: Authentic Thai cuisine. Known for their generous portions, flavor and fast service. Their crab rangoon, spicy curry dishes, variety of pad entrees, crispy spring rolls and wine selection are highly rated. Not greasy and full of flavor.
When: Lunch and dinner. Hours: 11:30 a.m.-9:30 p.m. Monday-Thursday; 11:30 a.m.-10 p.m. Friday-Saturday; noon- 9:30 p.m. Sunday.
Yelp Insight: So a little southeast Asia has popped up right here in the southeast Burg. Thai Basil took an end-of-life, deep-fried fish LJS and gave it new purpose. From Pad Thai to Spring Salad Rolls to Hawaiian Fried Rice and all Thai edibles between and beyond, this nationality conversion is a welcome addition to the Burgs food scene. Our multiple forays have been nothing but Thai-a-licious...and don't forget the wine service!  Yea! - Funk D., Brownsburg, IN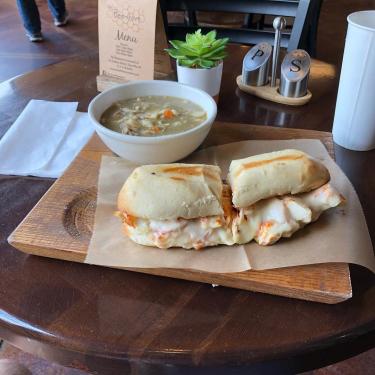 Where: 55 E Main St., Danville, IN
What: Known for their delicious desserts, tea, specialty coffees, build-your-own salads, quiche, soups and sandwiches. Artisan market, small grocery items and carry-out casseroles available in their freezer. Fresh, homemade and naturally sweetened entrees and desserts. Big portions and big flavor. Try any sandwich that includes their aioli. 
When: Breakfast, lunch and dinner. Hours: 7 a.m.- 8 p.m. Monday-Saturday; 9 a.m.-4 p.m. Sunday.
Yelp Insight: I can't say enough good things about The Beehive! Such a cute place with a cozy atmosphere and friendly staff. If I'm in the mood for something sweet, I love to grab a Nutella Latte & a dessert. The desserts are always phenomenal! I'm also obsessed with the Turkey Club sandwich, but I've found you can't really go wrong with any of your options. If you're in the Danville area, I would highly recommend stopping by this sweet local shop! - Sara T., Indianapolis
Where: 7900 U.S. 36, Avon, IN
What: Authentic Greek dining with fun, beautiful atmosphere and friendly service. Rave reviews of their gyros, stuffed grapes, fresh Tzatziki sauce, appetizers, feta pasta and lamb dishes. Their flaming saganaki - that they light at the table - is a must. 
When: Lunch and dinner. Hours: 10:30 a.m.-11 p.m. Monday - Sunday.
Yelp Insight: Had a great lunch. We ended up with so much food. Did the flaming cheese, which they light at your table. For lunch we split a Greek Salad, appetizer dip sampler and a gyro platter. I thought we would need 2 platters, but we ended up with 3 to-go boxes as it was. The cheese was really good and the gyro was tender and I really enjoyed it. I liked it came with 3 sides. The green beans were really tasty and the potatoes with tomatoes were excellent. We got there after lunch, but before dinner and it wasn't too busy. Service was fast and friendly. It got very busy as we left. I wish we had left room for dessert. - Brian C., Carmel, IN