Mayberry in the Midwest
For the 6th year in a row, the Mayberry in the Midwest festival is returning May 17 - 19. As you are planning your vacations for 2019, make sure you plan a visit to Mayberry right here in Danville, Indiana. You won't want to miss out on all the fun activities and entertainment at this event!
If you are an Andy Griffith Show fan living anywhere in this country, it's highly recommend to visit to Hendricks County  when this festival rolls into town. 
Tribute Artists & Special Guests
Experienced tribute artists from all over the country will reprise some of the show's iconic roles such as Floyd the Barber, Otis, Barney,  and Gomer and many others. You'll want to see these artists in action as they are the absolute best at what they do. At Mayberry in the Midwest, the tribute artists will tie the festival together staying involved with virtually every aspect of the weekend including performing skits on stage, mingling with the crowd, posing for pictures and signing autographs.  Click here to view the complete list of tribute artists and special guests expected in 2019.
Tribute Artists
Terry Varvel as Barney Fife
Mike Haviland as Sgt. Carter
Jeanette Kleiber as Aunt Bee
Tim Pettigrew as Goober Pyle
Michael Oliver as Gomer Pyle
Any  more!
Special Guests
Maggie Peterson Mancusso -  "Charlene Darling"
Dixie Griffith - Any Griffith's Daughter
Ronnie Schell - "Duke Slater" in Gomer Pyle, U.S.M.C
Any more!
Special Events
Meet & Greet
Sixth  Annual Mayberry in the Midwest Meet & Greet Dinner will be held at the Hendricks County 4-H Fairgrounds & Conference Complex on Friday, May 17. This event is a ticketed event and tickets will be available 120 days before the event. Visit the Mayberry in the Midwest website for more details.
Event Schedule
There are a number of events throughout the weekend that you can stop by to see, including the Tribute Artist Show and Squad Car Nationals. There will also be a concert by The Grascals. Visit the Mayberry in the Midwest website for the most updated schedule of events.
Mayberry Mania
Some of the other featured activities that weekend include a Mayberry Parade on Saturday morning that will begin at Broadway and Jefferson streets and head north ending at the Courthouse Square. The parade will feature the tribute artists, Opie look-alike contestants, a band, a loaded goat (those familiar with the show will get this reference) and more surprises. Mayberry Downhill Derby will begin on Sunday morning with heats in Ellis Park. Participants can enter one of two categories – a competitive division for experienced Soap Box Derby racers and a just for fun division for those of you who just want to build something from scratch and go down the hill. Other ideas for the just for fun division include organizations, groups or families who may want to compete against each other for bragging rights. Complete rules and regulations can be found on the website.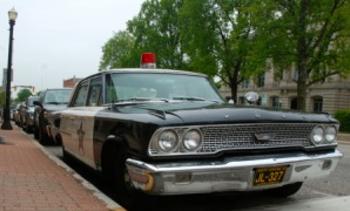 Mayberry car
Opie's World will keep the kids busy with fun activities. Food and craft vendors will be on hand and a must-see Squad Car Nationals will finish off the weekend on Sunday. That Squad Car Nationals event will feature squad car enthusiasts from all over the country competing in two-person teams (a driver and passenger) through an obstacle course in Ellis Park complete with Mayberry-themed stops such as Barney inspecting drivers to assure they are worthy drivers. Keep watching for more Mayberry in the Midwest stories over the coming weeks as we count down to this inaugural event.