Mayberry in the Midwest
For the 6th year in a row, the Mayberry in the Midwest festival is returning May 17 - 19. As you are planning your vacations for 2019, make sure you plan a visit to Mayberry right here in Danville, Indiana. You won't want to miss out on all the fun activities and entertainment at this event!
If you are an Andy Griffith Show fan living anywhere in this country, it's highly recommended that you visit Hendricks County when this festival rolls into town. 
Mayberry Cafe
This festival might not even exist if it wasn't for the landmark Mayberry Cafe, located on the northwest corner of the historic Hendricks County Courthouse Square. This destination restaurant has become a fan favorite as people travel from all over the globe annually to eat and experience this one-of-a-kind tribute, which inspired the May festival. 
The unique cafe has become a famous culinary ode to the folksy 1960s TV show. Everything any Andy Griffith Show fanatic would expect from the country wallpaper to the down-home vittles that you would swear Aunt Bee made herself makes this place a fun stop for any age. Add to that some unexpected gems, such as multiple televisions airing non-stop episodes of the show and even Barney Fife's police cruiser parked out front, make it a bucket-list experience for any fan.
Of course, finding an open spot inside the Mayberry Cafe during the weekend of the festival can be quite a chore. But don't worry, the restaurant is open year-round to enjoy.
Tribute Artists & Special Guests
Experienced tribute artists from all over the country will reprise some of the show's iconic roles such as Floyd the Barber, Otis, Barney, Gomer and many others. You'll want to see these artists in action as they are the absolute best at what they do.
At Mayberry in the Midwest, the tribute artists will tie the festival together staying involved with virtually every aspect of the weekend including performing skits on stage, mingling with the crowd, posing for pictures and signing autographs. 
Click here to view the complete list of tribute artists and special guests expected in 2019.
Special Events
There are a number of events throughout the weekend that you can experience, including:
Mayberry in the Midwest Meet & Greet Dinner
Tribute Artist Show
Squad Car Nationals
The Grascals concert on the Free Stage
and much more!
Visit the Mayberry in the Midwest website for the most updated schedule of events.
Mayberry Mania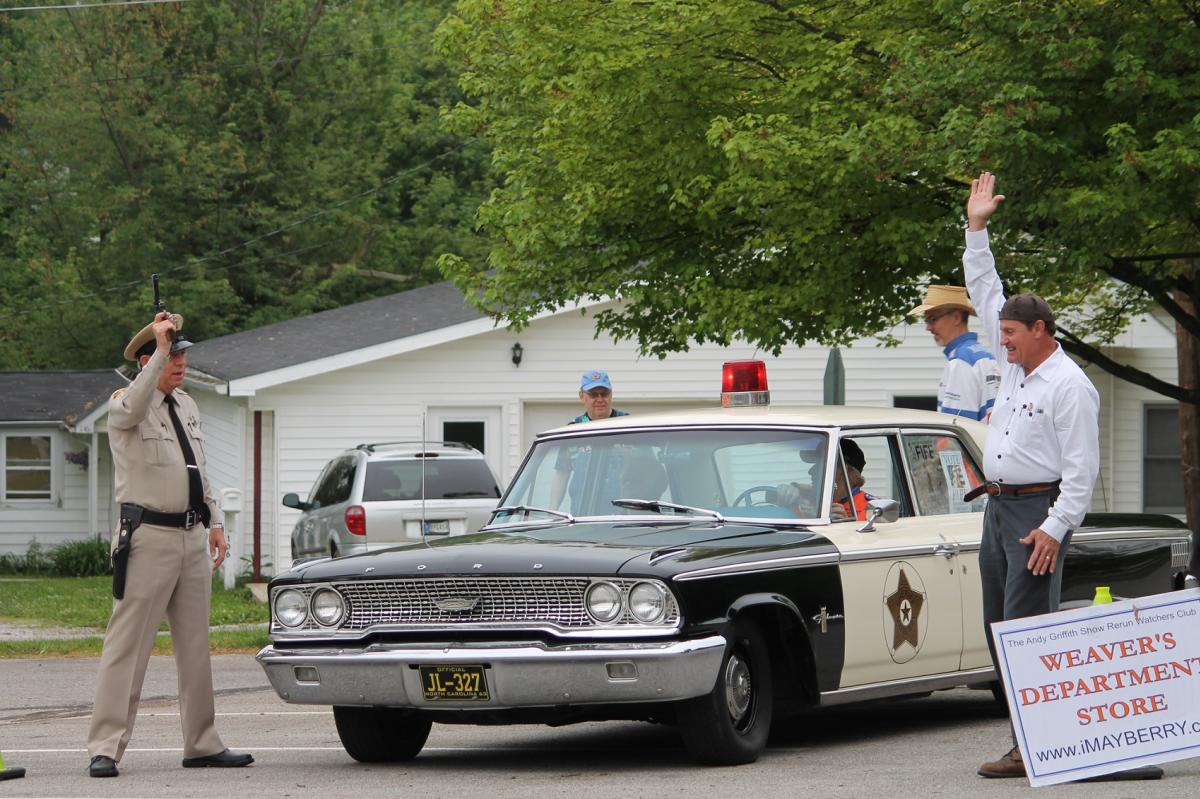 Some of the other activities that have become fan favorites include :
Mayberry Parade 
Mayberry-themed contests
Concerts on the FREE Stage
 and more surprises! 
And don't forget to check out Opie's World for the kiddos and the many wonderful food & craft vendors that will be around all weekend.