My college days may be long behind me, but I could still be happy eating pizza for every meal if given the option!
Here in Hendricks County, we have lots of local pizza shops dishing up unique varieties of pizza. I was happy to take on the assignment of eating my way through several pizzerias to help identify some of the top pizza establishments.
I also got a little help from Visit Hendricks County's social media followers, who were happy to chime in and share their favorite pizza spots and what makes each one a fan favorite.
After all this delicious research, I've come up with seven sensational pizza places in Hendricks County. That's one for every day of the week! 
Let's dig in!
1. Two Guys Pies, Danville 
This pizza spot is located next to the Beehive in downtown Danville. This family-friendly pizza place is also a family affair as the Beehive and Two Guys Pies are owned by members of the same extended family. In fact, the two guys who inspired the restaurant's name are the twin sons of the owner of the Beehive.
Popular menu items include their 18-inch pizza with 36 square slices (perfect for your next party) as well as their boneless wings. They also boast a nice salad bar, pizza rollers and wraps as well as cauliflower and gluten-free crusts. 
I recently made my first trip to Two Guys Pies and can now highly recommend the BBQ pizza. Lucky for me, I visited on a Thirsty Thursday, which meant my glass of Moscato was half off!
If you are looking for something truly unique, try their new beer cheese pizza. This pie has a beer cheese base and is topped with onions, green peppers, Italian sausage, sharp cheddar and mozzarella cheese. Yum!
Two Guys Pies offers dine-in and carry-out food service.
Two Guys Pies
55 E. Main St.
Danville, IN 46122
(317) 745-6434
Website
2. Papa's Pizzeria, Brownsburg
I'm kicking myself for waiting so long, but I finally tried Papa's Pizzeria recently, and it did not disappoint. What surprised me the most was the amount of food I received!
I debated between the 16-inch and the 20-inch pizza and ultimately opted for the smaller pie. It was so much bigger than I expected. My family was satisfied and we still had leftovers. Because who doesn't love leftover pizza?!
I also appreciated we could order different toppings on each half. I know we aren't the only family in town who can't agree on the same pizza toppings!
Papa's Pizzeria offers so much more than pizza, so to further my research I also ordered breadsticks for my daughters and the Papa's Sampler, which includes bruschetta, mozzarella sticks, ravioli fritti and calamari. I really enjoyed their pizza, but the sampler was also quite tasty and rounded out my meal very nicely.
They also offer a ton of specialty pasta dishes, so you can bet I'll be ordering from Papa's Pizzeria again soon! 
Papa's Pizzeria
1430 N. Green St.
Brownsburg, IN 46112
(317) 858-2469
Website
3. Amo Pizza,  Amo
I'll admit, I haven't made it to Amo Pizza yet. But I've heard such great things about this place, so it is on my list to check out soon.
If you like your pizza loaded with tons of toppings I hear the Around the World Pizza is out of this world! It includes sausage, ham, pepperoni, Italian sausage, beef, bacon, mushroom, onions, black olives, green peppers, banana peppers, green olives and jalapenos. That's a lot of toppings!
A couple of unique pies I have my eye on are the Cheeseburger pizza and the Angry Bird, which includes buffalo sauce, chicken and lots of other tasty toppings. 
If for some reason you aren't in the mood for pizza, they also offer a wide variety of tasty sub sandwiches as well as breadsticks and salads. This primarily is a take-out option, but they do have limited seating inside the back of the town's general store.
Amo Pizza
4964 Pearl St.
Amo, IN 46103
(317) 539-2555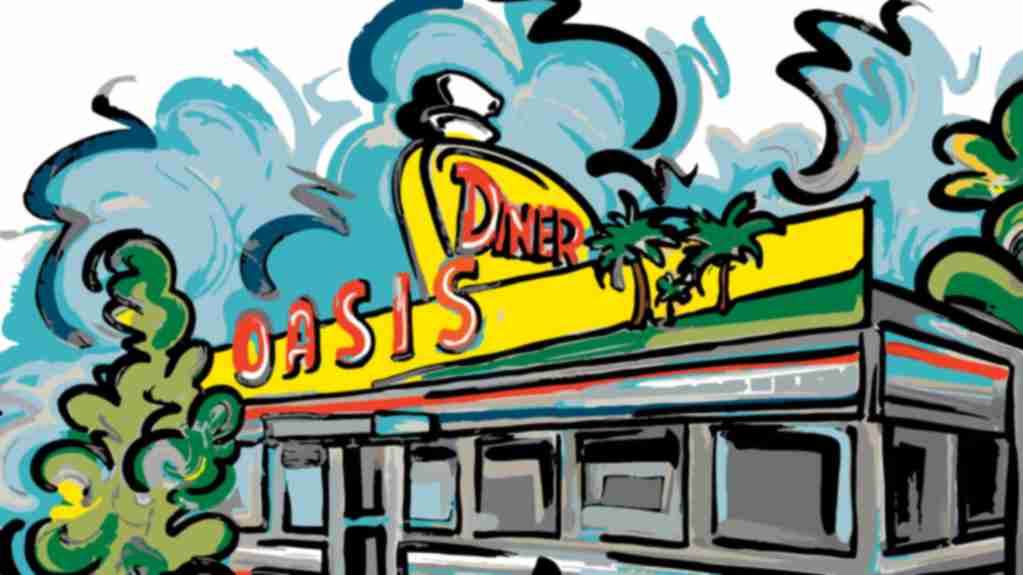 Free Visitor Guide!
Get your insider guide to all things Hendricks County by ordering a FREE Visitor Guide. Download or order a print copy today!
4. Rock Star Pizza, Brownsburg
The owners, Ron and Colby Mathews, are very active in the Brownsburg community, and they have a passion for pizza.
Rock Star Pizza offers all the usual pizza options as well as lots of unique gourmet pizzas, such as the Mac Daddy which tastes like a Big Mac. The Caribbean Twist pizza is another fun option that has a honey mustard base with ham, bacon and their homemade salsa. 
If you can't decide which pie to order, stop in for their pizza buffet from 11 a.m.-2 p.m. Monday through Friday, and try several varieties.
If you are on a keto kick, then you will definitely want to pop into Rock Star Pizza. They make their own keto pizza crust in-house and also offer several keto desserts. 
I've been told that people drive from miles around to get Rock Star's keto pizza, with some coming from as far as Illinois. It is even available as a take-and-bake, and it freezes well, so you can stock up.
Along with pizza, Rock Star offers a rock-solid salad bar that also includes soup. They also make their own ranch and croutons.
Rock Star Pizza offers carry-out, curbside pick-up and delivery.
Rock Star Pizza
922 E. Main St.
Brownsburg, IN 46112
(317) 858-1188
Website
5. Perillo's Pizzeria, North Salem
If you mention pizza and Hendricks County in the same sentence, you can bet that Perillo's will be at the top of many pizza lovers' list of recommendations.
Located in historic North Salem on the west side of the county, Perillo's is a favorite of the locals who come back over and over again to feast on pizza and many other mouthwatering Italian dishes.   
This family-owned pizzeria prides itself on scratch-made menu items with the critical ingredient being love. I could really go for some of their garlic rolls right about now!
You can also rest assured that the pizza you get at Perillo's is authentic and on par with what you would find in Italy. In fact, when I reached out to get information for this article the owners were visiting family in Italy, no doubt enjoying some fine Italian cuisine themselves!
Perillo's also offers a selection of wine and domestic and imported bottled beer. Whether you order pizza, pasta, a salad or a sub, you won't be disappointed at Perillo's, and you will likely turn into a repeat customer!
They only accept cash as payment, so come prepared with cash and your appetite.
Perillo's Pizzeria
5 S. Broadway St.
North Salem, IN 46165
(765) 676-4171
6. Pizzaville, Avon
If you are in Avon and craving a slice, head to Pizzaville off Rockville Road on the far west side of town.
Pizzaville was opened in 2013 by owners Jesse and Jeet Lalli. Jeet is a master pizza maker for more than 24 years.
I've stopped in this pizza joint for lunch a few times while attending conferences nearby and was very pleased with the price and quality of the food as well as their efficiency. Sometimes you need a quick slice or two that will sustain you for the rest of the work day, and Pizzaville did just that.
Not to start the most controversial pizza debate there is...but Pizzaville does offer a Hawaiian pizza, which includes pineapple. (To be fair, many of the pizza shops included in this article seem to side with those who believe pineapple is a legit pizza topping!)
Pizzaville also offers catering services as well as delivery.
Pizzaville 
5201 E. U.S. 36
Avon, IN 46123
(317) 386-8320
Website
7. Nonna's by So Italian, Plainfield & So Italian! Brownsburg
For the last pizza spot on my list, you get a two-for-one!
Nonna's in Plainfield is owned by Mauricio Trincado and Heva Espay, the daughter and son-in-law of the owners of So Italian! in Brownsburg. Pizza runs in this family's blood!
The recipes have been passed down by Heva's great-grandma. For those who may need to brush up on their Italian, Nonna means grandma.
While the two pizza shops dish up their own unique atmosphere and menu items, you will get the same quality and family-friendly service at each location. Whether you are in the mood for pizza or fancy some pasta or a calzone, you will have lots of great options to choose from at both establishments.
You can even check out their extensive gluten-free and keto options. But save room for dessert! Both restaurants feature cannoli and tiramisu, two classic Italian desserts. I've made a mental note to get to Nonna's to try out their Nutella pizza.
Since I live in Brownsburg, I've visited So Italian! many times, but I think it's time I get to Plainfield and continue my pizza research at Nonna's.

Nonna's by So Italian
5020 Cambridge Way
Plainfield, IN 46168
(317) 839-3777
Website

So Italian
515 E. Main St.
Brownsburg, IN 46112
(317) 858-4777
Website
Be sure to check each pizza place's website or Facebook page to check for current hours, menus and deals. This wasn't intended to be a comprehensive list of spots to enjoy great pizza in Hendricks County. To see more, visit the pizza page on the Visit Hendricks County website.