Hendricks County offers an incredible variety of dining options, and Stone Creek Dining Company in Plainfield is one option you want to consider for your next lunch or dinner out.
But don't be surprised if it quickly becomes one of your favorites.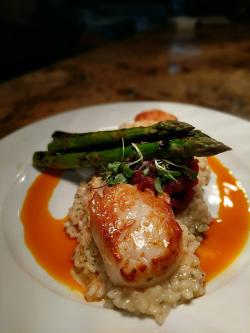 Whether you are gathering with family, meeting a friend or enjoying a date night, Stone Creek offers the perfect dining experience. 
I've visited numerous times over the years and have yet to be disappointed. The restaurant is welcoming -- elegant, yet comfortable -- and always well maintained. They offer top-notch service and amazing food. 
Additionally, Stone Creek is conveniently located in The Shops at Perry Crossing in Plainfield, which only further encourages a date-night dinner before a movie or a long lunch with a friend after some shopping.
A few years ago, my husband and I were enjoying a date night dinner at Stone Creek and planned to see a movie after eating. We enjoyed the ambiance at Stone Creek so much that we skipped the movie and opted to continue our dinner and drinks instead. 
We've also looked forward to meeting friends for dinner at Stone Creek. It provides a setting that naturally encourages leisurely dining. They have tons of great appetizers and drinks to catch up with friends or relax after a long week. We take our time and enjoy the company and the food.
Stone Creek also offers outdoor dining when the weather and season permit. Obviously, this option lends itself well to a date night, but it's also the perfect spot to enjoy a long lunch with a friend. I like to get some shopping in and then eat at Stone Creek -- always outside, when possible -- for a long lunch and a glass of wine. It's perfect.
Stone Creek changes up their menu often and offers specials. None of their dishes come out bland or basic here. I don't think I've had a dish at Stone Creek that didn't include some sort of sauce, jam or seasoning that was so flavorful and unique.
My husband and I prefer the shrimp cocktail or the calamari for our appetizer. For dinner, I think the sea scallops and the lump crab cakes are near perfection, and I'm a bit of a crab cake snob. The mister prefers the combo dinner with a filet mignon and beer-battered shrimp.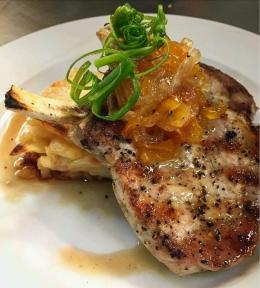 You'll also find pork chops, chicken and ribs.
Perhaps you're a bit of a food connoisseur and prefer more creative dishes? You'll find plenty here. Like the filet medallions with lobster risotto or the orange miso salmon. 
I could make a meal or two out of their sides alone. White cheddar au gratin potatoes, dirty wild rice with bacon, baby spinach and mushrooms, red pepper cole slaw and lobster mac & cheese. Seriously?
I have to admit, the grilled asparagus is probably my favorite. 
Either as a starter or as part of a light lunch, I never visit Stone Creek without ordering their delicious house salad topped with sunflower seeds and alfalfa sprouts. Need I say more? It's so simple, yet somehow so hard to duplicate in my own kitchen.
You'll also find a variety of lighter fare and lunch favorites including salads, soups and sandwiches. 
No matter the meal or dish, you'll find that it is perfectly presented and flavorful.
Stone Creek Dining Company
Location:  2498 Perry Crossing Way, #105, Plainfield (Inside The Shops at Perry Crossing)
Hours: 11 a.m.-10 p.m., Monday-Thursday; 11 a.m.-11 p.m., Friday and Saturday and 11 a.m.-9 p.m., Sunday.