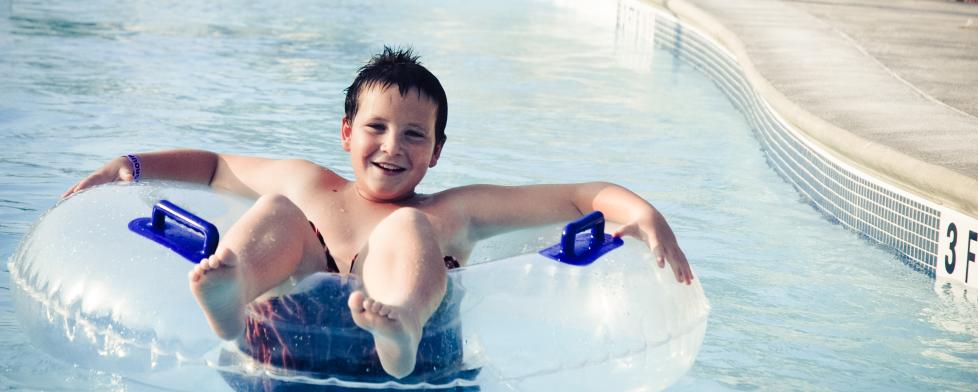 Summers can get hot and humid in Hendricks County, Indiana. But luckily, we have plenty of waterparks and splash pads to soak up the Indiana summer. All of the following locations provide perfect opportunities to cool off while making memories.
So, let's start with the big guns: our water parks!
When we moved into our neighborhood 12 years ago, the neighborhood pool wasn't hardly on my radar. But now that we have kids, ages 8 and 5, we live at that pool each summer! Long, lazy pool days are their jam. They're mine too. So here are a couple of public options with plenty to do for the kids.
Splash Island Family Waterpark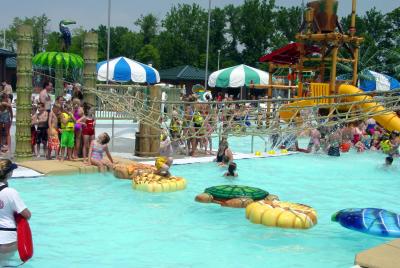 This tropical-themed outdoor water park open Memorial Day weekend to Labor Day weekend, includes 4.3 acres of fun for pretty much every member of your family! There's a zero-entry area that has a small playground and slide for the little ones. Teenagers (and heck, even us adults!) can enjoy the basketball pool, water slides, ropes and water guns, water jets, lily pad crossing and balancing contraptions.
And of course, there's the 900-foot long leisure river, which every member of the family can enjoy while floating on an innertube.
Are you a more serious swimmer? Get your workout in at the six-lane competition pool with an attached diving well featuring two one-meter springboards.
If you just want to relax and soak up some sun, there's plenty of deck space and grassy areas for picnics and lounging. And yes, you can bring your own cooler with food and drinks! 
For more details, ticket prices or park hours, visit their website or click here for more insider information.
Gill Family Aquatic Center
This option is basically the same as Splash Island, only smaller with less crowds, which for some is definitely a perk! It features a zero-depth children's area, two water slides, a splash pad, a lazy river and a diving board.
This waterpark is located inside Ellis Park in Danville, so you can work up a sweat on the playground and trails before you hit the pool, or go enjoy a shady walk after you swim!
Memberships, rental information, and swimming lessons are available! For more information on prices and dates, visit their website.
If pools aren't your style, or you need an option where swimming isn't required, there are several amazing splash pads.
Watermill Splash Pad
Located in the back of Williams Park in Brownsburg, the Watermill Splash Pad features 2,500 square feet of splash fun. This splash pad, which is part of Brownsburg Parks and Recreation, features amenities for all ages.
It's a zero-depth splash pad with all kinds of water play from squirting to misting to shooting. For the braver kiddos, the Superwave (a huge bucket situated high above the ground) slowly fills with water and then douses kiddos with a 32-gallon downpour.
The entirety of Williams Park includes a themed wood playground structure, paved and natural wooded trails and tons of green grass to play in or relax with a picnic.
For more information and park hours, visit their website.
Washington Township Park Splash Pad
Even those who have lived in Avon awhile may not realize that Washington Township Park has a splash pad in the lower portion of their park. 
Just follow the road to the back of the park, head down the hill, and you'll see it on the right-hand side. It's located next to a shelter, bathrooms and a playground.
This is a perfect setup for those with kids of different ages. You will also find grassy areas and park trails to visit before or after you hit the splash pad.
For more information about opening day and splash pad hours, visit their website.
Hummel Park Splash Pad
Living in Avon, my kiddos and I don't get to Hummel Park in Plainfield often. But the first time we did, we were so surprised to see the splash pad. 
We had no idea it was there. It's the perfect addition to this beautiful park that boasts shaded trails, two playgrounds and huge green fields to run through.
Though this splash pad is the smallest of our local ones and often fills up quickly, the fact that it is inside Hummel Park makes it a wonderful way to spend your time.
For more information on park hours, visit their website.
Shops at Perry Crossing Pop-Jet
My husband and I have spent many afternoons and evenings at Stone Creek Dining Company in The Shops at Perry Crossing in Plainfield. There used to be a playground just in front of that restaurant where we often took our kids for a play break.
When they took it down, I was so disappointed. But then they turned that area into a pop-jet fountain for kids to play and cool off!
Who doesn't love pop-jets? Those things are fun, unpredictable and hilarious. This is a perfect spot to take a shopping break.
The pop-jet fountain is open during mall hours, which are every day from 10 a.m. to 9 p.m. For more information, visit their website.
So don't stress about the heat this summer. We've got you covered! Pack up your bathing suits, towels and sunscreen because there are ample opportunities to cool off while you're out and about in Hendricks County this summer. See you out there!