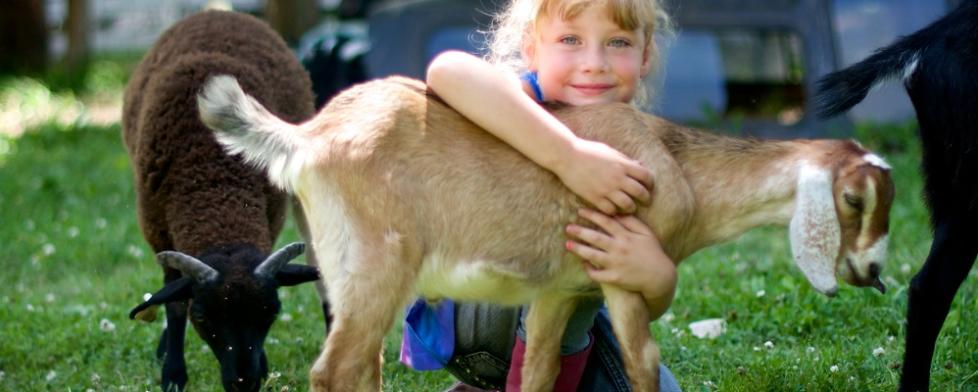 Hendricks County, Indiana, has so much to offer in the summertime: parks, pools, and places to play outside. But our county also has plenty to offer in the animal world. Think outside the box this summer and check out some of these unconventional farms and pet-friendly locations!
Farms & Petting Zoos
Natural Valley Ranch – This hidden gem is made up of 78 acres of scenic woods and trails tucked away on the southern edge of Brownsburg. There are many opportunities here to get up close and personal with the animals.
The popular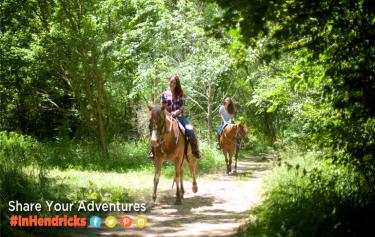 horseback trail rides are available in 30-, 60- or 90-minute intervals by reservation only. The trail rides explore scenic forests along the banks of White Lick Creek.
The ranch also offers horseback riding lessons, birthday parties, pony rides, summer camp, field trips and scout programs. Children especially will also love their small petting zoo you can visit without reservations.
For more information, call Marie at (317) 509-3577. Operating hours are Monday through Saturday 11 a.m. to 5 p.m. and Sundays from noon to 4 p.m.
Pony Ride Parties by Sandfire Farms, Inc.  – This 7 ½-acre farm located in northwest Brownsburg offers traveling pony ride parties and petting zoos for your events. With 30 years experience with horses and ponies and a USDA license for their petting zoo, they are thrilled to be able to share their beloved animals with you for your special events.
They also can make any little girl's dream come true by offering photo shoots with a unicorn! The farm also creates a beautiful location for children's pictures, family photo shoots, senior pictures, engagement pictures, etc. You can rent their location for photo shoots at $25 an hour. Email sandfireponyparties@gmail.com for more information.
Indianapolis Zoo – We would be remiss to leave out one of the best parts of living just west of downtown Indianapolis. Don't forget to visit The Indianapolis Zoo this summer. Stay in Hendricks County for a more affordable stay and to avoid the noise and traffic of downtown, but a short drive will get you to the front gates of our city's beautiful zoo!
Explore multiple biomes, from desert to forest to plains, and make sure you catch the dolphin show, take a ride on the train or the Kombo roller coaster, feed the giraffes or see the new long-tailed macaque monkey exhibit.
The zoo is easily accessible from Hendricks County via Rockville Road (U.S. 36). Take it east and you'll run right into the zoo on your left-hand side before you get to downtown.
Montrose Farms Alpaca Ranch – Take a private, guided tour of this small, family farm in Brownsburg where the owners focus on best management practices and sustainable living for their herd of alpacas!
See these adorable, fuzzy-faced animals up close, learn about their heritage and discover the process of creating fleece from their soft fur.
For more information, call Chris & Lori Lovely at (317) 456-4083.
Bugle Valley Elk – For something more unconventional, the Bugle Valley Elk Farm in Roachdale spans 240 acres of hills and valleys where the Clodfelter family has been raising elk for nearly 20 years. It, like the next attraction I will mention, may not be in Hendricks County, but are both part of our Rural Routes to Main Street Cultural Trail.
Farm tours are available by appointment and feature a wagon ride throughout the acreage where the elk roam. The tour offers opportunities to see big bull elk, cows, spikers and calves up close during feeding times. June is a good time to come to possibly see a calf being born.
For more information, call (765) 522-1550.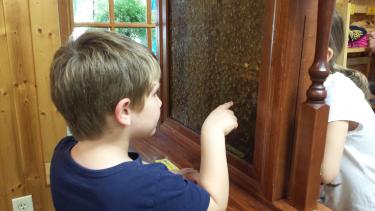 Hunter's Honey Farm – Ok, so bees aren't cuddly, and maybe it's up for debate if they're cute. But they're definitely fascinating, and you can learn all about them on Hunter's Honey Farm, located not far from Hendricks County in Martinsville.
This farm is open daily and filled with many products produced at the farm. Tours include honey tasting, beekeeping discussions, candle-making demonstrations, honey extracting and honey bottling.
Don't forget to purchase products in their gift shop made from the beeswax and pollen created by bees right on the farm. Everything from candles to lip balm to teriyaki sauce as well as honey candy are available for sale.
The farm includes 65 acres of hardwood timber, including 4,000 Christmas trees. Hunter's Honey Farm is open 9 a.m. to 6 p.m. Monday through Saturday.
Pet-Friendly Locations & Restaurants
While those are some unique opportunities, maybe you're a little more of a homebody, and you a need a pleasant place to hang out and eat with your pup. There are actually many Hendricks County locations that welcome dogs.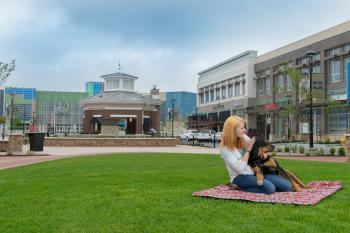 The Shops at Perry Crossing: This dog-friendly outdoor shopping center welcomes four-legged friends in all communal areas and in whichever stores have a dog-friendly sticker in the window.
Restaurants in Perry Crossing that allow owners to bring their dogs onto their dining patio include the Claddagh Irish Pub, BRU Burger and Stone Creek Dining Company. For more details, visit the mall's website.
Other locally-owned restaurants in Hendricks County that offer dog-friendly patios or reserved dog-friendly tables include:
Dog Parks
If your dog needs to run off all those calories from eating out, check out our county's dog parks.
Paw Park – Located in Avon at Washington Township Park, this park is designed to give dog owners the opportunity to socialize and exercise their dogs in an enclosed area. Dogs must have a membership. Applications can be found online at the Paw Park website.
Bark Park – The Plainfield Bark Park,1007 Longfellow Drive in Plainfield, requires dogs to be registered, which involves a fee and a signed waiver of liability. You can register your dog at the Richard A. Carlucci Recreation & Aquatics Center. 
In Hendricks County, we have plenty opportunities to enjoy the animal kingdom so get busy exploring!