As a kid, it was always a treat to get doughnuts. We'd usually get them at the local grocery store bakery or even on the rare occasion, my mom would make them at home. Nothing fancy, but delicious. 
Today's doughnuts seem extra fancy compared to my 1980s childhood, but my kids still gravitate toward the basic frosted or sprinkle doughnuts. While our kids don't really care where their sprinkled doughnuts come from, we have found some really great donut shops in Hendricks County, Indiana. 
Reds Donuts opened in May 2016 and is located on the historic Hendricks County Courthouse Square in Danville, IN. It's a family-owned and operated donut shop.
They make cake and yeast donuts from scratch on site! They often serve donuts decorated for the holidays. They offer coffee and a small coffee bar with a variety of creamers. They also have a cooler full of drink choices.
We stopped over the summer after picking strawberries at Beasley's Orchard. Our 4 year old chose the pink strawberry with sprinkles. In true toddler fashion, she only ate the frosted top, which is usual for her. But, she loved it. 
We grabbed a strawberry milk and while I'm usually not a milk fan, this was so smooth and delicious. When I asked Reds about it, they said they've starting using Freshly Dairy from Lizton as their supplier. I love that they're using such a local (and delicious) dairy. 
Reds Donuts is open 6 a.m. to noon Wednesdays-Sundays. They're closed on Mondays and Tuesdays.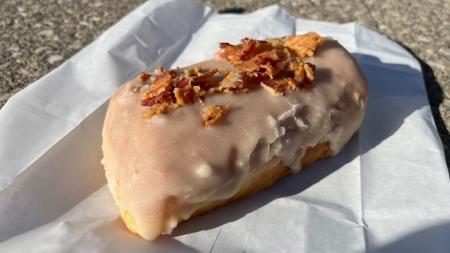 Carl's Donuts and Bakery is a locally-owned bakery and restaurant in Avon that has been opened for a few years but is under ownership. 
They have a great variety of donuts and donut holes and baked goods. 
The maple bacon donut is their most popular donut. When we stopped in a few weeks ago, I decided to give it a try. It was huge and topped with fresh bacon. It was delicious. 
Carl's is unique in that it offers more than just donuts. They have a full breakfast menu that includes biscuits and gravy, which looked amazing.
They also have lunch and dinner too. Fat Guys Pizza and Chicken is the restaurant side but they are all one place. You can order pizza and wings and sandwiches throughout the day, but one of their most popular entrees is the tenderloin. 
Carl's Donuts is open 5:30 a.m. Monday through Sunday. Check out their Facebook page for more information. You can dine in, carry out or order through Door Dash. 
Stay Updated!
Sign up to receive the Weekly Insider or Monthly Planner newsletters for events, things to do, discounts, insider info and more!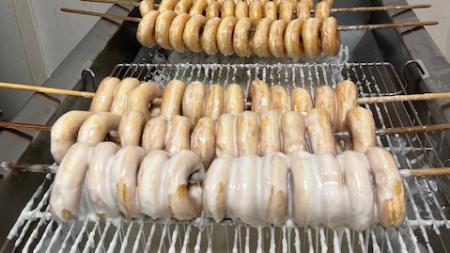 Hilligoss Bakery is a locally-owned, full-service bakery in Brownsburg that has been open since 1974! For almost 50 years, they have made delicious doughnuts as well as other baked goods. 
It's more of a grab-and-go spot. There's no seating inside, but they do have tables available outside. So, on nice days, you can enjoy your treats outside. 
They have great doughnuts, doughnut holes and other baked goods. I picked up some basic sprinkle doughnuts that were fall themed which was fun.
Insider tip: It's a pretty popular spot, and they are often sold out before the end of the day. So, if you want to ensure you'll get what you want, get there early to enjoy all of the options!
Hilligoss Bakery is also a great place to order dinner rolls for holiday meals!
Hilligoss Bakery is open seven days a week, but check their Facebook page during the holidays for closures.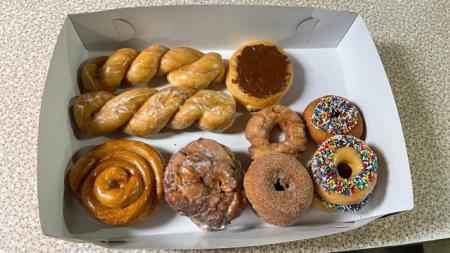 Al's Donuts has been a staple in the Plainfield community since the 1960s. Located in historic downtown along Main Street or U.S. 40, you can find this small shop just east of the Oasis Diner. 
 The building is also home to the "Welcome to Plainfield" mural by Kylin Brown which you can see as you drive through Plainfield. 
Ed and Miley Price bought the business last year but they are not new to the food industry. They have been owners and operators of Lazy Jay's Kettle Corn food cart for years. You can find them at the Hendricks County 4-H Fair and a lot of the area farmers markets.
They've kept the original donut recipes but adjusted the hours and payment methods. They are now open at 4:30 a.m. Tuesday through Saturday. They now take debit and credit cards, which is a big change! 
Their menu consists of cake donuts, yeast donuts, bismarks, pecan rolls, long johns and many more delights! They have drip coffee and a few drink options. We enjoyed a few cake donuts and chocolate milk. I bought some to take home and didn't even realize I hadn't chosen any yeast donuts. But Ed made sure to throw one in so we could try that one at home. All were delicious! 
Al's Donuts is open 4:30 a.m. to noon, Tuesday-Saturday. Check their Facebook page for more information. It was cash only for decades, but they added electronic payment options this year. 
Other Doughnut Stops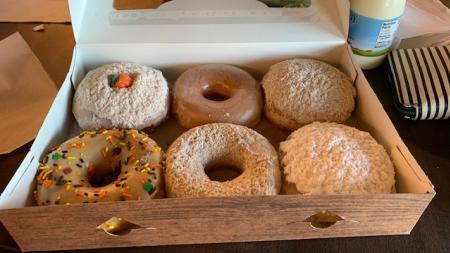 There are a few doughnut shops I want to include that aren't local only to Hendricks County, but they are some of our favorites! 
Rise'n Roll Bakery in Avon opened during the pandemic, and they have quickly become a favorite. They have fresh donuts daily as well as pies, cookies and other baked goods. They also have canned items like pickles and jams and lots of indoor seating.
Pana Donuts in Avon is a newer donut shop in Avon but they have a few other locations around the Indianapolis area. They have coffee and boba tea which is a fun addition to a donut-shop outing. They also have sandwiches. 
Jack's Donuts is a local franchise with locations in Brownsburg and Plainfield. We frequent the Brownsburg location. While there isn't a lot of seating options, they have a great little kids table supplied with coloring sheets, crayons and a TV that plays Disney shows. It's a nice touch to create spaces for kids to enjoy as well. 
Mochinut recently opened in Plainfield. They serve mochi doughnuts, Korean rice flower corndogs and and bubble tea drinks. Mochi doughnuts are a combination of American doughnuts and Japanese mochi that was invented in Hawaii. They've been gaining popularity in the last few years. 
You can't go wrong at any of these Hendricks County donut shops! Just make sure you get there early!