No matter how you spell it, doughnuts or donuts were a special treat for my brothers and me growing up. My dad would head to the local bakery on a Saturday morning before sunrise just to purchase the freshest doughnuts possible.
Sometimes I joined him on these early morning excursions. The aromas of baking, frying and pure sweetness filled the air. I couldn't wait to get home and indulge in these breakfast treats! 
Now that I have kids of my own, I decided the occasional breakfast treat tradition should continue. I heard that locally owned Hilligoss Bakery in Brownsburg, Indiana, is celebrating a major milestone this month. So, I figured it's the perfect time to check it out as well as provide a 'round'-up of all the locally owned donut shops in Hendricks County.
But first, a bit more about this milestone...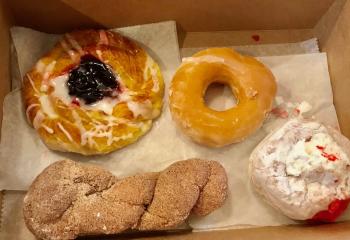 Hilligoss Bakery in Brownsburg opened for business in February 1974. That means this family-owned Hendricks County landmark has provided delectable homemade doughnuts for 45 years. According to their estimates, that's more than 21 million doughnuts made throughout their ownership. Keep in mind, that's ONLY doughnuts and doesn't include danishes, cinnamon rolls, cupcakes, rolls, etc.
I was definitely looking forward to tasting doughnuts from this very successful bakery!
Nostalgia set in upon entering Hilligoss Bakery. The aromas and sights of fresh homemade doughnuts hasn't changed. I ordered doughnuts to take home to my family and was very proud of myself for only eating one in the car. 
Even though I went around noon, there was still a wide variety of doughnuts to choose from. After a few minutes of contemplating this very difficult decision, I picked a classic glazed yeast doughnut, strawberry danish, cinnamon twist and vanilla cream-filled powdered doughnut. They were all very yummy, but if i had to pick my favorite, it would be the strawberry danish.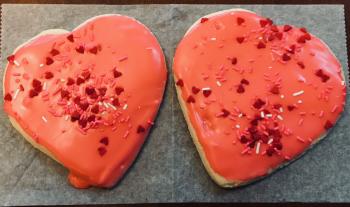 Doughnuts are not the only sweet treats they make; cinnamon rolls, cupcakes, brownies and cookies are also offered. Since Valentine's Day was coming up, I also purchased huge, heart-shaped sugar cookies. They were just as delicious as the doughnuts.
Perhaps less known because of their sweets reputation, Hilligoss has also become a favorite place to order dinner rolls during the holidays. You have to order early though that time of year, because they always sell out.
But back to their milestone, they are offering specials all month long to celebrate their 45 years in business. Check their Facebook page for details!
Hilligoss Bakery, 804 E. Main St., is open 7 days a week. A cozy seating area is available inside as well as patio seating for those warmer months. 
Red's Donuts opened May 2016 and has become a Danville donut hot spot! This family-owned and operated donut shop is conveniently located on the historic Hendricks County Courthouse Square. 
They are open throughout the day Tuesday-Saturday from 5:30 a.m.-7 p.m. and Sundays from 5:30 a.m.-noon. Arriving early offers the best selection. However, my daughter and I visited in the afternoon and still found plenty of options. 
Initially, we were going to grab an order to carry-out, but couldn't resist the temptation of tasting these amazing-looking donuts. We sat in the cozy dining area and enjoyed a devil's food cake donut and chocolate-iced twist yeast donut.
We took home the donut of the month, a tiger tail, as well as Red's velvet cake donut and an apple fritter. My daughter's favorite was the tiger tail, which is a glazed twist with chocolate worked into the dough. The apple fritter was my top pick and the rest were so good that I couldn't make a second-place decision. 
You can see the entire menu for Red's Donuts, 60 S. Jefferson St., here. From a classic glazed yeast donut to a blueberry cake donut to a Bavarian cream-filled yeast donut, you can find any variety of donut imaginable. 
Red's also can cut dough into any letter or number to make a large donut for special occasions!
Al's Donuts has been a staple in the Plainfield community since the 1960s. Located in historic downtown along Main Street or U.S. 40, you can find this small shop just east of the Oasis Diner. 
Al's opens very early in the morning at 2:30 a.m. and closes around 9:30 a.m. So, arriving early is paramount at this establishment more than any other on this list. You can call ahead to place an order. Also, make a stop at an ATM beforehand, as they only take cash. 
This classic donut shop offers a variety of delicious homemade donuts. Their menu consists of cake donuts, yeast donuts, bismarks, pecan rolls, long johns and many more delights! I loved long johns (bar-shaped with white icing) as a kid, and they are just as good as I remember!
Al's Donuts, 311 W. Main St., is open Tuesday-Saturday. Check out their Facebook page for more information.