A delightful trend is "cropping" up all across Central Indiana – flower farms! These labors of love exist for the sole purpose of adding a little beauty to the world, and I can't think of a better way to spend the day than exploring all that they have to offer.
Below are several both in Hendricks County and within an hour's drive. Like the flowers themselves, each have their own unique charm.
North County Road 300 East at the intersection of County Road 375
Danville, IN
This dream on 50 acres in Hendricks County started in 2018 with a huge sunflower field perfect for family photos, and this season has grown to include 25 varieties, including cut flowers and a wildflower field. Some local delivery of special orders is available, and bouquets can be found at Ella Mae's Boutique in Brownsburg, Cherry Creek Farm and Feed in Pittsboro and Creation Cookies Cafe in Danville.
Look for their beautiful bouquets at the Avon and Danville Farmers Markets as well. U-pick events will include Mommy+Me in the Flowers and Golden Hour in the Flowers, and both of these special nights out include charcuterie cups, cookies and a tour through the field to cut and assemble a lovely bouquet.
423 S. County Road 525 West
Danville, IN
Flower enthusiasts hoping to hone their skills can take advantage of classes at Rue de Fleurs, another new and growing flower farm in Hendricks County, Indiana. Owner Brenda Lekse has more than 20 years of floral design experience, and has focused her energy the past several years on growing beautiful local blooms.
This year you'll find Lisianthus, Bupleurum, Snapdragons, Strawflower, Statice, Larkspur, Veronica, Gomphrena, and more than 300 Lavender starts, which should be bursting with life by sweet, sweet summer.
Lekse won't offer daily operational hours, but reservations will open in July for small groups to come to the farm to cut and create in the field.
She has also hosted wreath-making events at the Blanton House in Danville, and has more in the works. Follow Rue de Fleurs to learn even more about upcoming events.
2304 E. Main St.
Danville, IN
The Sunflower Festival at Beasley's Orchard has become a summertime essential event, with 7 acres of different varieties bursting with beauty. There's something quite idyllic about seeing countless families and friends strolling through the fields, arms laden with their sunshiny bouquets.
Details on the festival will be available on their website as the event is very weather dependent with the dates fluctuating from year to year. Last year, it was held in late July, but it can be delayed until August and one year, the organizers had to even replant the field and hold the event in September.
Whenever it is held, plan to come at sunset and bring your favorite photographer for the perfect setting for your family photos! 
Insider tip: Their market is open year-round and full of local produce, preserves, and their award-winning apple cider. 
6259 E. County Road 91 North
Avon, IN
A perennial favorite of visitors, Avon Gardens is a flower-lover's paradise. This gorgeous garden center and award-winning wedding venue hosts several Make Your Own Bouquet events from their cut gardens, which feature a wide variety of beautiful blooms throughout the growing season.
Give yourself plenty of time to stroll the grounds after you've built your bouquet, then do a little shopping in the garden store once you've become inspired! They stock a great selection of native plants and flower varieties to help your home garden grow.
10326 N County Road 300 W
Jamestown, IN
The owners of this Jamestown gem fell in love with flower farming while growing blooms for their wedding. What started as an experiment blossomed into a full passion, stirring up warm memories in both of them of growing up on family farms.
They followed the call, selling their home in the city and moving to these four acres and specializing in gorgeous dahlias grown from seed on site.
Food and drink are welcome, and this working farm makes the perfect place to picnic and take in the natural beauty around you. Market bouquets are available with advanced notice and are built based on your chosen color scheme, or grower's choice. Delivery is also available to some areas.
They don't open for the season until July, their hours are:
4-8 p.m., Fridays
9 a.m.-6 p.m., Saturdays
11 a.m.-3 p.m. Sundays
6176 E. Smokey View Road
Mooresville, IN
With more than 20 years of growing experience, this stunning farm boasts four acres of luscious lavender, one of the world's most beloved flowers. A charming gift shop full of lavender-infused balms, soaps, teas and even pottery is a must-see, but a stroll through the fields to the delight of your eyes and nose is the first priority upon arrival.
Their hours during the open season, which is late May through September are 11 a.m. to 4 p.m. Thursdays through Saturdays. Follow them to see special events hosted on the farm, including summer concerts and holiday open houses.
1434 E. County Road 600 South
Crawfordsville, IN
In a relatively recent pivot from livestock, this family farm has taken a deep dive into the world of agrotourism. Fresh Cut offers an incredible array of educational events for all ages.
The farm is available to rent for special events or field trips, and outings can include a lesson from a licensed teacher about an agriculture topic to suit the group.
They will host a variety of events this season, including their Stories and Stems program for young children and Sons and Sunflowers for moms and their little guys.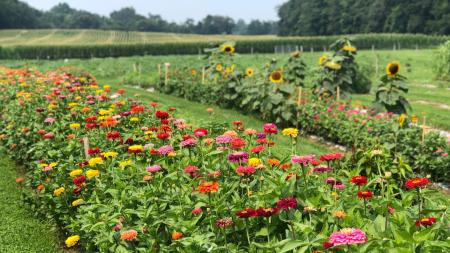 12783 North Private Road 385 E
Brazil, IN
Bring your own container to fill with beauty at this peaceful family farm, or call ahead for a bouquet to go!
Once the season begins every summer, the farm is self-serve through the week and on Sundays, and the utterly adorable General Store (housed in a repurposed grain silo) will open on Fridays and Saturdays.
The farm also hosts several Market Days through the season with local artisan and craft vendors and other fun farm activities.
Click here to visit their website to learn more about their season and hours.