Brr! Fall turns to winter so quickly, it seems. I'm feeling it on this cool evening as rain rolls in. I love the ambience of fall: staying in with family and friends, curling up under a thick blanket and enjoying the warm wintery delights that local businesses and eateries in Hendricks County, Indiana, have to offer. 
There's no shortage of delights in Hendricks County when it comes to soup!  Local cafes, restaurants and eateries here in Hendricks County are serving up an impressive selection of soups - from savory, slightly sweet, to spicy. Keep warm this season with some of these suggestions.
The Beehive - Potato Bacon Corn Chowder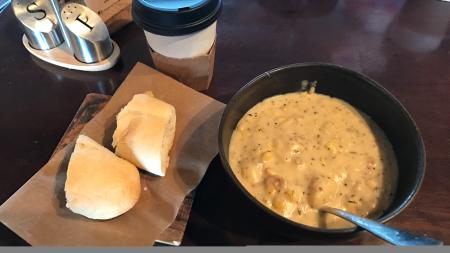 Hands down, this is my favorite soup. Ever.
The fine folks at The Beehive in Danville might as well start ladling this deliciousness into a bowl when they see me walk through the door. If they're serving it, I'm buying it.
I may also be known to ask if they have any leftovers in the fridge. Yep, it's that good.
Red potatoes and bacon in an amazing corn chowder base. Need I say more? What makes this soup my favorite is the flavor. I think it's thyme, but I can't be sure. I kind of don't want to know what secret combination of herbs gives it such a distinct flavor. It's hearty and oh so yummy.
In addition to my personal favorite, The Beehive received votes for two additional soups -- the White Bean Chicken Chili and their Lasagna Soup. Both are delicious, both are super filling. You can't go wrong with either of these options. 
You can catch their "soup of the day" and other specials here on their Facebook page.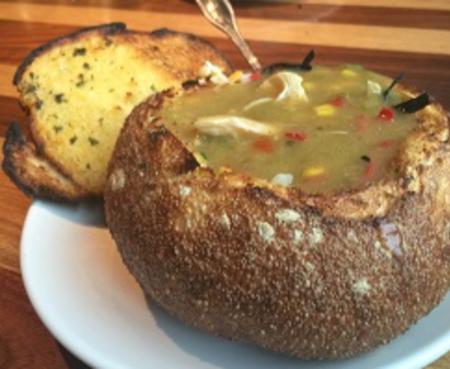 This soup has made quite the repeat customer out of me.
I've ordered this fine soup sans the bread bowl and every time, I'm full of regret.
The soup itself would still sit at #2 on my list if I had to sip it from a cup, but in a fresh, garlicky bread bowl?
If you're gonna do it, do it right. Plus, when you have it served in a bread bowl, there's an impressive presentation that comes with it.
The fresh ingredients -- cilantro, crunchy tortilla strips, avocado, shredded cheese and lime -- are all delivered in the warm bread bowl and a bubbly, delicious soup is poured over them at the table.
This soup is thick, with tender chicken, corn, peppers and the perfect blend of spices.
It's so good.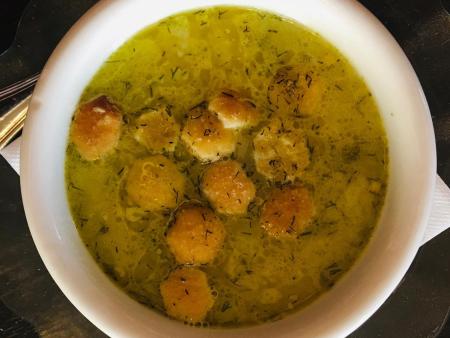 This Dill Pickle Soup, as the title suggests, is no ordinary soup.
Court House Grounds, located on the square in Danville, uses fresh, local ingredients and makes all their dishes in house.
Like many locally owned cafes, the soup menu changes daily, and I've heard every single one is a hit.
You'll definitely want to order a bowl of this crowd favorite, but even if you don't see the Dill Pickle Soup on the menu, don't hesitate to try their other soup offerings.
Follow their Facebook page and catch their awesome, daily "soup-mercial" to see what they're serving up each day.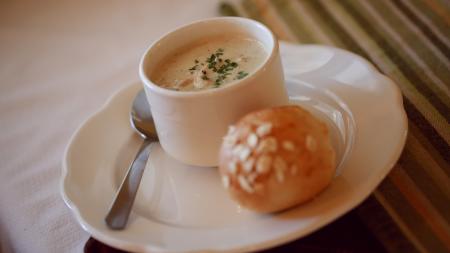 Four different soups served at the Bread Basket in Danville were suggested on our poll. Clearly, they're the real soup ninjas. That's good news, though, as the soup menu here is different everyday.
It seems you can't go wrong with a soup order here, but the suggested favorites include: Creamy Chicken and Rice Soup, Butternut Squash Bisque, White Chicken Chili and their Tomato Basil.
I hope all of these are never on the menu at the same time. How would one choose just one, or two, even?
The Bread Basket, so cozy and warm, is the perfect place to enjoy a cup of delicious homemade soup.
Other Locals' Favorites
It seems that eateries known for serving delicious soup have more than one local favorite on the menu. Here are some other top spots to score a cup, bowl or troth of soup, according to our locals:
We received two favorites from Stone Creek -- Corn Chowder and Potato Leek soup. I've not had their Corn Chowder, but I love a good chowder. I hope to try this one soon.
The Potato Leek Soup suggestion did not surprise me in the least. This is just the kind of soup I was talking about. One that requires ingredients I don't have on hand, preparations I don't have the patience for and a culinary skill set I lack.
This one would make a great lunch or the perfect compliment to dinner. Not too filling, but satisfying. These are Soups of the Day so if you're really hankering for them, maybe call ahead! 
Charbonos - Chicken Velvet Soup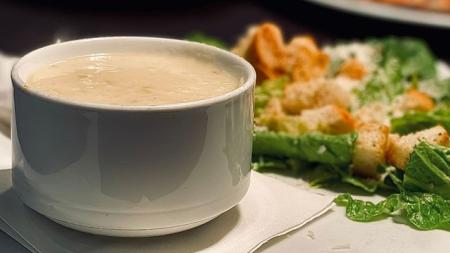 This is a top date night spot for my husband and myself. We even get takeout from here often. I am usually one who gets a salad before my meal, but I cannot turn down their creamy, smooth chicken velvet soup!
It's the perfect pre-meal, especially with that amazing bread and oil they bring to the table.
They're also known for their French Onion soup, so if you're a fan of French Onion, do not miss this opportunity to try Charbonos' version!  
Opa! - Chicken Lemon Soup
I am a huge fan of Opa!, and I've had this soup. I did have my doubts, as lemon doesn't seem to belong in soup. But I guess the Greeks know what they're doing because it was truly delicious.
A broth base with chicken, veggies and a touch of lemon make this warm offering a unique twist on chicken soup. Definitely try this next time you swing into this local favorite. 
Pho 36 - Hot and Sour Soup
I haven't personally eaten here or had the soup, but it sounds so intriguing. It's a broth-based soup with the sweet and tangy flavors of teriyaki and tamarind. If you love Asian or Vietnamese food, you'll probably love this soup!
There you have it! I hope you liked our combined list of the best soups served up in Hendricks County.
Like Visit Hendricks County on Facebook and be on the lookout for future opinion polls to tell the people all about your favorite things, places and happenings in Hendricks County. I loved hearing your suggestions, and I hope you enjoy mine.