This is such a conflicting time of year. I need to do some spring cleaning, but I also need to update my spring wardrobe. What's a girl to do? It's simple. You can do both at Simply Chic in Plainfield, Indiana.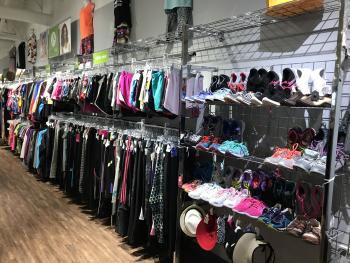 That's right, Simply Chic pays cash for your gently used, or better, clothes, shoes and accessories. Unlike other consignment retailers, Simply Chic will pay cash rather than offering an in-store credit for your items that they are interested in purchasing. You'll probably end up spending at least some of your loot in the store, of course, given their awesome selection and amazing prices.
I'll be honest, I wasn't really sure what to expect when the teen and I stopped at this women's resale boutique in Plainfield. The first thing I noticed was the variety of high-end, brand name items that fill the stores' many racks and shelves. I found Kate Spade, Loft, Michael Kors, Banana Republic, Hunter and American Eagle just to name a few.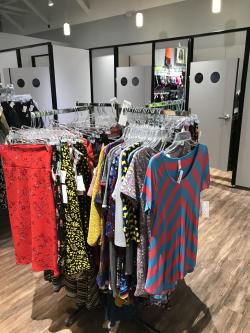 Another surprise was the rack devoted to LuLa Roe clothing. What? Yep, an entire rack.
I like that the store is organized not only by size, but also by clothing type -- tops, bottoms, dresses, coats and athletic clothing. I love organized shopping.
My teen loved the Simply Chic layout, too, as it made it easy for her to browse only the sections that interested her.
Additionally, Simply Chic offers an impressive selection of accessories. They had several Kate Spade bags and two pairs of Hunter boots the day I was in. You'll find an ever-changing variety of bags, belts, scarves, jewelry and shoes.
You won't just find high-end items in exceptional condition. You'll also find an incredibly low price attached to it. The teen and I both found several items, and I paid less than what any one of the items would have cost at retail.
I found a brand-new pair of Loft dress pants with the original tags still attached for $13, and the teen found a brand-new dress from American Eagle for $15. Score!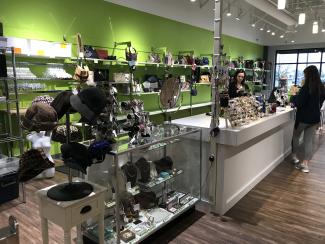 Precious pregnant mamas, Simply Chic also boasts a maternity section with all the latest styles and low prices.
Store Details
Location: 160 Plainfield Village Drive, Plainfield
Hours: 10 a.m.-8 p.m., Monday-Saturday and noon-6 p.m. on Sunday
Contact: (317) 838-8778
So, what are you waiting for? Run that box of clothes you never wear anymore, or those items that simply didn't work out over to Simply Chic for some cash.
Then, you can browse the store to fill all those gaps in your spring wardrobe.
It's out with the old, and in with the new (to you).