Are you looking for new ways to spend quality time with your significant other? Unique date night options abound in Hendricks County!
My husband and I sometimes need to remind ourselves to put down our cellphones and hit pause on Netflix so we can reconnect with one another. Can anyone relate?
Whether you call Hendricks County home, as I do, or you are here for a romantic getaway, the date night ideas below can help you and your significant other create special memories any time of the year. They may even spark some romance!
1. Experience Dinner and a Show 2.0
Dinner and a movie may sound like a ho-hum kind of evening, but in Hendricks County there are plenty of ways to spice up this traditional date night option. Ditch the typical chain restaurants and multiplex theaters for these more creative options.
My husband and I have a special affinity for Italy, so we recommend a fine Italian dinner and a glass or 2 of wine at Frank's Place on the square in Danville. Then pop next door to take in a movie at the historic Royal Theater.
With only one viewing room there won't be any fighting over which movie to watch and the nostalgia of the Royal Theater may have you acting like teenagers in love sitting in the back row!
For a more casual option, dine on tasty pub food at Brownsburg's Rush Off Main. Schedule date night for Wednesday or Sunday so you can take in a classic movie on the big screen at Brownsburg 8 theater as part of their Flashback Cinema.
If live theater is more your style, check out a performance at the Longstreet Playhouse, home to the Hendricks Civic Theater. This intimate theater hosts top-notch local performers, and depending on the show, you and your sweetie will be laughing, crying or both as you enjoy a memorable evening together.
Speaking of laughing, another live option, would be Red Curb Improv Comedy Theatre in Avon. This is a great date night option to pair with a restaurant in Avon, such as Charbonos or Opa!
Before or after the show, pop over to Pittsboro for pizza or a juicy tenderloin sandwich at the Mason Inn or venture to Lizton for mouthwatering BBQ at the Rusted Silo BBQ & Brewhouse.
2. Sample Adult Beverages
Some of my favorite conversations with my husband occur when we are relaxing with an adult beverage in hand.
Books & Brews is one of our favorite watering holes. If you need something to help get the conversation flowing with your better half, just grab one of the many board games at your disposal for an old-fashioned game night. Or waltz into Books & Brews on Karaoke night and let your sweetie express his/her love for you with a serenade!
Couples should also check out Brew Link Brewing in Plainfield. Sample flights of craft beers together and simply enjoy each other's company in a relaxed atmosphere.
3. Bring Out Your Playful Side
Sometimes not acting your age can help remind you why you fell in love in the first place!
I'll admit that my husband looks pretty sexy when he shows off his moves on the rink at Hot Skates in Avon. Nobody said roller skating was a kid's only activity!
Even if it has been years since you laced up skates, take a spin around the rink and reminisce about your younger days as you try to keep each other from falling down.
If you are feeling even more adventurous, you can literally hop on over to Sky Zone Indoor Trampoline Park in Plainfield. Spend some time jumping and laughing together. Don't forget to book a couple's massage for the next day because you will likely be sore…both from jumping and laughing so much!
4. Get Crafty
Explore your creative side and dare to get a little messy alongside your main squeeze. No experience or artist talent required as its more about the time you spend together than the finished product.
During our dating years, I can recall several occasions when my husband and I had a paintbrush in one hand and an adult beverage in the other as we created our very own masterpieces. This is one date night option we need to revisit!
Consider heading to The Tie Die Lab in Avon to create colorful one-of-a-kind shirts, bags, towels or other accessories. This kind of art is way too fun and stylish to be just for kids!
Or schedule time at Board & Brush in Brownsburg to create unique pieces of home décor. Choose from an array of options and messages that best capture your relationship and the life you share. You will leave with a great keepsake of your date and having bonded over varnish and sandpaper.
5. Reconnect with Nature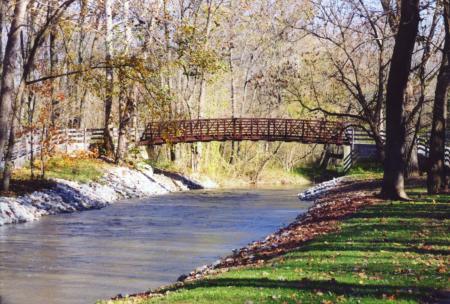 No one said date night must involve dressing up in fancy clothes or that it has to take place at night, for that matter! Don your favorite workout clothes and get outside with your beloved in the morning, afternoon or anytime that fits your schedules.
My husband and I enjoy early morning walks along the wooded trails at Arbuckle Acres Park in Brownsburg as we catch up with each other and discuss our hopes and dreams for the future.
Another great option is to get out your bikes and enjoy a leisurely ride together on the B&O Trail in Brownsburg or Vandalia Trail in Plainfield.
There are numerous parks and trails to choose from scattered throughout Hendricks County, so bundle up during cooler weather and hydrate in the heat of summer while you let the magic of nature provide fuel for your soul and your relationship.
Whether you have something special to celebrate or just want to carve out dedicated time as a couple, you can easily fill up your calendar with memorable date nights in Hendricks County!