Breakfast is the most important meal of the day, right? Whether you like to eat breakfast in the morning, for lunch or for dinner, Hendricks County, Indiana has a wide variety of restaurants that provide delicious breakfast options for everyone's tastes.
I can't possibly touch on every breakfast option in Hendricks County, so I'll focus on some of our widely recognized gems and a couple of my personal favorites in no particular order.
Bread Basket Cafe & Bakery 
It's hard to argue with Yelp reviews that have vaulted Bread Basket Cafe & Bakery in Danville to the top of the list of "best breakfast in Hendricks County."
Bread Basket is famous for their baked goods and pastries, but they have a lot more to offer in terms of breakfast: omelettes, waffles, biscuits and gravy, granola, oatmeal and more.
My favorite Bread Basket breakfast, however, is their cinnamon roll French toast. It's the best of both worlds. You must try it when you visit!
It's no wonder that Bread Basket is on the Indiana Foodways Alliance's Rise n' Shine Culinary Trail -- a well-deserved spot!
Oasis Diner 
I like the Oasis Diner in Plainfield a lot for tenderloins, for pie and for comfort food, but this restored and relocated 1954 Mountain View Diner serves a whole bunch of outrageously good breakfast options throughout the day.
One of my favorites is the Kansas City, which is biscuits and gravy loaded with eggs, home fries, bacon and cheese. Another favorite of mine is the Indianapolis: a fried tenderloin smothered in gravy, eggs, home fries and toast. There is so much food there that I have never been able to finish an entire Indianapolis.
I'm also partial to the Brunch Burger, which adds a fried egg and hash browns to your classic deluxe cheeseburger and puts it all between two English muffins. It's breakfast, lunch and dinner, all rolled into one!
Flap Jacks Pancake House 
Right across the street from the Oasis Diner is another one of my favorite spots for breakfast -- Flap Jacks Pancake House. They serve breakfast all day, and a coworker of mine and I are partial to their skillets.
I have tried all their skillets, and I think my favorite is the Hungryman Skillet: hash browns, minced ham, bacon, sausage, onions, green peppers and country gravy topped with two eggs.
My coworker likes the Mediterranean Skillet: hash browns, minced gyro meat, onions, green peppers, feta cheese topped with two eggs and side of tzatziki sauce.
Part of what makes Flap Jacks a favorite of ours is the customer service. The staff at the Plainfield location is always very cheerful and friendly, and we're there so often they remember our drink orders and almost always guess our food orders.
Flap Jacks also has a location in Brownsburg.
(317) 838-5140
(317) 852-4905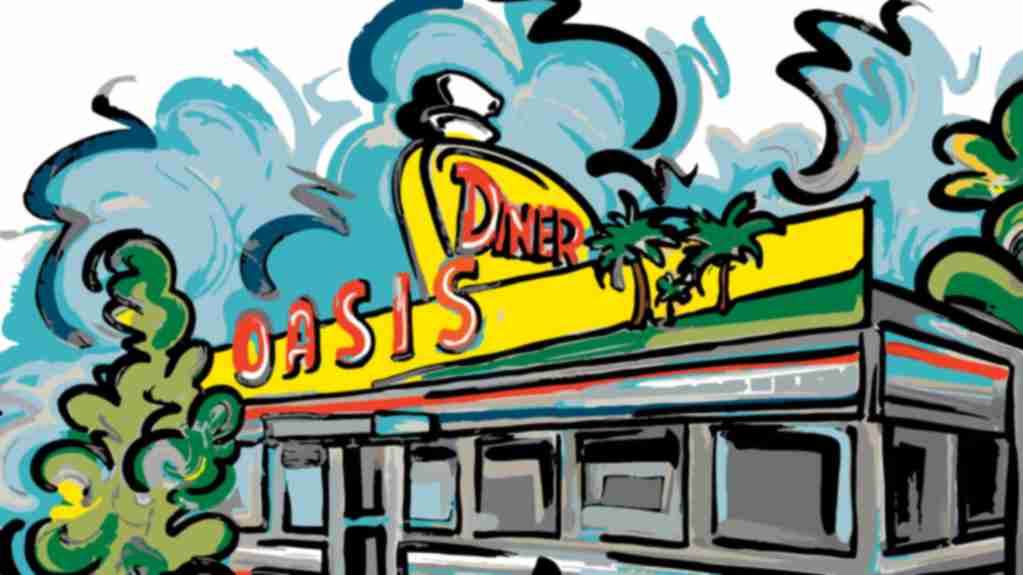 Free Visitor Guide!
Get your insider guide to all things Hendricks County by ordering a FREE Visitor Guide. Download or order a print copy today!
Emmy's Pancake House & Grill 
Located in Avon, Emmy's Pancake House & Grill is a favorite breakfast spot for locals and visitors alike. Like any good breakfast restaurant, they serve the most important meal all day long.
Whether you're in the mood for pancakes, waffles, crepes, omelettes, skillets or French toast, Emmy's does it well. They have a huge variety of breakfast options there, and my favorite is one of their house specials, the Country Scrambler. It is three scrambled eggs with ham, onions, green peppers and smothered with cheese and sausage gravy. 
Court House Grounds 
I worked on the historic Hendricks County Courthouse Square in Danville for 12 years, and since Court House Grounds is on the east side the Square, it was a very convenient spot to grab a great cup of coffee before work.
One morning, I forgot to grab breakfast at home, so I ordered a Hearty Egg Sandwich -- which was eggs, cheese and bacon on a croissant -- to go with my morning coffee. I expected something like what you get through a drive-thru.
One bite into it, though, and I was hooked! Made with real ingredients that aren't mass-produced, this breakfast sandwich was delicious and, as its name suggests, hearty! It remains a favorite of mine.
Court House Grounds offers a different breakfast menu than other restaurants. You can find great dishes like Liège waffles, spinach quiche, eggs primavera and an upscale bagel. They serve breakfast all day long.