As the weather cools down, I start thinking about comfort foods. What's a typical comfort food you ask? For me, it can be anything from a stack of pancakes with butter and drizzled maple syrup to french fries, a bowl of chili, a plate of noodles or even a slice of pie. It's those "stick-to-your-ribs" kind of foods that take me back to my grandma or remind me of a favorite meal with family and friends. And, it doesn't have to be American cuisine either. There aren't a lot of rules about comfort food, and that's what I like. So, I thought I'd write up a list of my Top 10 places to fill up on comfort food in 
Hendricks County
.
Avon
1. 
Emmy's Pancake House & Grill
, 7508 Beechwood Center, Suite 300, (317) 272-7200.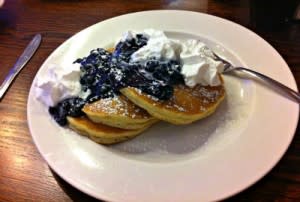 You'll have a hard time deciding what to order from Emmy's large menu with traditional items like, eggs, bacon and toast, to more decadent dishes like their
Greek Skillet
and
Belgian Pecan Waffle
. Variety is the word at this popular, family-friendly breakfast and lunch spot in Avon. *Open 6 a.m.-4 p.m. daily. 2. 
Thai Thai
, 9269 U.S. 36, (317) 875-1388.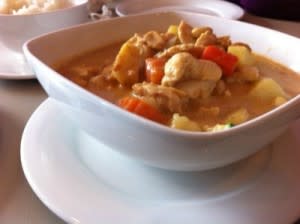 Noodle and rice dishes are some of my favorite comfort foods. Thai Thai hasn't been around long but already gained a loyal following with their classic
Pad Thai
, stir-fried noodles with your choice of meat, ground peanuts, tofu, bean sprouts, egg, and scallions, and their curry dishes like the
Massaman Curry
, made with Massaman paste (sort of a peanut butter flavor), coconut milk, vegetables, potatoes and pineapple with your choice of meat, served over rice. Open for lunch Monday-Friday and open daily for dinner. *Vegetarian friendly.
Brownsburg
3. 
Dawson's Too Sticks & Stones
, 773 E. Main St., (317) 858-8400.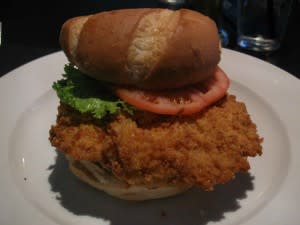 I was first introduced to Dawson's by the team at 
Visit Hendricks County
 almost a year ago, and Dawson's is one of my favorite places in Hendricks County. I'm a fan of their classic hand-breaded
Tenderloin Sandwich
(the official sandwich of Indiana) and their addictive
Fish and Chips
(with homemade tartar sauce). I plan to try their
Prime Rib
dinner (a special on Fridays and Saturdays), which I've heard is outstanding. You'll have a good time at this popular Brownsburg restaurant, and they even have a great bar with several televisions, which is also nice this time of year. Open daily. *Check their website for daily specials. 4. 
Green Street Pub and Eatery
, 911 N. Green St., (317) 852-6644.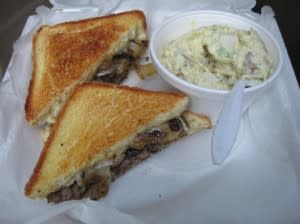 This popular eatery offers classic pub fare with a pleasing selection of appetizers including,
Nachos
with all the fixings,
Breaded Mushrooms
and
Buffalo Wings
. You can't go wrong with their
Classic Patty Melt Sandwich,
and I'm looking forward to trying the
Brownsburger
dinner, a chopped sirloin with mushroom gravy. *Open for lunch and dinner, Monday-Saturday. Closed Sunday. Check their 
website
for daily specials. 5. 
Pit Stop BBQ & Grill
, 932 E. Main St., (317) 858-8370.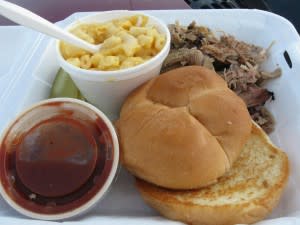 Barbecue is one of my all-time favorite comfort foods. Pit Stop BBQ & Grill will please die-hard barbecue fans with tempting items such as their
BBQ Rib Dinner
,
2 Meat Combo Dinner
 or try their classic
Harold's Pulled Pork Sandwich
, with a side of their creamy
Macaroni and Cheese
. Open daily (with brunch served on Sundays). *Live music on Fridays and Saturdays in the Pit Stop Pub.
Danville
6. 
Bread Basket Cafe & Bakery
, 46 S. Tennessee St., (317) 718-4800.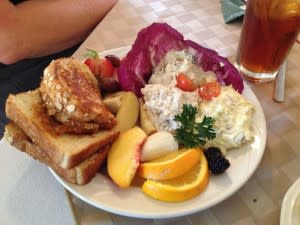 It's no secret that I'm a fan of this cozy restaurant, which smells like baked bread and cookies. My parents and I recently enjoyed breakfast with homemade
Biscuits and Gravy
, fresh fruit, and good, strong coffee. Of course, we couldn't leave without stopping to buy a few of their homemade cookies. I'm planning a return trip to pick up one of their popular fall pies, like their
Dutch Apple
or
Peanut Butter
. *Open 7:30 a.m. -3 p.m., Tuesday-Saturday, serving breakfast and lunch. 7. 
Mayberry Cafe
, 78 W. Main St., (317) 745-4067.
My dad first introduced me to "The Andy Griffith Show," and I've seen several episodes and even met one of the cast members. At the Mayberry Cafe, fans of the show can watch episodes, while enjoying popular specials like
Aunt Bee's Fried Chicken
and
Sheriff Taylor's Favorite Prime Rib
. *Don't leave without getting a photo with the police cruiser which is parked outside.
Plainfield
8. 
Akira Japanese Steakhouse
, 160 Plainfield Village Drive, Suite 121 & 125, (317) 838-7970.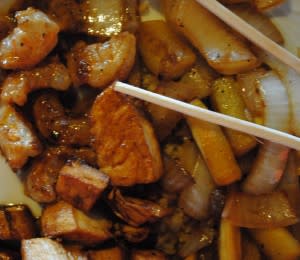 Another one of my favorite comfort foods is sushi and it's the perfect kind of food to enjoy with family or a group of friends. Akira offers a variety of sushi rolls, like their
Indy Roll
(crab, cucumber, avocado, with a bit of eel sauce) and
Golden Dragon Roll
(shrimp tempura with cream cheese). Kids and adults will enjoy a bit of a show while their
Hibachi Dinner
(chicken or steak terriyaki, shrimp, filet mignon) is cooked on the grill by one of the talented chefs. *Open daily for lunch and dinner. 9. 
Black Swan Brewpub
, 2067 E. Hadley Rd., (317) 838-7444.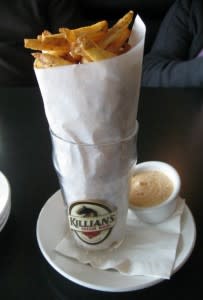 This local brewpub offers 16 beers on tap. On my visit there, I enjoyed their
Reuben Sandwich
and a side of their
Brewpub Fries
with one of their homemade dipping sauces. I'm planning a visit soon and am looking forward to trying
The Stack
(breaded Indiana pork tenderloin with mustard relish, lettuce, tomato and served on a Pretzel Roll) and enjoying one of their fall beer options. *Open daily. *Kids menu. 10. 
The Coachman Restaurant and Lounge
, 6112 Cambridge Way, (317) 839-4545.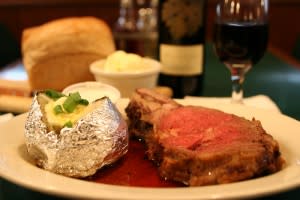 Be sure to read 
Ericka's review
 of The Coachman before you go as she perfectly captured the atmosphere and food. I'm looking forward to their
Prime Rib
dinner and enjoying listening to one of the bands. Don't miss a chance to experience a meal at Hendricks County's oldest independently owned and operated restaurant. *Check their
website
for daily specials and entertainment calendar.