Oh, how I love great Italian food. When a person thinks of great Italian food, though, the tiny town of North Salem probably doesn't jump to mind. One visit to Perillo's Pizzeria in the northwestern corner of Hendricks County, however, will change the way you think.
I recently visited North Salem -- a town of about 500 people -- for lunch, and while I was at Perillo's Pizzeria enjoying a tremendous calzone, I had the opportunity to speak with one of the owners, Damiano Perillo.
I learned a few things about Perillo's from him that I'd like to share with you.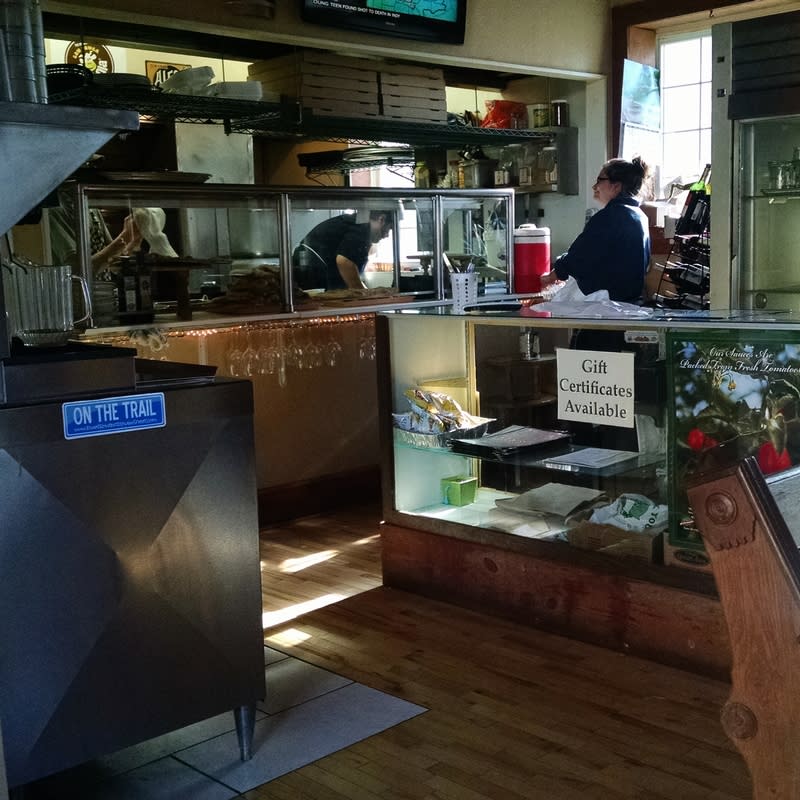 Family owned and operated
Perillo's opened on Dec. 8, 2011. Damiano owns the restaurant with his mother-in-law and brother-in-law, and they all work there. Damiano's wife helps during busy times, too. 
In addition to his love of family, Damiano has a passion for cooking and passion for his community, so when another establishment closed a few years ago and left North Salem without a restaurant, he decided to open Perillo's.
"I didn't really care about making money," he said. "I just wanted to sell a slice or two of pizza and have somewhere for people to eat here."
Damiano's in-laws own a vacant lot across the street from Perillo's, and the family is kicking around the idea of opening a mom-and-pop grocery store there at some point in the future. 
Outdoor dining
It's not a big draw during the winter months, but when the weather is nice, Perillo's offers outdoor seating on a quaint brick patio.
The last time I was at Perillo's was after my daughters played a youth softball game in North Salem, and my parents joined us for a post-game meal. We ate outdoors, and with North Salem being such a quiet town, the outdoor dining experience was very peaceful and relaxing.
Damiano said the demand for their outdoor seating is off the charts on nice days.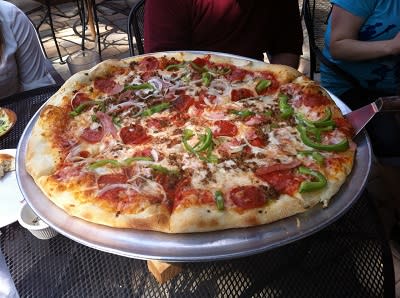 Freshness is essential
Damiano insists on using fresh, high-quality ingredients to prepare his dishes. The family even owns its own farm and grows its own vegetables for use at Perillo's.
For ingredients that he and his family don't grow themselves, Damiano makes every effort to support Indiana farmers through his food purchases. 
Everything is sliced, chopped and otherwise prepared fresh every morning. The sauce is handmade every morning. Dishes are cooked to order, not cooked in advance and microwaved or left under a heat lamp. It results in a bit of a wait for your meal, but that wait is worth it to Damiano, who detests fast food.
"When you get a hamburger for 99 cents," he said, "What kind of meat are you eating? I know exactly what ingredients are in my dishes." 
A doctor's office?
The building that houses Perillo's Pizzeria used to be the office of Dr. Oscar H. Wiseheart, who practiced medicine there for more than 60 years, beginning in 1898. Damiano told me that when he and his family renovated the building in 2011, they found old medicine bottles and other historical pieces from Dr. Wiseheart's practice.
Damiano said the building was also used as a feed store and a saloon in the past. It was an apartment when the family bought the building.
A family's labor of love
Damiano, his wife and his in-laws did all of the work to refurbish the building in 2011. His brother-in-law laid the patio for outdoor dining, they built the kitchen and a bathroom, they did all the painting, and they even redid the floors.
The subfloor is so well-built that Damiano jokes that "you could drive a tank on it."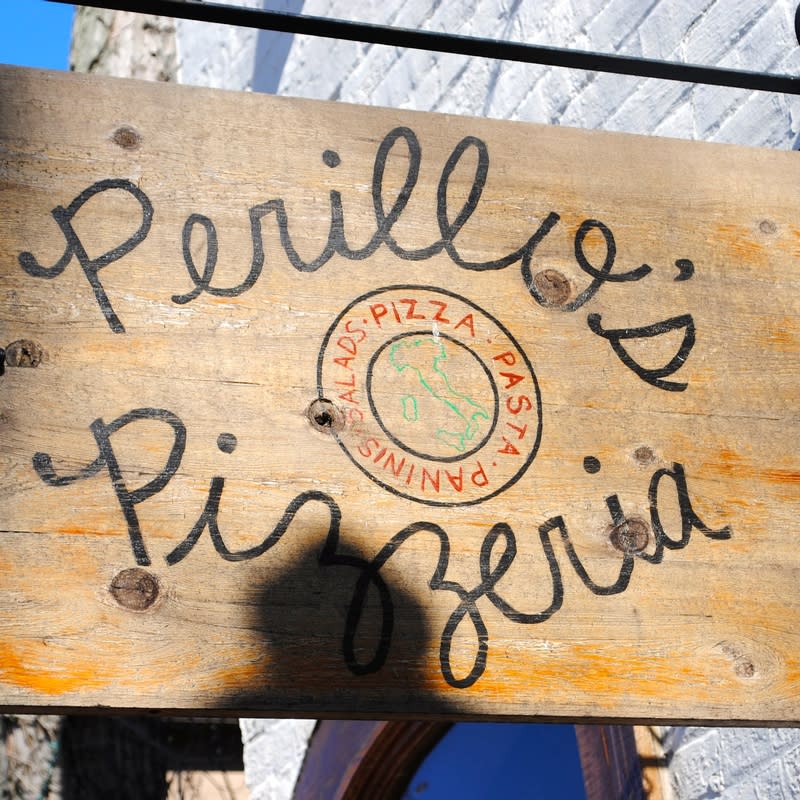 Authentic Italian
As soon as Damiano starts talking, it's clear that he's not from North Salem. His accent gives away his ancestry: Sicily, Italy. Damiano graduated from culinary school in Palermo, the capital of Sicily.
He came to the United States in 1999, and his wife is from the North Salem area, which brought him to Hendricks County.
No credit cards
Your credit cards are no good at Perillo's, and Damiano said, "As long as I'm alive, Perillo's will never accept credit cards."
Why? The fees.
"Why pay thousands of dollars every year in credit card fees when I can give that money to my employees, instead?" says Damiano.
No worries for those who don't normally carry cash. There's a branch of North Salem State Bank a block north of Perillo's with 24-hour access to an ATM. Checks are also accepted at Perillo's.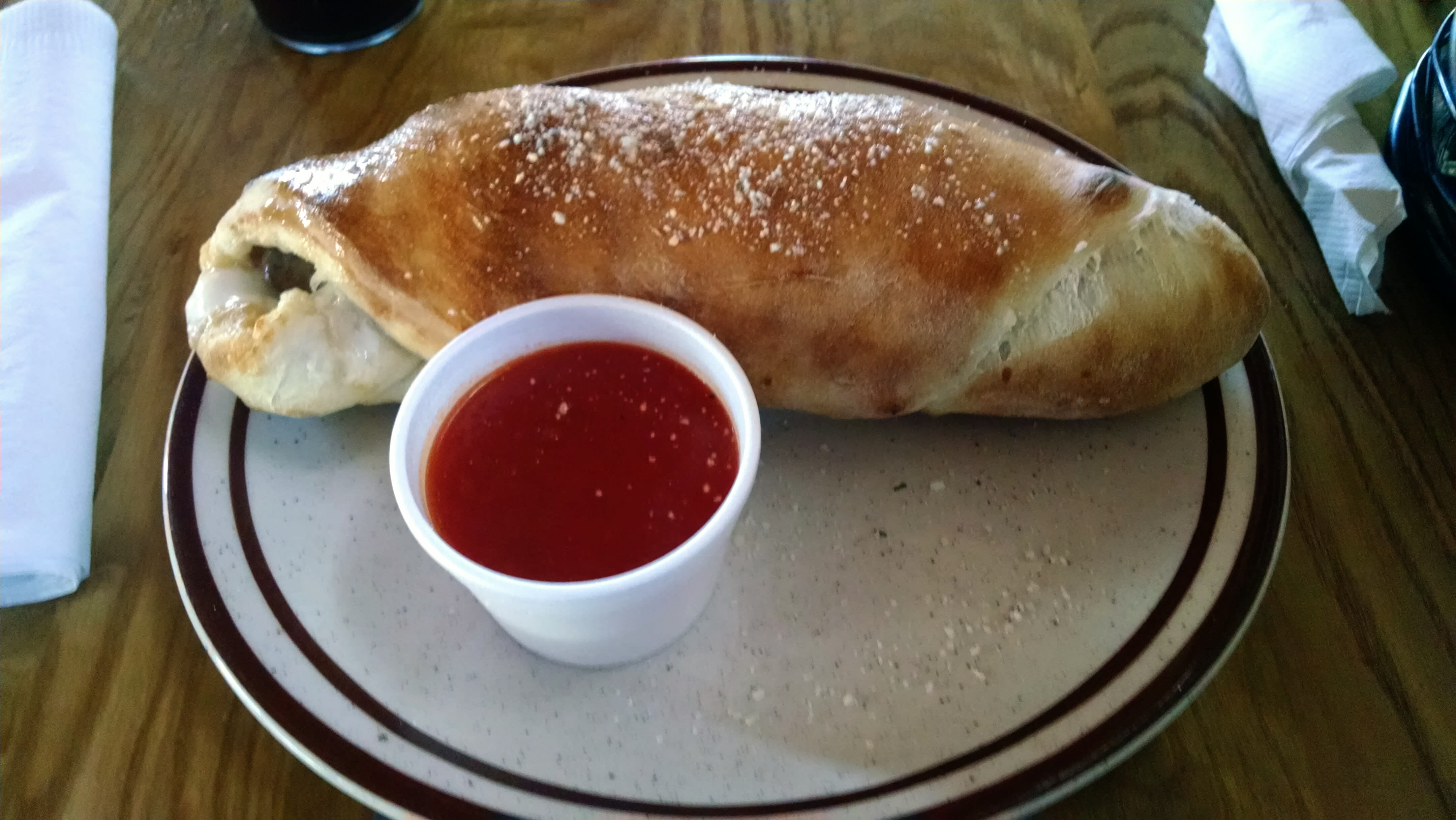 The food
I ordered a sausage roll calzone while I was there for lunch, and I was pleased to see on the menu that it was a very reasonable at $6.50. The menu said that it's made with sausage, green pepper and onion -- right up my alley.
I watched as Damiano tossed the dough in the air several times, assembled all of the ingredients and placed the calzone in the oven. I was so enthralled by watching him in action that I didn't pay any attention to the size of the calzone until my waitress brought the monster to my table.
The calzone was massive, and as I dug in, I discovered that it is an entire Italian sausage wrapped in pizza sauce, bell pepper, onion, and a truckload of cheese. The whole thing is encased in dough and baked to a golden brown before getting topped with melted butter and a sprinkle of Parmesan cheese.
I've had a lot of calzones in my life, but this one, without question, was the best one I have ever eaten. 
Carryout
Perillo's doesn't take reservations, but they do offer carryout so that hungry patrons can call in an order and come pick it up.
Customers can place their orders by calling (765) 676-4171. 
Customer appreciation
I asked Damiano if there's anything in particular he would like readers to know, and without hesitation, he said that he loves his customers.
"I thank God every day for every customer who walks through our door," he said. "To all of my customers, thank you!"
He enjoys talking with customers and has learned that some of his regular patrons travel up to 75 miles each way to eat there. People's devotion to his establishment warms his heart.
Damiano's love for his customers trickles down through his employees, too. As I finished my meal, my waitress came to check on me and asked me a surprising question:  "Are you nice and full?"
If I'm full from a great meal, that's what's important to the Perillo's staff. I noticed the message in my waitress's question, and I appreciated it.
What's not to love about Perillo's Pizzeria in North Salem? Make a point to visit Hendricks County and experience fresh authentic Italian cuisine, friendly staff, and a relaxed atmosphere with a family focus.
Perillo's Pizzeria
(765) 676-4171
Closed on Tuesdays

Open for lunch daily from 11 a.m. to 2 p.m.
Open for dinner on weekdays from 4 to 9 p.m.
Open for dinner on Saturdays from 4 to 9:30 p.m.
Open for dinner on Sundays from 4 to 8 p.m.
Cash and checks only; no credit cards accepted