So, you're a motorsports fan, and you've just entered The Racing Capitol of the World for an event or are visiting the Central Indiana area for some other reason.
You must take advantage of this opportunity to check some motorsports destinations and attractions off your bucket list, right?
To help with that, I decided to put together a motorsports driving tour that includes racing attractions that are at least worth driving by. In some cases, I also include places to get out of the car for a picture, to eat or even to play.
I will start the driving tour here in Hendricks County, Indiana, and will include a few sites in Indy as well. So, get your motor running and make a few pit stops along the way race fans.
Hendricks County
Lucas Oil Indianapolis Raceway Park
Any race fans' visit to Hendricks County must start at this iconic track in Brownsburg, Indiana. One of the best weekends to visit Lucas Oil Indianapolis Raceway Park is Labor Day Weekend when the U.S. Nationals are in town, which is the most prestigious drag racing event in the world.
But really any event whether it is on the oval or drag strip is worth your time. If you happen to arrive at a time when the track is quiet, you can drive by the main entrance of the facility on U.S. 136 just east of Brownsburg and then if you turn south on County Road 1000 East from U.S. 136 and drive about a mile, you will see the grandstands and other parts of the facility from a distance.
Gearheads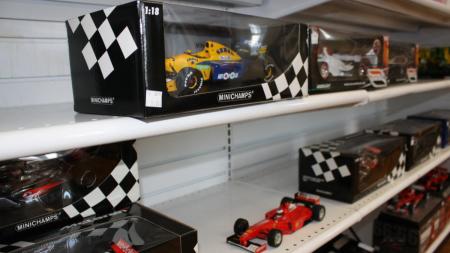 Located just west of Lucas Oil Indianapolis Raceway Park on U.S. 136 (10249 E. U.S. 136, Brownsburg), Gearheads provides a great shopping experience for any race fan.
The shop offers all the latest diecast and other racing collectibles.
But just a word of warning, the shop sometimes has odd hours as it is locally owned.
So, you may want to call ahead before stopping in for a visit.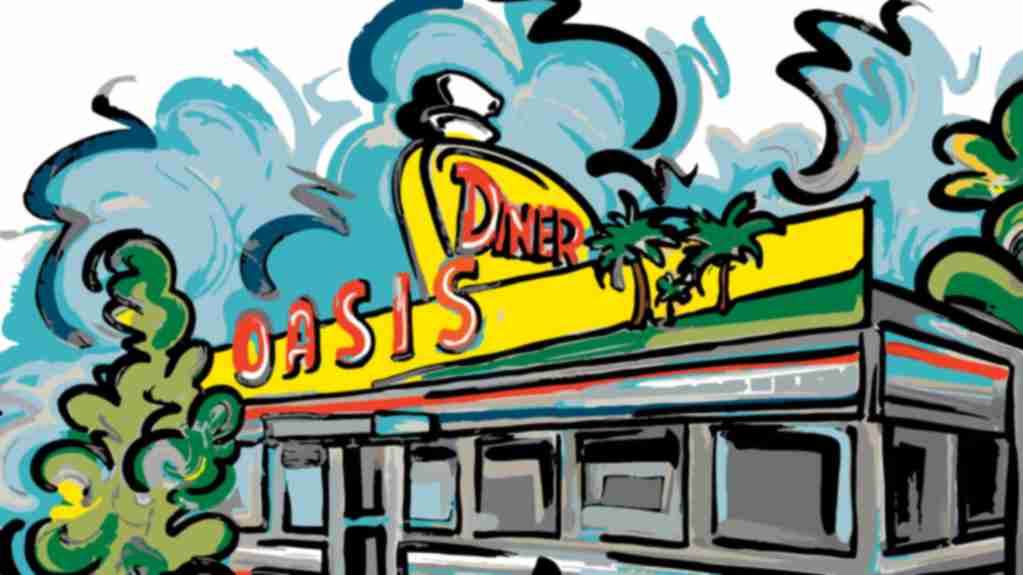 Free Visitor Guide!
Get your insider guide to all things Hendricks County by ordering a FREE Visitor Guide.
Brownsburg Motorsports District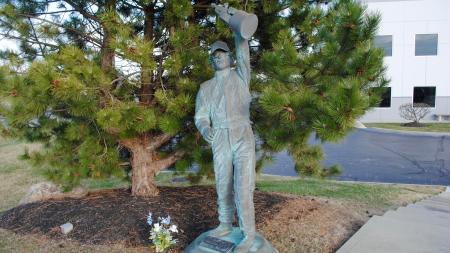 Just two miles west of the track on U.S. 136, turn north on Northfield Drive and you will begin to see racing headquarters and shops on both sides of the road. Some highlights include Don Schumacher Racing (1681 E. Northfield Drive) and Vance & Hines (1211 E. Northfield Drive).
As you turn a corner and start heading west on Northfield Drive, I suggest turning left onto Southpoint Circle to check out some more racing operations including John Force Racing (498 Southpoint Circle). If you pull into the John Force Racing parking lot, make sure to get out of your car and walk to the west end of the parking lot to the big flagpole and check out the Eric Medlen statue.
For those who don't know, Medlen was a mechanic and Funny Car driver for John Force Racing who was killed in a racing accident during a test session in Florida in 2007. The statue was fabricated by Storyland Studios in California and makes a great photo opportunity for any race fan.
Make sure to continue south on Southpoint Circle and see what other motorsports-related businesses you can find. Just keep in mind, none of these race teams or headquarters offer tours to the public.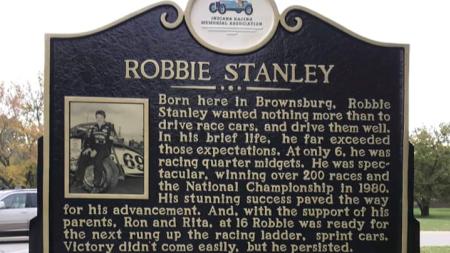 I will include some of these racing markers, think historical markers you would normally see alongside the road but for racing, throughout this post. You can find two in Brownsburg:
Larry Rice – Part of the Indianapolis Gateway Trail near the I-74 interchange in Brownsburg just north of Family Medicine and Specialty Care Services, 1080 N. Green St., you can find this marker. Rice won a USAC National Midget Championship, two USAC Silver Crown Championships and is a member of the National Midget Auto Racing Hall of Fame.
Robbie Stanley – Located at the entrance of Williams Park, 940 S. Locust St., this memorial honors Stanley, a three-time USAC National Sprint Car Champion who also raced in the NASCAR Busch Series in the early 90s, before his untimely death in a race accident during a USAC race in 1994.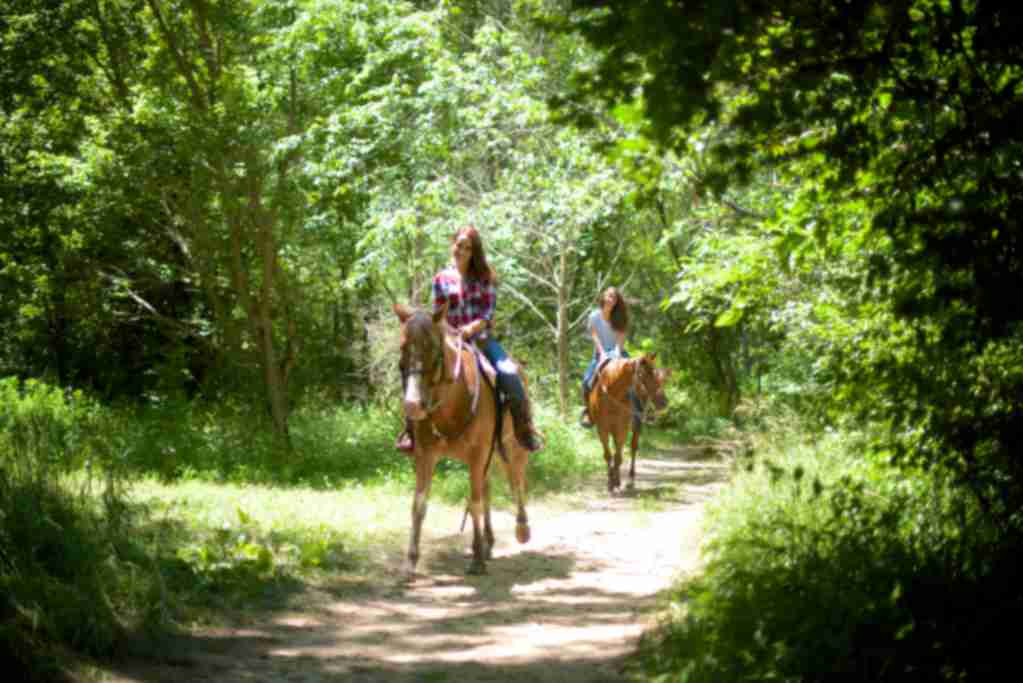 Stay Updated!
Sign up to receive the Weekly Insider or Monthly Planner newsletters for events, things to do, discounts, insider info and more!
Marion County
Just east of Hendricks County, Marion County encompasses all of Indianapolis as well as the racing town of Speedway, Indiana. So, I will start with one of the most iconic racing venues in all of motorsports, which is just about 15 minutes from Brownsburg.
No motorsports driving tour in Central Indiana would be complete without a visit to this track. Hopefully, you can come when the Indianapolis 500, the Brickyard 400 or some other event is going on. If not, you still have options.
The main entrance got a facelift a couple years ago near the roundabout at Crawfordsville Road and 16th Street. Find a place to park and make sure you head there on foot for some great photo opportunities.
You can also find an IRMA marker at that main entrance honoring Tony Hulman.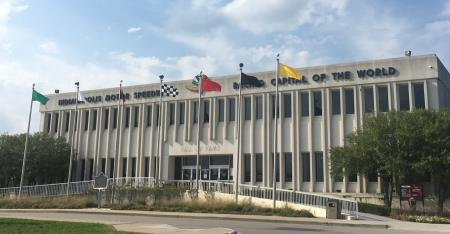 No matter when you visit the track, even if it isn't a race weekend, you should make sure to plan a visit to this amazing museum inside the oval.
You can access it off 16th Street, and it is open every day of the year except Thanksgiving and Christmas days.
If you are a motorsports fan or even just a car enthusiast, you can easily spend hours at this amazing attraction. Filled with plenty of race cars and hundreds of other racing displays, you won't believe your eyes as you tour this 37,500-square-foot piece of racing heaven.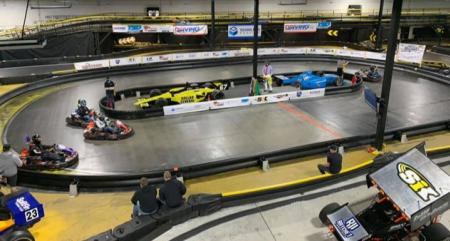 Just a few blocks south of the Indianapolis Motor Speedway on the town of Speedway's Main Street, you can join in the racing fun.
This state-of-the-art, indoor karting facility provides visitors of all ages and experience levels the opportunity to race on various courses including a banked oval.
Other Speedway Main Street Destinations
You need to at least drive down Main Street in Speedway, and after experiencing it in your car, you probably will want to find a place to park and experience it on foot as well. There is so much to see and do and so many photo opportunities, that I can't cover everything.
But here are some highlights: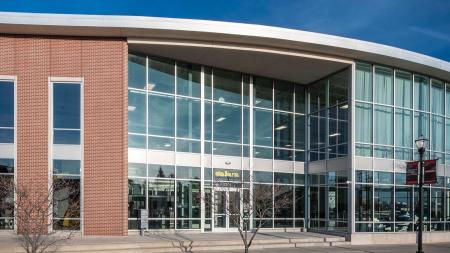 Dallara IndyCar Factory – While the museum is no longer open to the public for tours, this is still a building worth peeking in the glass to see and get pictures outside.
Charlie Brown's Pancake & Steak House – This historic restaurant hosts Indy 500 drivers during the month of May and boasts racing memorabilia and other themed decor on its walls.
Foyt Wine Vault - This upscale restaurant named after racing legend A.J. Foyt serves appetizers, alcohol and boasts an A.J. Foyt racecar display.
Big Woods – Another great restaurant on Main Street with a bar that might look vaguely familiar to Indy 500 fans as they created it in the shape of the Indianapolis Motor Speedway oval. It even faces the same direction as the track. Oh, and they serve amazing food and drinks as well.
Notable IndyCar Team Headquarters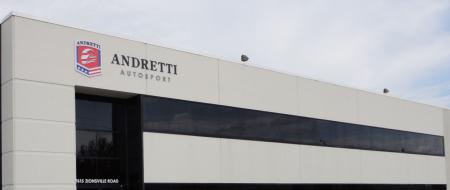 Here are some IndyCar racing headquarters you may want to consider checking out during your driving tour (Don't expect tours inside these buildings. These visits will be for exterior pictures only):
Andretti Autosport - 7615 Zionsville Road, Indianapolis
Chip Ganassi Racing - 7777 Woodland Drive, Indianapolis
Rahal Letterman Lanigan Racing – W. 106th South, Zionsville, Indiana
A.J. Watson - Located along a trail in Speedway just north of USAC Racing, 4910 W. 16th St., you will find this marker dedicated to Watson, who became known for his roadster designs. The Watson Roadsters dominated the late 1950s and early 60s with multiple Indy 500 wins and even more front row appearances.
Chevrolet Family - Placed in conjunction with new grave markers at Holy Cross and St. Joseph cemeteries, 2400 S. Meridian St., Indianapolis. Make sure to use the south entrance from Pleasant Run Parkway to find the marker.
Crown Hill Racing Legends - Crown Hill Cemetery, 700 38th St., Indianapolis, is definitely worth the visit for any race fan with various racing legends buried there. They even offer public, private and self-guided tours to see the gravesites of all the racing legends within the cemetery, May through October.
Indianapolis Motor Speedway Founders - This marker honors the four founders of the Indianapolis Motor Speedway. It can be found at the James Allison Mansion, Marian University, 3200 Cold Spring Road, Indianapolis.
For even more information about motorsports tracks and attractions within an hour of Hendricks County, make sure to check out this blog post as well.
Did we miss one of your favorite racing attractions in Hendricks or Marion counties? Let us know in the comments section below.