If you are looking for an affordable, fun, family-friendly fall break vacation that is close to home, Hendricks County, Indiana, provides all of that and more. Here's how I'll be spending my fall break with my family; you're welcome to join in!
Day 1
Emmy's Pancake House & Grill
I love starting vacation with a hearty breakfast and Emmy's Pancake House & Grill in Avon specializes in made-to-order meals, including Emmy's famous Special Recipe Crepes. A special menu for children 12 years and under has way more than your typical restaurant kids menu.
uPaint Pottery Studio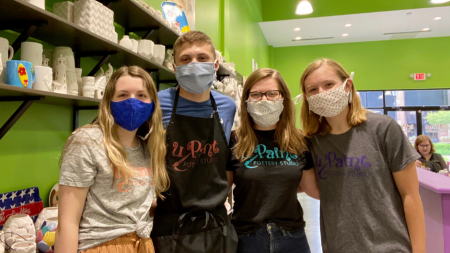 After breakfast, we plan to head to Plainfield to uPaint Pottery Studio, where the perfect weekend souvenir can be found. This place is colorful, fun and has so many pieces of pottery waiting to be decorated that your family won't know where to start. 
Guests can select a pottery item and paint it exactly as they like. Perhaps you can find a pumpkin, monster or other fun, fall-themed item to paint as individuals or with the family working together.
All of the supplies are provided, and the mess stays there as the amazing staff will clean up after you. Items do have to be fired in the kiln afterward, which can take up to a week before your creation is ready, but if you don't live nearby, they can ship it to you.
Mayberry Cafe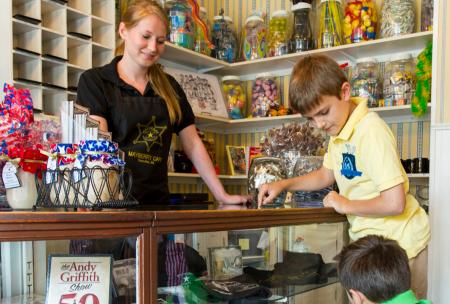 After a morning full of creative fun, lunch should be equally fantastic, and I have just the spot at the unforgettable Mayberry Cafe. A favorite for both locals and visitors, especially Andy Griffith Show fans, this restaurant is a true family favorite.
May I recommend Aunt Bee's Famous Fried Chicken Dinner and Sugar Cream Pie? Children's meals include a beverage and a token that can be redeemed for an ice cream sundae or a toy.
You can watch endless reruns of the show inside on multiple TVs and make sure to check out the memorabilia and get your picture taken out front.
McCloud Nature Park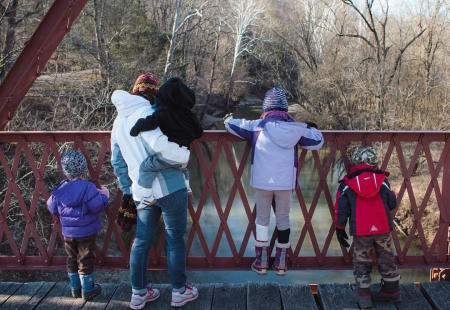 In the past I've recommended Sky Zone Indoor Trampoline Park in Plainfield and while that is still a great option, I've decided to mix it up this year with an outdoor attraction to help with social distancing.
And let me tell you, there may not be a better time to visit McCloud Nature Park in North Salem. This fun experience provides ample property to help with social distancing including a number of scenic trails over a historic bridge and through the woods overlooking a ravine carved out of the land by White Lick Creek.
They also have their seasonal Prairie Maze open now and there just isn't a more beautiful time to visit with all of the fall color that is popping out there.
Rock Star Pizza
Finish off your evening of family fun with dinner at Rock Star Pizza in Brownsburg and its fun atmosphere and variety of speciality pizzas.
Who doesn't love pizza? And the unique flavors and topics, including two of their signature pizzas the Caribbean Twist and Smokehouse BBQ, make it so much fun to choose.
They also have become one of the best restaurants in the entire region for those on a keto diet. Their keto options seem to be almost endless.
Day 2
Hilligoss Bakery
The best way to start day two would be an early morning trip to Hilligoss Bakery in Brownsburg where the doughnuts go fast and furious.
This is a true local gem that residents probably wouldn't want me to share with visitors. Their glazed yeast doughnuts are highly sought after, but they have a huge variety of specialty doughnuts to suit every member of your family as well.
Natural Valley Ranch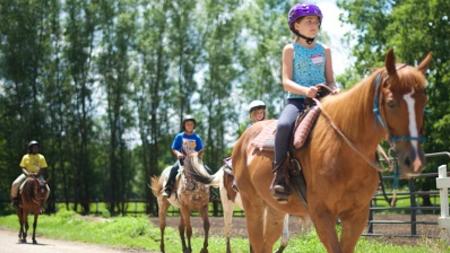 After fueling up on doughnuts, head out to Natural Valley Ranch in Brownsburg. This ranch offers horseback rides by reservation through wooded areas, meadows and along beautiful creek-side vistas.
They also have a petting zoo on site as well as a cottage, cabin and lake. There is just no better place to spend a fall morning then exploring their sprawling countryside either on foot or horseback.
Pit Stop BBQ & Grill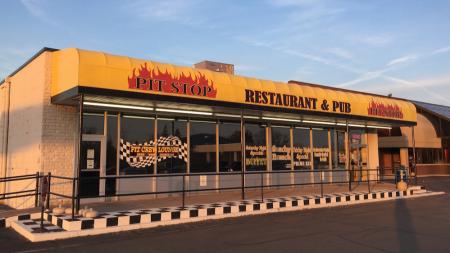 Before you leave for the weekend, make sure to grab brunch or lunch at Pit Stop BBQ & Grill in Brownsburg. The kiddos will love the racing theme, and you will love the authentic, southern-style barbecue.
If you have any time left before you go, other family options include Beasley's Orchard in Danville or Hogan Farms in Brownsburg for their fun fall activities or enjoy another great experience by appointment only at Montrose Farms Alpaca Ranch in Brownsburg.
If you need accommodations for your weekend getaway, be sure to check out our hotel guide. You can also view a full listing of events here.