Looking for a weekend or week-long getaway over fall break? Hendricks County has options ranging from relaxing, kick-up-your-feet nature trips to entertaining family fun to keep everyone busy the entire time.
Personally, I like a little of both when our family of four takes a quick trip. We want to enjoy the outdoors and learn something new but also enjoy time together as well. Check out just one of the many options for a fall break getaway in Hendricks County this year.
Accommodations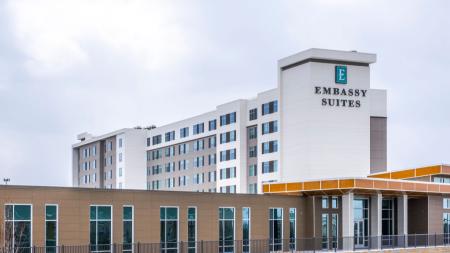 For starters, finding the perfect place to stay is typically where I begin. The county has several beautiful and relaxing Bed and Breakfasts.
They also offer hotels in Plainfield and Brownsburg, including the newest, Embassy Suites By Hilton Plainfield Indianapolis Airport Hotel, Hendricks County's first and only full-service hotel. If it's got an indoor pool, that pretty much seals the deal with my bunch.
Once we have our lodging booked, we begin building an itinerary from local eateries to fun activities.
Day 1  
Oasis Diner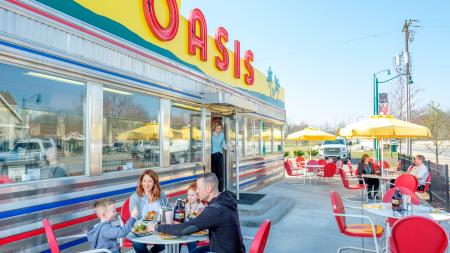 First thing in the morning, we'll head over to Oasis Diner in Plainfield for a hearty breakfast in a historic 1970's diner with an awesome selection of steak and eggs, stuffed French toast and loaded biscuits and gravy.
In addition to the diner's history, it also sits on historic U.S. 40, and the menu reflects as much. Choose from a list of options like the Reno Western Skillet to the St. Louis Slinger. 
My kiddos often go for the variety of omelets from meat lover to a Philly omelet with sirloin steak, green peppers, mushrooms and provolone cheese. 
Beasley's Orchard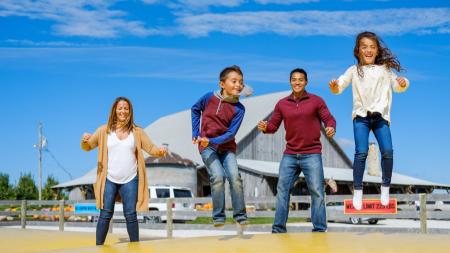 Fall isn't complete without a stop at Beasley's Orchard in Danville.
Throughout the months of September and October, there's an event nearly every weekend and the we love everything from hayrides to the pumpkin patch to the corn maze and apple cannons.
Beasley's boasts a bit of history as well, with a barn dating back to the Civil War era and now serves as a year-round market.
We love to stop in the barn for some fresh apple cider and sweet snacks and just outside, the Barnyard Bonanza keeps the kids busy for hours, climbing the hay mountain, jumping on a giant trampoline and getting their faces painted.
Two Guys Pies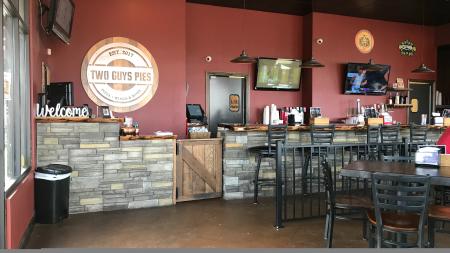 Danville offers an assortment of great stops for a quick bite.
My group enjoys stopping by Two Guys Pies to share a pizza with a variety of toppings. However, it's not just pizza that makes it a win for everyone. It also boasts a large salad bar and additional options.
The only issue here, is deciding what to choose. The menu includes delicious wings and sandwiches like the meatball sub or the chicken bacon ranch. They also have a great selection of appetizers, including loaded potato skins, mozzarella sticks and loaded quesadillas. 
Afternoon Shopping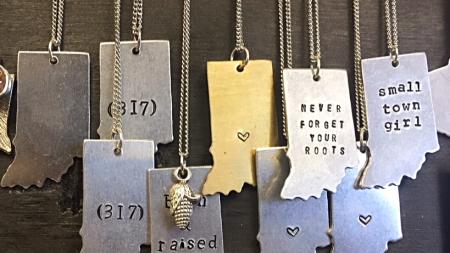 Within walking distance of Two Guys Pies is the center of the county, the historic Hendricks County Courthouse Square in Danville. The square is surrounded by unique local shops where you can find something for each member of your group.
I personally love Forget-Me-Nots, with custom home décor, unique bags and so many cool accents for the house with many of their items coming from Indiana barn wood.
My two girls get excited to visit Seize the Night Designs with handmade and custom jewelry, artwork and gifts and my son loves The Locker Room Sporting Goods for his school sports swag.
Our family could spend hours at The Authors' Patch Bookstore choosing our next family read, and if we're lucky, we'll catch a local author signing their newly published book.
The Coachman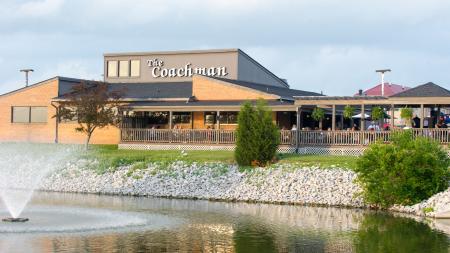 Heading back to Plainfield to end the evening (and go swimming of course!), we'll stop by The Coachman for dinner.
We love the variety at The Coachman and each person can find what they are looking for, from delicious French Onion soup to a juicy burger.
The kids are fans of their Mac and Cheese and Grilled Cheese and the outdoor seating option lets us enjoy the evening weather and each other's company.
Day 2
Big Apple Bagels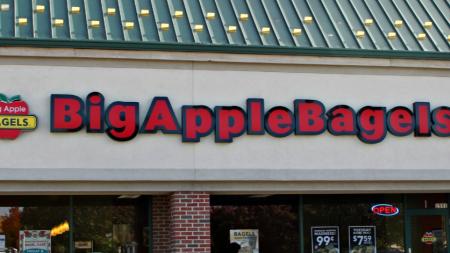 On day two of our fall break getaway, we'll stop by for a quick bagel in Avon.
As mentioned before, the kids can be picky, so a bacon, egg and cheese on a Swiss Melt bagel does the trick, though we also enjoy the variety of delicious muffins, from Pumpkin Spice to Double Chocolate. 
For less picky eaters, the options span from Everything bagels to Chocolate Chip but the quality and family atmosphere is what stands out the most.
Oinking Acres 
After grabbing a bite to eat, we'll head over to Oinking Acres Farm Rescue and Sanctuary in Brownsburg. Tours must be scheduled ahead of time and last approximately 45 minutes.
Guests are able to learn more about the animals on the farm, including ducks, goats and chickens but most of all, more than 100 potbellied pigs that have been rescued from abandonment or unfortunate circumstances.
The cost is $10 a person and Olivia (nonprofit owner) has a passion for spreading healthy and responsible pet-ownership principals. The kids are sure to learn a lot about caring for any pets they may have and many of the pigs are up for adoption, in case your family is looking! 
Books and Brews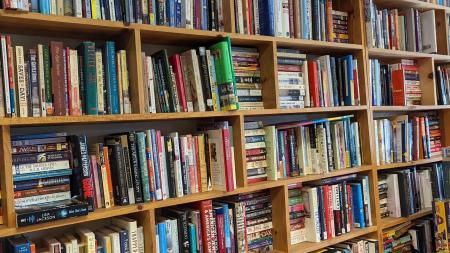 For lunch, we'll stop by Books and Brews in Brownsburg for some more family fun. They have awesome, gooey, grilled cheese sandwiches, nachos and charcuterie plates with a variety of meats, cheese and crackers.
What makes this a fun stop for my family, however, is the board games available, trading cards and collectibles.
The atmosphere is inviting and the folks at Books & Brews go out of their way to be sure everyone is having fun.
My family can spend hours looking through the book collection, playing a family game and just relaxing together.
Hendricks County Parks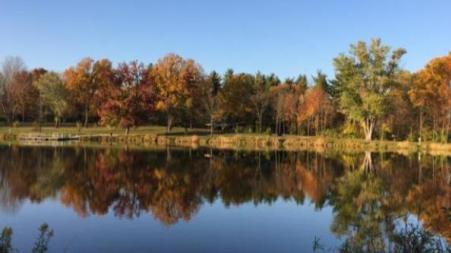 If we have time before heading home, Hendricks County has a wide variety of parks and trails.
We may stop by the newly renovated playground at Williams Park in Brownsburg and check out the Maple Ridge Trail or White Lick Creek and wooded areas at the park. Just a short distance away, we also can take a walk along the B&O Trail.
Don't forget to check out the full listing of things to do in Hendricks County here to find those one-of-a-kind festivals and adventures during your visit!