As a kid, I read every one of
R.L. Stine's
Goosebumps
series of novels that I could get my hands on, and I had several collections of ghost stories that I toted to slumber parties. But while I loved being thoroughly creeped out by those stories, knowing they were fictional helped me sleep at night. As we get closer to Halloween, though, local ghost stories and haunted legends are in the spotlight. If you're looking for a chance to visit some local historic sites—and perhaps find a spooky story of your own to relate—hop in the car and head to
Hendricks County
. These five sites will get you started: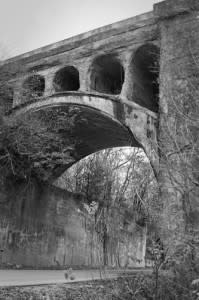 Twin Bridges Road, Danville, Ind.:
Parallel with U.S. Hwy 36, the concrete railroad bridge over Twin Bridges Road can be found just east of Kroger. The bridge, built in 1906, is structurally the same style as
the Avon Haunted Bridge that Ericka visited last week
. Maybe because of their similar structures and close proximity, the stories surrounding these two bridges seem to overlap. The most well-documented story is that of "Dad Jones," a man who was working on the construction team when the platform he was standing on collapsed and he fell to his death, sinking into in the wet concrete below.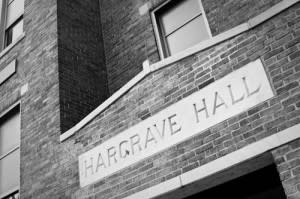 Hargrave Hall, Danville, Ind.:
Central Normal College
, a school focused on educating future teachers, moved from Ladoga to Danville in May 1878. The school remained in operation until 1946, and many say the building is haunted by the ghost of a janitor who worked at the school. Hargrave Hall is currently the site of the Danville Police Department, whose Haunted Hargrave Hall you can still visit this weekend, Oct. 26-27. Check out
Eric's recent post
for more details on this and other opportunities to get a good Halloween scare in Hendricks County.
Royal Theater
, Danville, Ind.:
This historic theater on the square in Danville screened its first movie for the public in 1914. Since then, the theater has changed ownership several times. Legend has it that during the time between 1996 and 2001, when the theater was closed and neglected, spirits took up residence. Staff members have reported unexplainable instances: loud noises in unoccupied rooms; water faucets turning on by themselves; exploding light bulbs; even hearing their name whispered nearby.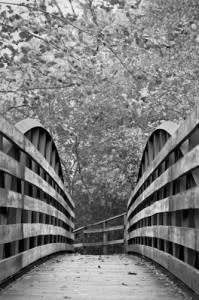 White Lick Creek Bridge, Danville, Ind.:
From a footbridge on the north end of
Ellis Park
, behind Playscape, you can sometimes see the remains of an old bridge that visitors claim is haunted. Ghosthunters have said that the woods surrounding the bridge are even more haunted than the bridge itself.
Hadley Friends Cemetery
, southwest of Danville, Ind.
: Don't let the friendly name fool you: the cemetery in this small, unincorporated town at the intersection of County Roads 400 West and 200 South is said to be haunted. By whom? It could be some of the cemetery's permanent residents. But it could also be related to the town's roots with both tangible and symbolic railroads. Hadley was founded in the early 1820s when the railroad was built connecting Indianapolis and St. Louis. But during the Civil War, at least three Underground Railroad stations existed in Hendricks County, including one in Hadley. Could a wandering spirit from this time be haunting the cemetery? Want some additional resources for your ghost tour? I found these books at the
Brownsburg Public Library
as I was researching local legends:
Ghost Hunter's Guide to Indianapolis, by Lorri Sankowsky and Keri Young
Weird Indiana: Your Travel Guide to Indiana's Local Legends and Best Kept Secrets, by Mark Marimen, James A. Willis, and Troy Taylor
Haunted Places: The National Directory, by Dennis William Hauck
A Pictorial History of Hendricks County, Indiana, by Linda Balough and Betty Bartley
Have a spooky Halloween, friends!
What other local legends and ghost stories do you know?