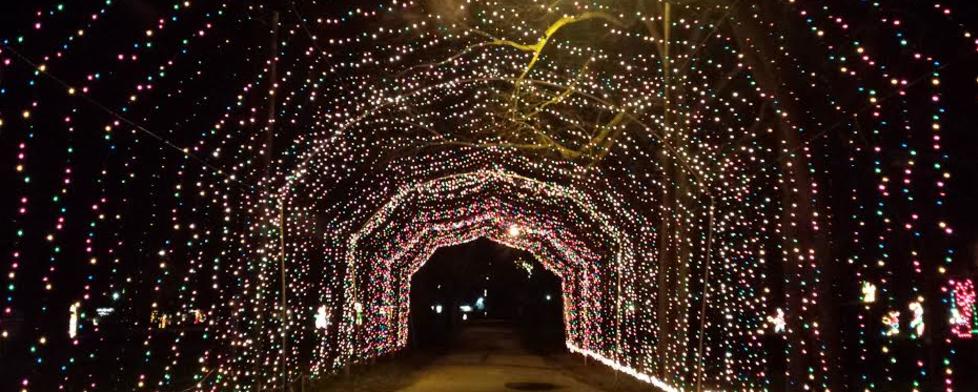 During the holiday season, one of my family's favorite activities is to drive around Hendricks County, Indiana, to look at Christmas lights. Over the years, we've figured out where 10 of the best holiday light displays are located throughout the area, which I'll share with you today.
I'll do my best to put this list in an order that makes some degree of sense if you're out for an evening of holiday light viewing and want to see all of these displays. Just jump into the list wherever it makes most sense for you, based on where you're visiting Hendricks County from, and you should be able to go through the list in order with minimal back-tracking.
For the sake of this post, I'm going to start in Plainfield, Indiana.
1. Hummel Park
Guilford Township's Hummel Park, 1500 S. Center St. in Plainfield, always has a nice light display throughout its property. Simply drive through the park at your leisure to enjoy.
Drive-through
Free
Open daily after dark
2. The Shops at Perry Crossing
The Shops at Perry Crossing is a big outdoor shopping mall in Plainfield, located at 2499 Perry Crossing Way. Starting Nov. 23 at the Annual Tree Lighting, they'll have a huge Christmas tree all lit up in the Town Square area, right in front of the movie theater. Not only can you see some holiday lights, you can also grab a bite to eat, see a movie and get some holiday gift shopping done while you're there.
Park and look
Free
The mall closes at 6 p.m. on Sundays; 9 p.m. every other day of the week
From Dec. 7 through 23, the mall closes at 7 p.m. on Sundays; 10 p.m. every other day of the week
3. Washington Township Park
A Dr. Seuss-themed Whoville holiday light display will adorn Washington Township Park, located at 115 S. County Road 575 East in Avon. Look closely as you drive through and see what that mean ol' Grinch is up to!
Drive-through
Free
Daily after dark
4. Avon Town Hall Park
On or after the Avon Tree Lighting on Dec. 7, families can stop by Avon Town Hall Park at 6570 E. U.S. Highway 36 in Avon and enjoy the town Christmas Tree nightly.
Park and look
Free
Open daily after dark, on and after the first Saturday in December
5. Woodcreek Farms
Walnut Creek Crossing in the Woodcreek Farms neighborhood in Avon features a coordinated neighborhood effort to light up the whole street for the holidays. 
(Insider tip: just a little bit east of the entrance to Woodcreek Farms, on the south side of County Road 200 North, there is a residence lit up with an impressive Christmas light display. It evoked a spontaneous "Whoa!" from both of my daughters.)
Drive-through
Free
Open daily after dark
6. Brownsburg Town Hall
Town officials will turn Brownsburg Town Hall, 61 N. Green St. in Brownsburg, into a magical light display synchronized to music through your car radio on Dec. 7 following the Christmas Under the Stars Parade. Park in their parking lot any evening after Dec. 7 and tune in your radio.
Park and look (from within your vehicle)
Free
Open daily after dark, on and after the first Saturday in December
7. Kaufmann Family Home
Since 2013, the Kaufmann family has offered a holiday light show on their home, located at 5185 N. County Road 600 East in Brownsburg, that is synchronized to classic Christmas music. Follow the signs down their long driveway, park in a large flat open area, and tune your radio in to 98.1 FM to hear the music to which the lights are synchronized.
Freewill donations are accepted, which the Kaufmann family then donates to Habitat for Humanity of Boone County.
Park and look (from within your vehicle)
Free; freewill donations accepted to benefit Habitat for Humanity
Open daily after dark
8. Historic Hendricks County Courthouse Square
Beginning Nov. 29 during Christmas on the Square, the Town of Danville fires up a canopy of white lights over the historic Hendricks County Courthouse Square. 
The town Christmas tree is lit up there, lights hang from street lamp poles and many of the businesses in downtown Danville will have decorated their store windows. It makes for a wonderful atmosphere while you shop, dine or catch a movie.
Park and look
Free
Open daily after Nov. 29
9. Winterland Holiday Light Show
From Nov. 29 through Dec. 28, the mother of all holiday light shows in Hendricks County opens at Ellis Park in Danville. The Winterland Holiday Light Show provides a great way to wrap up your evening of Christmas lights.
Winterland features more than a million lights, a 30-foot-tall lit Christmas tree synchronized to music that you can listen to on your car radio and a fun photo opportunity.
Santa Claus is also at the Train Station in Ellis Park on the weekends. Take as many laps around Ellis Park as you want, once you gain admission.
Drive-through
$10 per vehicle on Fridays, Saturdays, and Sundays; $5 per vehicle on Mondays through Thursdays
Open daily (except Christmas Day) from 6 to 9 p.m. Sundays through Thursdays; 6 to 10 p.m. Fridays and Saturdays
Santa on site on Fridays, Saturdays and Sundays through Dec. 23
10. Stratford Ridge
Another neighborhood that comes together to put up a community Christmas light display is Stratford Ridge in Danville and specifically, the homes on James Court. It's definitely worth a trip down the street while you're in town.
Need a route map for all ten of these locations? Click here.
This was not intended to be a comprehensive list. If I missed a display, feel free to list it in the comments section below.
Make plans to get out there and enjoy this holiday season!