Did you know that there is an American Basketball Association (ABA) team in Hendricks County, Indiana? Did you know that the Indiana Lyons are on the doorstep of their second season based out of Danville? And did you know that Lyons games are a great source of inexpensive family-friendly entertainment from October through April? If you haven't been to a Lyons game, you're in for a treat.
The Lyons play their home games at Bosstick Gym -- affectionately known as the Lyons' Den -- located at 49 N. Wayne St. in Danville, Indiana, and they joined the ABA a year ago. I went to their first regular season game last year simply out of curiosity and because I love sports. I had never been to an ABA basketball game before, so I had no idea what to expect.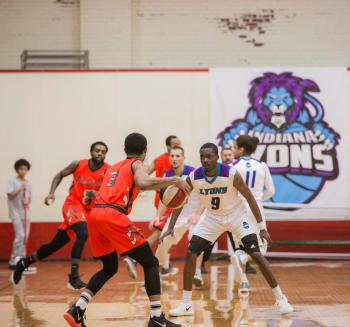 Two hours of fast-paced high-scoring action later, the Indiana Lyons were celebrating a 104-97 win in their first-ever game, and I was hooked.
The 2018-19 Lyons went on to win more games than they lost during their first season, racked up 10 consecutive victories to end the regular season, were ranked in the ABA's Top 25 (out of 140+ teams throughout North America), and hosted a first-round playoff game. I wound up attending almost every single home game, and I left Bosstick Gym each time without my voice.
I didn't know what to expect from my first Indiana Lyons game, so allow me to shed some light and remove any apprehension that anyone might feel about enjoying a basketball game in Danville. Here's what you can expect:
Cheap Tickets, Free Parking
General admission tickets are just $10 a person. If you're a child, a senior citizen, or a member of the military, your tickets are just $5 each. You can purchase tickets in advance online, or you can buy them at the game. Major credit cards are accepted.
There is plenty of free parking all around Bosstick Gym, including two parking lots right across the street.
For two to three hours of entertainment, the impact on your wallet is negligible.
Cheap Concessions
The Lyons offer hot dogs, popcorn, chips, cold water and soda pop, candy and more at the concessions stand, and the prices are very reasonable.
My favorite special that they ran last year was a hot dog, a bag of chips and a can of soda pop for $3. So I can park, get into the game and fill my belly with a pre-game snack, and I haven't even spent $20 yet.
Welcoming Staff
When I went to my first Lyons game, I was greeted by a staff member at the door who thanked me for coming to the game. The very cheerful woman at the ticket counter also thanked me for coming. The crew working concessions welcomed me to the gym and thanked me for my order. Before the game, the Lyons' president, CEO and head coach -- an Avon businessman named Tyrone Brown -- came up to me, shook my hand, thanked me for coming and chatted with me briefly about how exciting the day was. Then he did that with every other fan around me.
The very same thing happened at every game thereafter, all season long. The staff really know how to make you feel like a part of the Lyons family.
Accessible Players
After games, fans pour onto the court, and the players stay and chat with them, shake their hands, sign autographs, thank them for coming to the game, answer questions, pose for photos and take a big group photo at center court with anyone who wants to join them.
Many players are active on social media and are more than happy to connect and interact with fans. The players invest themselves in fans' lives outside of basketball, just as they hope the fans invest in them as both ball players and human beings.
It's a really fun, rewarding relationship between the players and fans.
Red, White & Blue Ball
The modern-day ABA is a reincarnation of the original ABA that brought basketball fans the Indiana Pacers, among other teams. The original ABA used a red, white and blue basketball. Today's ABA does the same thing.
Loud Crowd
The Lyons' Den is loud. We're pretty crazy about our team, and we like to let them know it while also doing our best to deafen the opposition. When Brown spoke with me earlier this week, he mentioned that the team will be selling rally towels this year, so we'll be able to disorient our opponents through sight and sound!
When you come to a Lyons game, don't bring your inside voice. Be ready to roar!
Popular Lyons
In case you're shy about entering the Lyons' Den for the first time (Lyons fans don't care about that, but I understand how some folks might feel awkward), here are some of the more popular players on the team so that you can cheer them on by name and not look like a new fan:
#0 - Johnny Scruggs - One of my favorite players, Johnny might be 5'9" or 5'10", but the guy plays basketball like an angry hornet. Why does he wear #0? Because he fears nothing. It's a treat to watch him play. You'll find me in the stands wearing his #0 jersey.
#1 - Mike Pugh - Mike has athleticism oozing from every pore of his body, and he is routinely the highest-scoring player on the team. I imagine him as the Porsche of the team. He is smooth and ridiculously fast.
#8 - Kendric Lee - Kendric is easy to spot during warmups because of his long hair. He's even easier to spot during games because he's all over the place, terrorizing opponents, registering multiple quadruple-doubles last season and, if I had to guess, leading the team in steals.
#24 - Preston Case - You'll usually find Preston under the rim, battling in the trenches for rebounds and shots from inside the paint. But just as opponents think they've figured him out, he'll drop back behind the three-point line and bury a trey like it's nothing.
Unique Rules
The ABA has some unique rules that might cause basketball purists to squirm, but they make for a fast-paced and high-scoring game that's full of excitement and action.
The most noticeable thing that's unique to the ABA is what they call the 3D Light. It's a rotating, flashing red light at the scoring table that looks like the kind of thing that an undercover police officer would slap onto the roof of his car in the 1970s when pursuing bad guys.
A few things can trigger the 3D Light during a game, but most often, it's when a team loses possession of the ball in the backcourt. When that happens, the light starts flashing, and a point is added to any field goal that's made while the light is on. So a typical two-point shot is now worth three points. A three-pointer is worth four points. Sink a shot from half-court while the 3D Light is on, and it's five points.
The 3D Light stays on until the team scores, attempts a free throw, or loses possession of the ball.
Teams must move the ball across half-court in 7 seconds, rather than the 8 seconds that are allowed in the NBA. Half-court violations result in a change of possession and a flashing 3D Light.
Players do not foul out. However, after a player commits his sixth foul, every foul thereafter is considered a technical foul, resulting in the opposing team shooting a free throw and gaining possession of the ball.
Family-Friendly Atmosphere
Concerned about bringing the kids to a Lyons game? Don't be. The entire organization is very family friendly. Home games are played on Saturdays and Sundays, and the game time is always 5 p.m. so that kids can enjoy a basketball game but still get home and into bed at a decent hour. 
Before each game, the Lyons bring out a bunch of basketballs and let kids play on the court and shoot baskets. At halftime, the team frequently has games and contests for the kids on the court that double as entertainment for the adults in the stands.
As the Lyons players warm up, kids line up courtside for hand-slaps -- and the players are happy to oblige. 
Brown's vision for the Lyons family is that it operates as a faith-based, family-friendly organization that looks out for its players, fans, coaches and staff both on and off the court. He wants a team based on character. And this organization abounds with character, so bring the kids.
High Expectations
123-116.
Lyons players, coaches, staff and fans know what those two numbers are: The final score of the Lyons' first-ever ABA playoff game. The home-team Lyons were on the 116-point end of that score.
"It's like someone came into your home, stole all of the food out of your refrigerator and left before you could even get up off the couch," Brown told me."It left us hungry, and we're ready to take back what was taken from us."
(The team that scored 123 points was the South Bend Monarchs. The Monarchs return to the Lyons' Den on Sunday, Dec. 15 at 5 p.m. That'll be a game you won't want to miss.)
Year Two expectations of the Indiana Lyons are not simply to do a little better than they did last year. Brown was very clear with me about the expectations of this year's team: Win their division, earn a Top 10 playoff seed, earn home court advantage throughout the ABA playoffs and win a league championship.
Brown told me to expect an increase in intensity this season and a lot of growth because the Lyons have unfinished business to attend to. The team's motto this year is No Excuses, if that gives you some idea of their mentality.
No Excuses
Now that you know what to expect from an Indiana Lyons game, there are no excuses for not trying one out! I look forward to seeing you and your family this season in the Lyons' Den!
Indiana Lyons
Home games at Bosstick Gym, 49 N. Wayne Street, Danville, Ind.
All home games on Saturdays or Sundays at 5 p.m.
Tickets: $10/person; $5 for kids, senior citizens and military members
Tickets can be purchased at the door; major credit cards accepted