If you haven't experienced fall in Indiana, you are missing a spectacular sight as all of the leaves start changing color. One of the best spots to immerse yourself in fall foliage is right here in Hendricks County at McCloud Nature Park in North Salem, Indiana. It's no wonder, then, that Hendricks County Parks & Recreation holds an annual celebration of autumn at McCloud Nature Park called the Fall Colors Festival.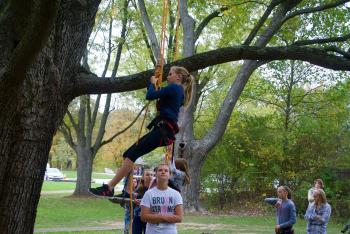 Located just southwest of North Salem, McCloud Nature Park has been one of my favorite spots in Hendricks County -- long before I started working for Hendricks County Parks & Recreation. Autumn is my favorite season of the year, and fall foliage is a big part of that, so I love how the trees at McCloud turn all sorts of different colors.
Visit Indiana regards McCloud Nature Park as one of the best fall foliage spots in the state, and Only In Your State included McCloud in its dreamy road trip to see the best fall foliage across the state. We're kind of a big deal in the fall.
The Fall Colors Festival celebrates that and more every year at McCloud Nature Park, and this year, it will be held on Saturday, Oct. 20 from 10 a.m. to 3:30 p.m. 
We have a number of fun activities on tap for this year's festival! Get some altitude while climbing a tree, throw an ancient hunting weapon called an atlatl, operate an apple cider press, shoot a bow and arrow and go on a hay ride.
Paint a pumpkin, learn how to spin wool, make a candle, get your face painted and have fun with yard games provided by our friends at Brownsburg Parks & Recreation.
Our free, grasshopper-themed Prairie Maze will be open for the whole family to explore during the festival. You can find maps to help guide you through the maze at the Nature Center and at the maze entrance.
(Insider tip: Make sure the whole family is wearing closed-toe shoes that you don't mind getting dirty or muddy inside the maze. The stiff, dried tallgrass stalks don't feel real great when they meet unprotected toes in sandals or flip-flops.)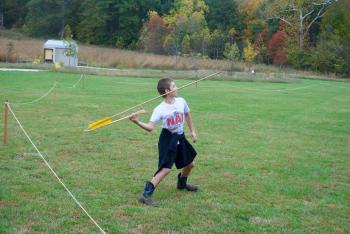 And if you like to run or walk, the Parks Foundation of Hendricks County is hosting their annual Fall Colors Run/Walk at McCloud Nature Park at 9 a.m. that day, offering a one-mile and a 5K course along the park's trails and surrounded by autumn's beauty. Register in advance to earn a commemorative water bottle. All proceeds benefit Hendricks County Parks!
Make plans to bring the entire family out to the Fall Colors Festival at McCloud Nature Park and celebrate fall foliage with us!
Fall Colors Festival
Saturday, Oct. 20, 10 a.m. to 3:30 p.m.
Fall Colors Run/Walk to be held at 9 a.m.; runners and walkers click here for more info
McCloud Nature Park
8518 N. Hughes Road, North Salem, Ind.
Free to attend
Hayrides available for purchase (cash only)