Autumn brings a lot of fun activities to Hendricks County, Indiana, every year and mazes play a large role in how families can spend their weekends in September and October. 
We are fortunate in Hendricks County to have three major mazes -- two of them in corn fields and one in a prairie -- to explore, and they're all parts of larger fall celebrations and activities!
Let's take a look.
McCloud Prairie Maze 
Hendricks County Parks & Recreation welcomes families to enjoy a stroll through the 52-acre prairie at McCloud Nature Park outside of North Salem while navigating the fish-themed maze that was designed and constructed by staff members.
Did you know that an estimated 41 million Americans participate in fresh-water fishing? Of those, more than 170,000 are Hoosiers who spend $66 million on fishing-related purchases in Indiana. Nationwide, U.S. anglers contribute $125 billion to the economy and support over 800,000 jobs. 
Seems like a pretty good reason to celebrate the fish, right?
McCloud Nature Park and its Prairie Maze is open daily from dawn to dusk, and admission to both is absolutely free. You can find maps to the maze inside kiosks located at the front of the Nature Center and at the entrance to the maze.
(Insider tip: If you only have one fall weekend free, I recommend checking out the McCloud Prairie Maze on Saturday, Oct. 22 during the Fall Colors Festival. The autumn foliage at McCloud is spectacular, and the Fall Colors Festival provides a ton of fun for the whole family. The Prairie Maze will host a scavenger hunt during the Fall Colors Festival, so you'll have the opportunity to scour every corner of the maze! For more information about the Fall Colors Festival, click here.)
OPEN:  Now through Oct. 31, 2022
HOURS:  Dawn to dusk daily
COST:  FREE! Leashed pets welcome.
WEBSITE:  Click here
Beasley's Corn Maze 
Beasley's Orchard in Danville is a fun, educational and entertaining place to visit any time of year, but particularly during autumn months when their corn maze is open and their fall activities are in full swing.
Every year, they host a variety of events from mid-September through October. This year's slate of activities:
Hometown Heroes: Sept. 24-25
36th Annual Heartland Apple Festival: Oct. 1-2 & 8-9
Dog Daze at the Maze: Oct. 15-16
Halloweekend: Oct. 22-23
Halloween Weekend: Oct. 29-30
During their Hometown Heroes event, Beasley's Orchard is offering FREE admission for first responders (police, fire, EMT, and military). First responders will also enjoy a 50% off admission for their immediate family members throughout the entire fall season! 
This 8-acre maze takes most people about an hour to navigate, and rubber boots are recommended, especially if it has rained recently.
In addition to the corn maze, enjoy a hayride, shoot apples from a cannon and play in the Barnyard Bonanza area. For an additional fee, you can even pick your own apples and/or pumpkins.
OPEN:  Now through Oct. 31, 2022
HOURS:  9 a.m. to 6 p.m. on Saturdays; noon to 6 p.m. on Sundays; 1 to 6 p.m. on weekdays
COST:  $14/person on weekends; $10/person on weekdays; purchase tickets here
WEBSITE:  Click here
Hogan Farms Pumpkin Patch & Corn Maze 
Up in Brownsburg, Hogan Farms Pumpkin Patch & Corn Maze offers a huge corn maze annually.
The folks at Hogan Farms are celebrating the Wizard of Oz in their 2022 maze design! Hike through Dorothy, the scarecrow, the tin man and the lion at Hogan Farms on any weekend in October.
Their pumpkin patch will be open as you prepare for Halloween, and Hogan Farms is hosting a farmers' market every weekend with several different vendors. They also offer hay rides and a Kids' Zone for additional fees.
OPEN:  Sept. 24 through Oct. 30, 2022
HOURS:  2 to 6 p.m., Tuesdays through Thursdays; 10 a.m. to 6 p.m., Fridays through Sundays
COST:  $8/person
WEBSITE:  Click here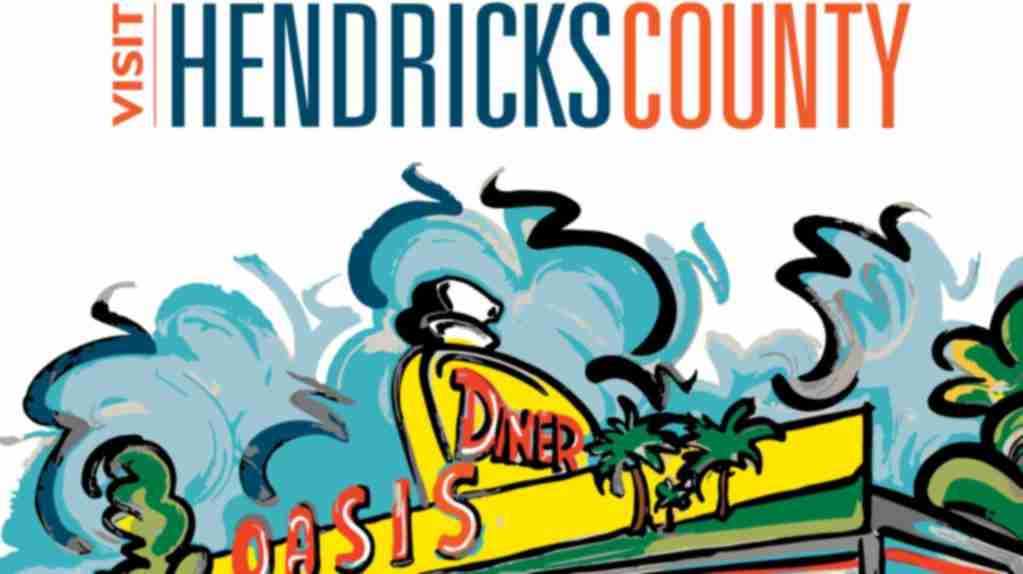 Free Visitor Guide!
Get your insider guide to all things Hendricks County by ordering a FREE Visitor Guide.
Tips For Maze Adventures 
I work for Hendricks County Parks & Recreation, and every year, our park naturalists help patch up bare feet that were poked by cut and dried plant stalks in the McCloud Prairie Maze. We have found abandoned high heels stuck in the mud within the maze, and I'm a dad whose kids have complained of thirst, heat and/or cold in the middle of a maze.
So allow me to provide these tips as you prepare to tackle the mazes of Hendricks County this fall, based on my experience.
Dress for the weather. All three of these mazes are outdoor attractions and can take anywhere from 30 minutes to an hour or two to traverse, depending on your family's navigational skills and travel speed. Layers work well, so you can add or remove clothing as your body temperature fluctuates during your walk. Make sure to have rain gear handy if the forecast calls for precipitation.
Wear closed-toe shoes. While flip-flops and sandals are comfy for summers in the back yard, you need to leave them at home to enjoy these mazes. Improper footwear invites your toes and feet to get stuck by dried plant stalks, sticks or anything else that may lie on the trails. I wouldn't recommend brand-new white sneakers either, especially after a recent rain. Wear boots or knock-around tennis shoes that you don't mind getting dirty or even muddy.
Bring water. As I mentioned above, it takes awhile to get through a maze. You will walk and get warm. You or your kids also will get thirsty. Bring water. If you're bringing your leashed pets to McCloud Nature Park or to Beasley's Orchard during Dog Daze at the Maze, bring water for Fido and Spot, too. We have a water station outside the Nature Center, near the entrance to the McCloud Prairie Maze, that includes a doggie drinking fountain, but it's still a good idea to bring your own water to the park and then top off at the water station throughout the day.
Apply sunscreen. Take it from someone who has emerged on the other side of a corn maze as a lobster in the past: sunscreen is your friend. For those with short, thinning or no hair up top, hats are a good idea, too, lest you wind up with a burnt noggin. Again, learn from my past mistakes.
Bring insect repellent. Insects live outdoors. Don't get carried off by a swarm of mosquitoes because you were caught unprepared. Bring insect repellent.
Check websites before you go. You don't want to miss out on other activities that each of these facilities offers in addition to their mazes!
Have fun, and feel free to comment below to let us know what your favorite Hendricks County maze is and any tips I may have missed!