With my internship at Visit Hendricks County this summer, I've had some really cool opportunities to explore all the things that make this county unique. Between all the history, restaurants, entertainment, and sports, I'm not sure why I was surprised when I discovered the world of cycling right here in Hendricks County.
Here are a few things that I have found...
Let's start with Gear Up Cyclery, 124 W. Main St., Plainfield. This locally owned shop offers anything and everything a cyclist might need. I met with the owner Dennis Gibbs who took me on a tour that included two floors filled with bicycles of all kinds, bike parts, accessories, apparel and more.
He went over everything from how to pick out a bike to finding the right kind of cycling shorts. The best part is he didn't do this just for me because I was writing this story. That is just simply the kind of customer service anyone who walks into Gear Up receives.
I left there feeling like a pro. I encourage you to check this place out. Plus, they have all kinds of suggestions for trails and events in the county.
Who knew there were more than 25 miles of paved trails in Plainfield alone? Not me. It's safe to say that there are enough trails throughout the county that you probably wouldn't have to ride the same one twice this summer.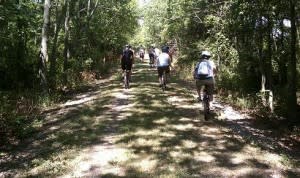 With these scenic routes, it is likely you will find one you prefer. My new friends at Gear Up recommended three trails from their Ride Hendricks County maps. I will give you a general idea of each but for more information on each specific route, you will need to visit Gear Up Cyclery.
Danville-McCloud Nature Park: Beginning at Danville South Elementary School, this 27-mile loop takes you along various county roads and past open fields and farms. On your way, stop and take a dip in Big Walnut Creek or take a rest at McCloud Nature Park. This trail was also a top pick for safety.
Plainfield-Danville: Best known as "Seven Bridges", you'll find a variety of bridge architecture along this 18-mile loop through the countryside. On your way back, you'll pass through parks, farmlands, and the Cartersburg spring.  This trail begins at Friendship Garden Park in Plainfield.
Lizton-Jamestown-North Salem: If you really want a challenge through the Hendricks County countryside, this nearly 33-mile ride begins at Tri-West High School and takes you by McCloud and Pleasant View parks and across Big Walnut Creek on your way back.
Hendricks County also has a few cycling events coming up. The first is Ride Across Indiana (RAIN) on July 12. This 160-mile ride starts in Terre Haute and takes you all the way across the state of Indiana.
This ride may be a challenge considering Indiana's crazy weather, but they include rest stops – one of them right here in Plainfield – lunch, a T-shirt and even a souvenir at the finish line.
Looking for something a little less intense? Gary's Ride on Aug. 16 in support of the Gary Dudley Memorial Scholarship Foundation is another option. This recreational ride starts in Plainfield and takes you through Hendricks County. Riders of all ages and skill levels are welcome.
There is also the popular B&O Trail that holds many events throughout the summer and fall. With its original creation in the 1800s as a railroad, it is full of Indiana history. A portion of the trail is paved in Brownsburg between County Road 300 North and Ind. 267 and also between Raceway Road and the Ronald Reagan Parkway.
Between the trails, the greenways, the variety of events, and the locally owned shops, it is clear that Hendricks County has a great deal to offer all cyclers across the state of Indiana. I encourage you to take advantage of these opportunities.
Not only is it a great way to get outside and enjoy the weather, it's great exercise! Plus, it is an activity the whole family can enjoy.
For more information on trails and greenways, contact us at Visit Hendricks County.