I don't know what it is about fall, but it has rapidly become my favorite season of the year here in Hendricks County, Indiana.
Between all the fall festivals, leaves changing colors and just getting a break after a hot summer, the changing of the season has become a welcome addition for me and my family.
So, I wanted to mark the occasion by providing a list of unique fall activities that I've discovered over the years that can only be experienced in Hendricks County. Think of this as a fall bucket list of sorts, and try to check all these off your fall to-do list.
Shoot Apple Cannons
When Beasley's Orchard in Danville added their powerful apple cannons a few years ago and then began adding targets to hit, I was hooked.
Unlike a bullet in a gun, every apple you put into these cannons come in different shapes and sizes, so you just never know how they are going to fly despite your best aiming efforts. But it is fun all the same.
This is just one of many fun activities you can enjoy at Beasley's in October. They also have a corn maze, hayrides to the pumpkin patch, a Barnyard Bonanza family area and much more.
They really know how to celebrate in the fall, and I think you just might hear about a few more activities out there on the farm later in this list.
Make a Glass Pumpkin
Anyone who has made an appointment for a one-of-a-kind glass-making experience with Lisa Pelo at Hot Blown Glass in Clayton can attest to how memorable it is.
Lisa is a certified Indiana Glass Artisan, and she really knows how to make you comfortable in her workshop, even if you have no experience; and let's face it, most of us don't.
I get the hesitation from people. It can be intimidating to stare down the glory hole (that is what glass artists call it) of molten glass. But once you're finished you will wonder why you were so stressed about it. And the souvenir you will take home will be more than worth it.
You do have to make an appointment with Lisa before visiting, and you won't get to take home your creation the same day. It takes a few days to cool and harden.
If you are still a little hesitant, bring a friend or family member to do it with you. It will be a memory you will cherish for years to come.
Take a Scenic Hike Under a Canopy of Colors
Central Indiana in general provides many opportunities to enjoy fall color, and we have even put together a list of places to see fall color within an hour of our county.
But without a doubt, McCloud Nature Park in North Salem provides your best views here. It has even been recognized both regionally and even nationally for its fall color. Its scenic vistas as you meander on its nature trails that wind along Big Walnut Creek provide everything you need to get away from it all.
If you want to hone in on one specific weekend to visit McCloud in the fall, I would highly recommend attending their Fall Colors Festival in mid-October. They have so many activities that weekend to go along with the picturesque views that you will wonder if you have time for it all.
Sample Award-Winning Apple Cider & Its Friends
I promised that Beasley's would return. It just isn't October unless you've had some of their award-winning apple cider. I don't know how they've come up with this family recipe, but they have perfected it.
I'm partial to their cider slushies at their Cider Bar inside their barn, which also showcases their cider in frozen form. They also have introduced a line of hard ciders in cans in recent years that the adults can sample.
Those drinks pair nicely with their apple dumplings and other yummy creations inside their barn.
But Beasley's isn't the only location with fall-inspired sweet treats. Here's a list of other treats and where you can find them in Hendricks County.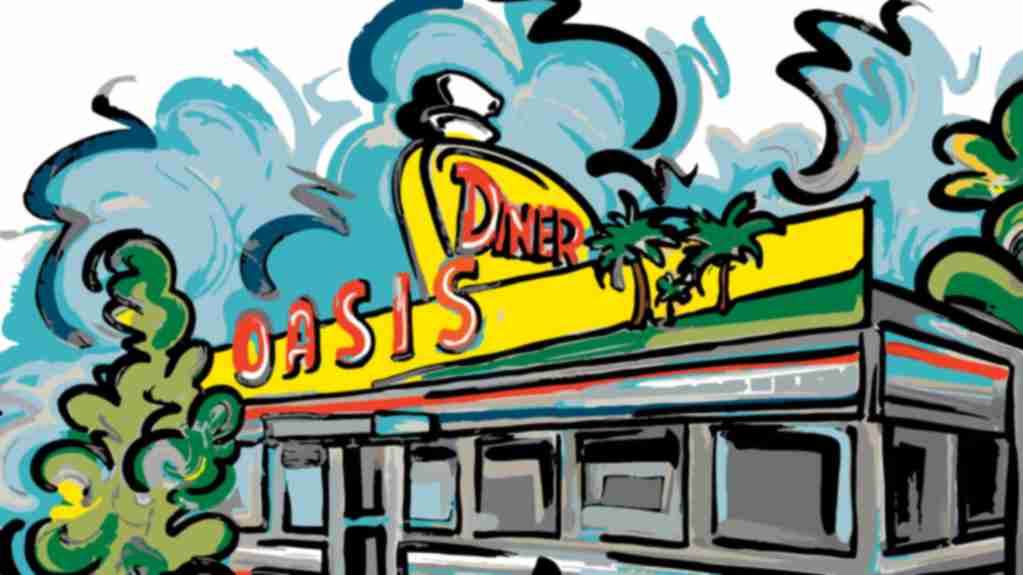 Free Visitor Guide!
Get your insider guide to all things Hendricks County by ordering a FREE Visitor Guide. Download or order a print copy today!
Get a Mug Shot
So in this age of selfies, I considered a number of options for Instagrammable-worthy locations with a fall or October theme. I considered recommending a selfie with resident farm animals, such as the alpacas at Montrose Farms or the potbellied pigs at Oinking Acres, but I landed on more of a Halloween-esque option.
So, how about visiting the Hendricks County Historical Museum in Danville and posing for a spooky mug shot in their old jail cells?
These old cells are no joke. If you have a youngster you want to scare into behaving, this is the place to take them. The old jail has kind of a dungeon feel, and I struggle to comprehend how prisoners used to stay there.
But there is also much more to see while you are there. The museum provides a great educational experience learning about our county's history as you tour the perfectly preserved old Sheriff's residence and jail.
The museum is only open to the public for tours from 11 a.m. to 3 p.m. Fridays and Saturdays, or groups can schedule a private appointment. 
Play Dress Up With Your Dog
For those dog owners out there, I wanted to make sure to include an option that would allow you to bring your pets. And what better way to enjoy being with your pet then to get both of you in costume for the annual Dog Daze at the Maze event at Beasley's Orchard.
Beasley's Dog Daze weekend in mid-October annually focuses specifically on dog families while raising money and promoting awareness for local rescue groups. They host tons of pet-related vendors on site.
Participants can compete in a costume contest and of course enjoy all the usual fun at the orchard like taking their dog through the corn maze, checking out the rows and rows of apple trees and meeting other pet owners.
Witness the Pumpkin Drop
Who doesn't want to see a gigantic pumpkin (I mean we are talking the biggest pumpkin you have ever seen) dropped from a giant crane and splatter all over the asphalt below?
Yeah, me, too.
Every year, The Smiley Morning Show radio station teams up with The Shops at Perry Crossing in Plainfield to put on this early morning event. It is usually held during the middle of the week in mid to late October, but it is so much fun.
Music is playing, and the radio show is airing. You have both local vendors and the radio station constantly giving away prizes, candy and other goodies to the crowd. Bundle up, bring your warm beverage and some friends and family and attend this party that becomes an Instagram and Tik Tok classic the moment that crane lets that pumpkin go.
Dare to Experience Our Haunted Bridge
I couldn't complete this list without including our local scary legend. Depending on who tells it, the Avon Haunted Bridge has a past that keeps on providing stories many moons later. I suggest reading our very popular blog post that details the legend.
You have a few different options to experience the bridge. You can drive under the bridge and experience the legend for yourself by taking County Road 625 East south of U.S. 36 in Avon.
But visiting Washington Township Park provides another and possibly better option if you want to truly see the bridge up close and get pictures.
Either park your car in the upper level of the park and walk down or drive through the upper level of the park and go down the hill under the bridge and park your car in the lower level of the park and walk back.
Despite all the scary legends, the bridge itself is quite beautiful and really provides some great views this time of year when the leaves are changing.