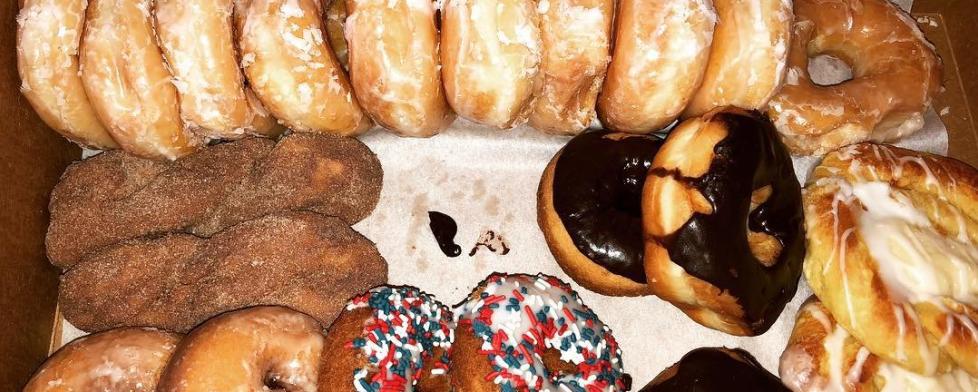 Did you know Hendricks County has some of the best homemade doughnuts money can buy? I'm so excited to write about one of my new favorite places - Hilligoss Bakery in Brownsburg, Indiana.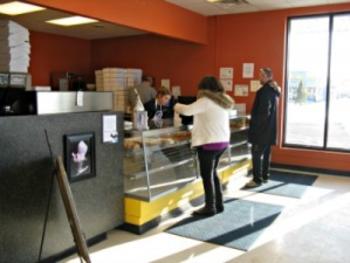 I'd heard and read so many good things about Hilligoss that I decided to check it out. I'm not one to get up early on Sundays, but on a recent Sunday I got up earlier than usual and headed to Hilligoss Bakery. If there are really good, homemade doughnuts involved, it's a reason to get up early.
Hilligoss Bakery is a locally-owned, full-service bakery and is located on Main Street (U.S. 136) in Brownsburg. They only accept cash and checks - so make sure you've got a few bucks on hand or your checkbook with you before you go.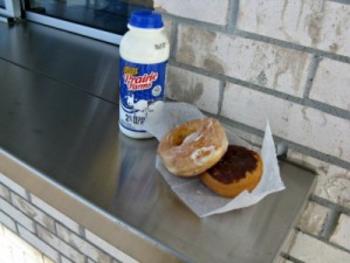 Because Hilligoss Bakery is so popular and I arrived a little bit later than I planned, they were already out of several kinds of doughnuts! I decided to order a glazed yeast doughnut and my favorite, a cake doughnut with chocolate frosting on top. Of course, I bought a small bottle of milk to go with my doughnuts. Homemade doughnuts and milk = a fantastic Sunday morning breakfast.
And the taste?
Awesome! To me, a warm homemade doughnut (freshly made!) is one of the best treats ever. I thought both doughnuts were very good, but the standout was the cake doughnut with chocolate frosting. It was warm and topped with gooey chocolate frosting. I can't stop thinking about how good those doughnuts were!
I definitely plan to go back soon and pick up a dozen doughnuts so my co-workers can sample them. Maybe I'll pick up a few cheese danish also!
What you need to know before you go
Hilligoss Bakery accepts only cash and checks. There are a few ATMs located a few minutes away.
Doughnuts are around 80 cents each and $7.99 a dozen. Danish are around $1.70 each. Besides doughnuts and danish, they also make cookies and cakes.
Weekend tip: Get there early before the doughnuts run out.
Something to look forward to: There are a handful of outside tables to enjoy your doughnut outside. Warm weather- hurry up!
Hilligoss Bakery
804 E Main St. Phone: (317) 852-7451 Hours: 6:30 a.m. to 6 p.m. Mondays; 6 a.m. to 6 p.m., Tuesdays–Fridays; 7 a.m. to noon, Saturdays; and 7:30 a.m. to noon, Sundays. Check
Hilligoss Bakery's Facebook page
for more information.  
Do you have a favorite doughnut or danish at Hilligoss? I'm planning to go back soon and would love a few recommendations. What other kinds of treats should I try there?