Take one step in Best Friends Coffee & Bagels in the Brownsburg Small Business Hub, and you will instantly notice the sense of community and fellowship. Juan Romero, the manager of day-to-day operations at Best Friends, has frequently been referred to as Norm from Cheers. His smile is guaranteed to brighten your day.   
How the Coffee Shop Came To Be 
In the mid to late 90's, Bob Goodpaster and Chico Mbanu met at Purdue University while playing rec basketball. As their friendship grew, they often talked about raising their children in the same neighborhood someday. 
When a job opportunity gave Mbanu a chance to move to the Indianapolis area, Goodpaster was sure to send him home listings in Brownsburg, the town where he settled with his family. While Mbanu's family settled in Zionsville, the families still spend a lot of time together.
Best friends, Goodpaster and Mbanu, have made it a yearly tradition to gather with their college buddies for a reunion on Dale Hollow Lake. The lake party was where the idea of Best Friends Coffee and Bagels was born. Over a game of cornhole, Goodpaster pitched the idea to Mbanu of opening a coffee shop in Brownsburg. Without hesitation, Mbanu was up for the challenge. Best Friends seemed to be the perfect name for this shared business venture. And the rest is history.   
More Than Just Coffee 
In the planning stages of the coffee shop, Goodpaster took to social media to see what the residents of Brownsburg wanted in a coffee shop. The overwhelming response was that they wanted bagels to go along with their coffee.
Best Friends Coffee and Bagels opened at 1060 E. Main St. in July 2018. Not only do they specialize in coffee drinks and offer an extensive menu, but whether you are dining alone, meeting friends or colleagues or ordering carry-out, this small business offers the ideal spot for coffee, bagels and much more! As an added bonus, police, fire, military/veterans and Brownsburg Community School Corporation students, teachers and staff receive a 10% discount at Best Friends.  
Here's a list of reasons to check out Best Friends Coffee & Bagels. 
Delicious Hot and Cold Drinks 
The expresso options are endless; vanilla latte was my flavor of choice. It was the perfect temperature, tasted just sweet enough and provided a nice caffeine buzz. Expresso drinks can be iced or hot.
Other tasty beverages at Best Friends include frappes, specialty drinks such as matcha, chai tea lattes and smoothies. You can even add a pre/post workout protein scoop to the smoothies. Pick-Me-Ups/Teas such as strawberry mango, a customer favorite, and blood orange passion fruit, Goodpaster's favorite, were a perfect non-coffee alternative for me. The Pick-Me-Ups reminded me of relaxing in the warm sun on a summer day and provided me with a boost of energy.
Food and beverage flights have become a popular trend for restaurants in the Indianapolis area. One of Goodpaster's claims to fame is that he is known for having created the concept for one of the first flights in the area. Each month the flights are created by Best Friends' dedicated staff. The team even adds flavored foam and a design to the assortment of beverages. Best Friends Coffee and Bagels has customers travel from hours away to try the monthly changing flights. 
The prices are very reasonable and all drinks except smoothies are available in three sizes. Click here for the full drink menu.
Large Selection of Breakfast and Lunch Items 
Breakfast items include sandwiches (with your choice of bagel) and biscuits and gravy.
Sandwiches consist of a wide variety of ingredients and are always fresh, not pre-made sitting in a warmer. Offerings include simple sandwiches like The Bulldog (egg, Canadian bacon and American cheese).
For those with a sweet tooth, I'd suggest the kid-friendly bagels inspired by Goodpaster and Mbanu's children. The Math Maddox (Cocoa Krispies and cream cheese on a cinnamon raisin bagel) was named after Goodpaster's son. Princess Sunshine, inspired by Goodpaster's daughter, Xarra, consists of Fruity Pebbles with strawberry cream cheese on a blueberry bagel. Mbanu's son, Agakha, was the inspiration for The Crazy Man. (Cinnamon Toast Crunch with honey cinnamon cream cheese on a cinnamon raisin bagel) 
I enjoy spicier foods, so I chose The Son-in-Law on a jalapeno bagel (fried egg, chorizo sausage, cheddar cheese, salsa picante and avocado). It was a wonderful combination of flavors, and the avocado was perfectly ripe.
Click here for the breakfast menu. 
The Lunch and Beyond portion of the menu also offers a variety of fresh sandwiches (with your choice of bagel). Most are meat and cheese based, such as, The Boiler Up (roast beef, mozzarella cheese, onion, and chive cream cheese) and The Pretty C (smoked beef brisket, cheddar cheese and horseradish cream cheese). A chicken salad sandwich was added to the menu, aptly named The Mother-In-Law.  They offer vegetarian options as well, such as The Best Friends Veggie and The JV (pesto, fire roasted tomatoes, mozzarella cheese, basil and olive oil).
Daily featured soups are made from scratch in-house and have become a customer favorite, especially on a cold day. 
Click here to view the lunch menu.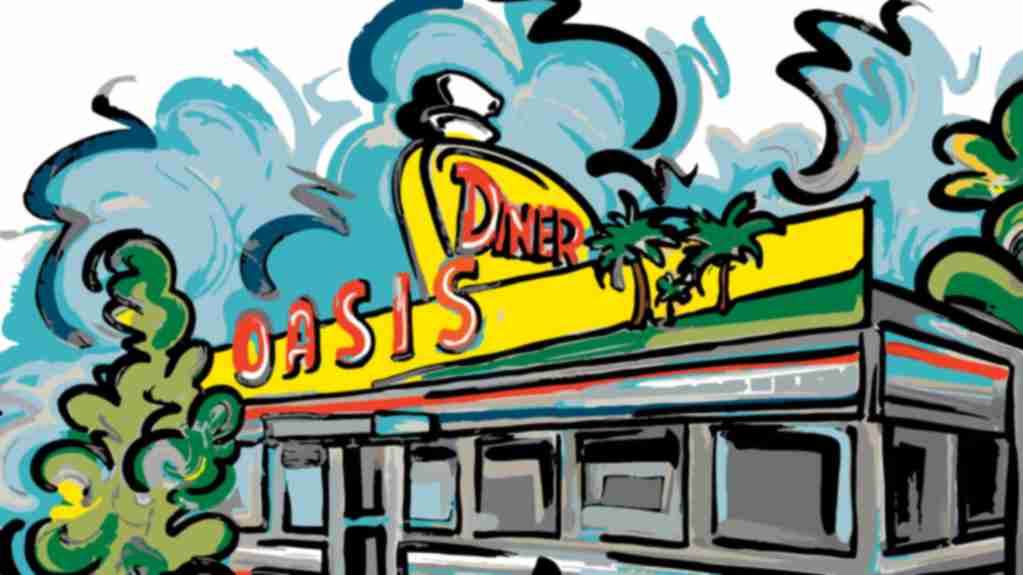 Free Visitor Guide!
Get your insider guide to all things Hendricks County by ordering a FREE Visitor Guide.
Cozy Ambience 
Whether alone or with a group, you will feel welcome inside Best Friends Coffee & Bagels. Orange and gray hues create a modern and inviting atmosphere. Signs celebrating coffee hang as part of the decor. My favorite says, First I have the coffee, then I do the things. 
The coffee shop is divided into three areas for customers to enjoy. During my visit, groups of friends gathered in a couple of the comfy seating areas with music playing softly in the background, and the TVs were muted with closed captioning. A couch and a big comfy chair are situated in the front of the main space with many bar top seats lining the front windows. A few booths and tables make up the rest of the interior seating.
Plenty of outlets are available for customers' devices. Wifi is free. If you are a fan of the outdoors, you can enjoy the fresh air during the warmer months on their patio. 
If you need space for a private event, a meeting room is available for large groups to rent. For more information, call Best Friends Coffee and Bagels at (317) 350-2185. 
Expansion 
Not only has Best Friends Coffee & Bagels recently added a third seating area for customers to seat 30+ guests, but by late spring/early summer of 2023, they will be expanding to their second location in downtown Indianapolis on the corner of W. Morris and Drover. This location will sell the same beverages and bagels that their customers adore, but it will also have a drive-thru. 
Stop by Best Friends Coffee & Bagels from 6 a.m. to 5 p.m. Monday-Friday and 7 a.m. to 5 p.m. Saturdays and Sundays to check out Brownsburg's one-of-a-kind, locally-owned coffee shop. The perfect place to load up on coffee, bagels and friendships!