Something I could never live without is my morning coffee, and let's face it, my afternoon coffee as well. Usually, I brew it at home. However, joining a friend for a cup of joe in a relaxing atmosphere is certainly more appealing.
Often, chain coffee shops don't offer this type of atmosphere. So, I was thrilled to hear about Best Friends Coffee & Bagels, a new, locally-owned coffee shop at 1060 E. Main St. in Brownsburg, Indiana. Not only do they specialize in coffee drinks and offer an extensive menu, but also provide a cozy ambience for customers.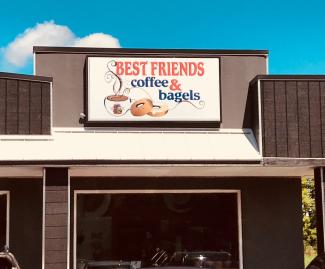 Before my first visit, I decided to peruse the menu for my food and drink choices. While looking it over, The Boiler Up bagel sandwich caught my attention.
As a Purdue University graduate, I knew that was a Boilermaker reference. Turns out co-owners, Bob and Chico, both attended Purdue. They met there more than 20 years ago and have been best friends ever since.
Hence, Best Friends Coffee & Bagels, seemed to be the perfect name for this shared business venture.
Whether you are dining alone, meeting friends or colleagues or ordering carry-out, this new shop offers the ideal spot for coffee, bagels and much more!
Here's a list of reasons to check out Best Friends Coffee & Bagels. 
Delicious Hot and Cold Drinks
Normally I'm a fairly mundane coffee drinker, just regular coffee and flavored cream. For the sake of this blog, I decided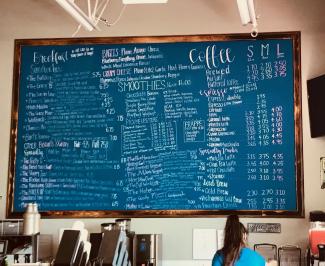 to indulge in a more exciting drink.
I choose an expresso, specifically a vanilla latte, that was the perfect temperature, tasted just sweet enough and provided a nice caffeine buzz. Expresso drinks can be iced or hot.
Other tasty beverages include frappes, specialty drinks such as matcha and chai tea lattes, Pick-Me-Ups/Teas such as iced ginger peach tea and iced green tea and smoothies. You can even add a pre/post workout protein scoop to the smoothies. 
The September drink of the month is a Toffee Butterscotch Latte. I'll definitely try that one before the end of the month! New to the menu is the Blue Lagoon Pick-Me-Up drink. It contains an orange citrus energy mix for the extra boost!
The prices are very reasonable and all drinks except smoothies are available in three sizes. Click here for the full drink menu.
Large Selection of Breakfast and Lunch Items
Breakfast items include sandwiches (with your choice of bagel), biscuits and gravy and waffles including red velvet and chocolate chip.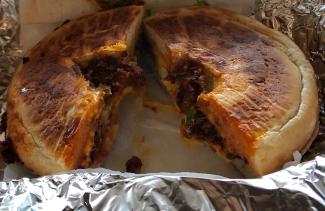 Sandwiches consist of a wide variety of ingredients and are always fresh, not pre-made sitting in a warmer. Offerings include simple sandwiches like The Bulldog (egg, Canadian bacon, and American cheese).
For those with a sweet tooth, I'd suggest The Math Maddox (Cocoa Krispies and cream cheese on a cinnamon raisin bagel). I enjoy spicier foods, so I choose The Son-in-Law on a jalapeno bagel (fried egg, chorizo sausage, cheddar cheese, salsa picante, and avocado). It was a wonderful combination of flavors and the avocado was perfectly ripe.
Click here for the breakfast menu. 
The Lunch and Beyond portion of the menu also offers a variety of fresh sandwiches (with your choice of bagel). Most are meat and cheese based, such as, The Boiler Up (roast beef, mozzarella cheese, onion, and chive cream cheese) and The Pretty C (smoked beef brisket, cheddar cheese and horseradish cream cheese).
They do offer vegetarian options as well, such as The Best Friends Veggie and The JV (pesto, fire roasted tomatoes, mozzarella cheese, basil, and olive oil).
Recently, a chicken salad sandwich was added to the menu, aptly named The Mother-In-Law.
Click here to view the lunch menu. 
Cozy Ambience
Whether alone or with a group, you will feel welcome inside Best Friends Coffee & Bagels. Soft orange and brown hues create a warm and inviting atmosphere. Signs celebrating coffee hang as part of the decor. My favorite says, First I have the coffee, then I do the things. 
The noise level is low with music playing softly in the background, and the TV's were muted with closed captioning. 
A couch and a big comfy chair are situated in the front, many bar top seats line the front windows and a few booths and tables make up the rest of the interior seating.
Plenty of outlets are available for customers devices. Wifi is free, and the password is posted below the cash register area. 
Would you like to enjoy the fresh, fall air during your visit? No problem, several tables are set up on the patio. 
Euchre Night
Join fellow card players for Euchre games from 6-7:30 p.m. every Saturday.
If you need space for a private event, a meeting room is available for large groups to rent. For more information, call Best Friends Coffee and Bagels at (317) 350-2185. 
Be sure to check out Brownsburg's newest locally-owned coffee shop to load up on coffee, bagels and friendships!