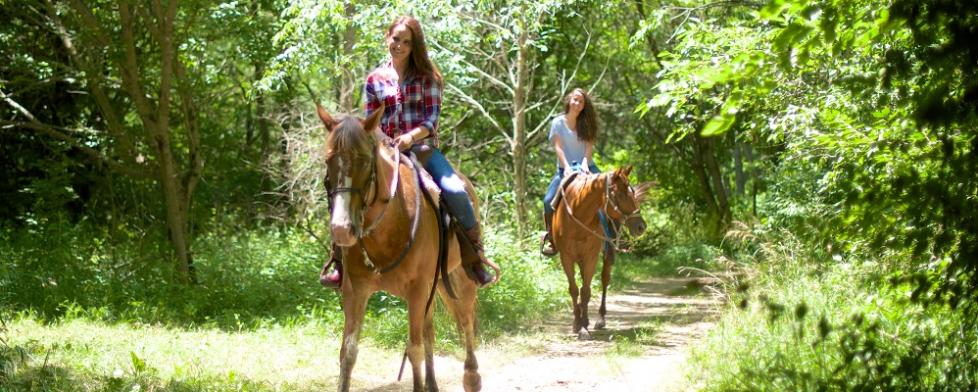 If the experience of riding a horse and taking a part of your day to relax and enjoy an opportunity to see some of the backwoods beauty that Hendricks County has to offer sounds good, I'd strongly recommend a visit to Natural Valley Ranch in Brownsburg.
Located just west of Ind. 267 at 6310 E. County Road 350 North, the ranch is open nearly every day of the year, weather permitting, and they have a stable of beautiful horses that are available for 30-, 60- and 90-minute guided trail rides.
But, before you head out to the ranch and saddle up, I talked to Owner Marie Damler to get some insight and compiled these 10 tips you'll want to know as you prepare for a visit.
'Natural' setting - Since purchasing the land nearly 10 years ago, Marie and her husband Chuck have done a remarkable job transforming the ranch's 78 acres from a property that was once used as a junk yard into a beautiful, sprawling backwoods preserve. The ranch features 50 acres of trails that stretch for several miles providing a tranquil environment that makes it seem like you are miles from civilization.
Expect to get dirty - While it may not be a surprise, the ranch is like any working farm or wooded area that you'll visit. The horses will safely carry you above the dirt, mud and water but you can and should still prepare for the possiblity of getting dirty. Horses may occasionally stop off for a snack, as Hawkeye did during my time at the ranch. But a staff member is always there to help keep you on the trail.
All ages welcome - Children as young as 3 are welcome to take a guided trail ride in a saddle 'seat' with an adult. For your safety, helmets are required for those under the age of 18 and everyone who rides is required to sign a waiver.
You're the driver - Unlike a lot of horseback riding facilities that follow the same exact path every day, you are shown how to hold and guide the reins for the horse you are riding at Natural Valley Ranch. In other words, you really are "driving," making every visit a different experience. That alone will make it fun for kids, who might be interested in learning more about horses and want to come back for another visit.
No "riding experience" necessary - Never rode a horse? Not a problem at Natural Valley Ranch. The trained staff are friendly, and as I discovered do a great job in making first-time riders feel right at home. In all, there are five staffers who are helped by a group of some 15 volunteers. If you want to learn even more, private riding lessons are also available at Natural Valley Ranch.
Experienced riders welcome - While Natural Valley Ranch does cater to us novice riders, their facility also features advanced trails for experienced riders. Horse owners are welcome to board their horses, which many do, at the Ranch for an additional cost, but the best part is those who board their horse there can ride the trails for free. If you own a horse but board it somewhere else, you can still ride their picturesque trails along White Lick Creek for just $10/visit or $30 a month.
Group friendly with overnight accomodations - In addition to the trail rides, the ranch offers a host of activities for field trips and Scout programs. Larger parties or families can even stay overnight for a one-of-a-kind experience at The Cottage at Natural Valley Ranch or The Cabin at Natural Valley Ranch. The ranch is also a popular destination for weddings and reunions.
Petting Zoo, Pony Rides - Every day when the ranch is open, you can visit the petting zoo or enjoy a Pony Ride for free! Donations and tips are welcome and appreciated to help support the ranch and its many activities, including a mentoring program that, in turn, helps young people learn how to care for - and even purchase - their own horse.
Gotta see "Hank" - In addition to nearly two dozen trail horses, there are free range chickens, ducks, an assortment of cats and various other animals who occupy the Ranch. And, there's Hank - a friendly pig that acts much like a family dog and certainly reminded me of the "Arnold the Pig" character from the 60's TV Series, Green Acres (I know I'm showing my age here, but you youngsters can look it up on YouTube...). While I was there, Hank even jumped a little bit and, for doing so, received a treat.
Open for Business - A 30-minute trail ride is $15 a person, 60-minute ride costs $30 and a 90-minute ride $40. Group rates are available for parties of six or more. You must make an appointment to ride the trails, but the hours are pretty flexible. For available ride times, you can call or text a message to (317) 509-3577 or call the office at (317) 852-6615. You can also visit their website.