One of the best holiday traditions has to be exploring light displays. A Hendricks County insider already covered the top light displays in Hendricks County, so I felt it was time to take it one step further by compiling the best holiday light displays in and within an hour of Hendricks County, Indiana, including a couple he mentioned in his previous post.
I tried to cover just the big ones here. I realize there are many amazing neighborhood displays throughout Central Indiana.
Many of the displays I cover below do charge an admission fee. The ones that don't I've marked below as free. I've also included the mileage from Danville, the center of our county, for each listing. I have not included hours or the cost. Click on the Learn More button for those details.
So, get out there and enjoy the magic of the season while you still can.
Winterland Holiday Light Show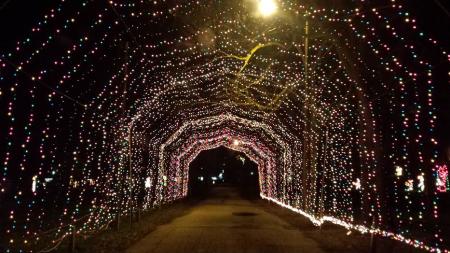 The Winterland Holiday Light Show continues to grow every year and has become an amazing holiday tradition.
Located in Ellis Park in Danville, Winterland features more than a million lights, a 30-foot-tall, lit Christmas tree synchronized to music that you can listen to on your car radio and a fun photo opportunity.
Santa Claus is also at the Train Station in Ellis Park on the weekends.
Distance from Danville: 0 miles
Christmas at the Zoo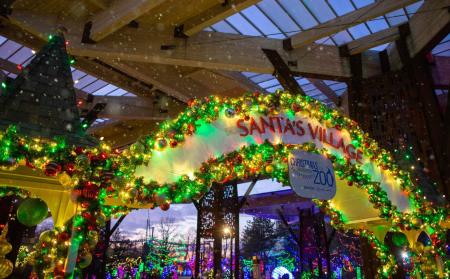 This is one of many families' favorite holiday traditions in Central Indiana. It is recommended when visiting the Indianapolis Zoo in December to arrive around 4:30 or 5 p.m. to witness the transformation as dusk arrives and the twinkling lights take over.
The zoo offers more than just the glow of the holiday lights in the winter. Make sure to stop for a visit with Santa Claus and his pretty young lady, Mrs. Claus, decorate yummy cookies, enjoy nighttime storytelling by holiday characters, Sprinkles and Holly, meander through the twists and turns of the mirror maze, and the list goes on.
An added bonus for adults is Tinsel Tavern that serves up holiday-themed cocktails featuring Hotel Tango spirits and wines from Daniel's Vineyard.
Distance from Danville: 19 miles
Monument Circle in Downtown Indy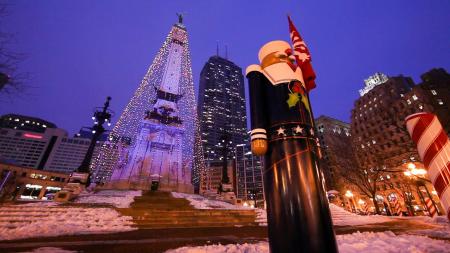 My family tries to make it an annual ritual to at least drive to the circle in downtown Indy in December to see this spectacle.
It truly is special to drive around the circle a couple of times to take in the scenery, but if you have the time and desire, parking and walking around the circle takes this experience to the next level. Nightly presentations are shown at 6:30, 8 and 10.
Distance from Danville: 20 miles
Free
Winterlights at Newfields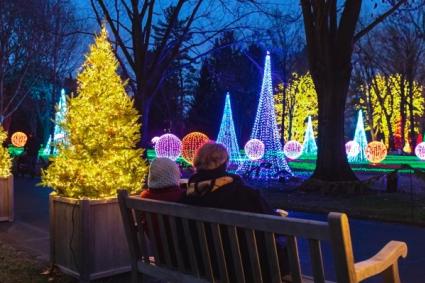 Full disclosure here, I have not yet experienced this walk-through light display, but it is on my family's bucket list. I have heard nothing but good things about this holiday experience.
Set outdoors on their magnificent property with mature trees and beautiful gardens in the shadow of the Lilly House, I've been told walking through this property with the lights glowing all around is truly breathtaking.
Tickets are selling out fast. However, the lights will remain until Jan. 2 with plenty of tickets still available after Christmas day.
Distance from Danville: 23 miles
Stay Updated!
Sign up to receive the Weekly Insider or Monthly Planner newsletters for events, things to do, discounts, insider info and more!
Christmas Night of Lights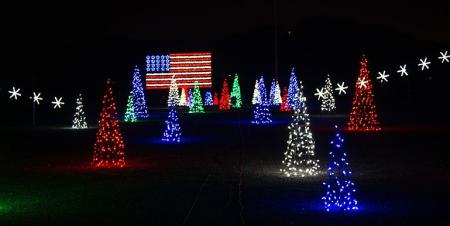 A must-see for my family is the Christmas Night of Lights, dubbed Indy's largest synchronized light show. Held annually at the Indiana State Fairgrounds, this drive-through display open through Dec. 31 allows participants to meander through the property in the comfort of their vehicle while the lights dance to the music being played on the radio. Carloads cost anywhere from $30 to $75 depending upon how many people are inside. Online reservations are required.
As avid Christmas Night of Lights' fans, we have found smaller crowds when attending the light show on a weeknight, early in the holiday season. 
Distance from Danville: 26 miles
Mooresville Christmas Lights Tour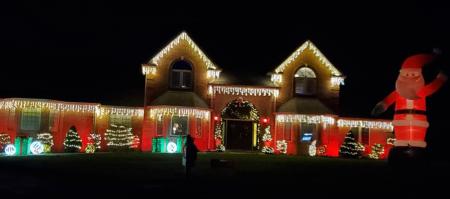 I'm told this tour boasts so many stops, more than 50 this year, that you may want to plan to go more than one night if you want to see it all. By participating, you can also help raise funds for local non-profits. Participants have the option to vote for their favorite displays by providing a donation. 
The light displays run from the first Friday in December through Dec. 31.
There are a couple of stops on this tour that have FM radio stations to accompany the lights, so watch for yard signs with that information.
Distance from Danville: 16 miles
Free (Donations accepted)
Winter Wonderland Festival of Lights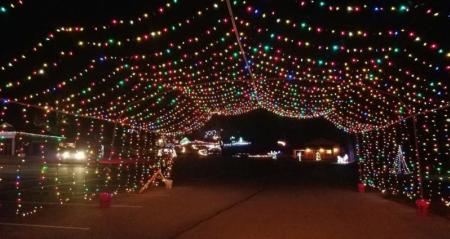 The Winter Wonderland Festival of Lights at Jimmy Nash City Park in Martinsville has become a holiday tradition in Morgan County. It is free though donations are welcomed. Look for Santa as you leave to find the donation box.
The display is located throughout the lower half of the park. You can drive through the display, or park and explore on foot. Santa's sleigh is always on hand for family photo opportunities, and the display does change from year to year.
I would also highly recommend heading up to the square and checking out the shops there particularly the Martinsville Candy Kitchen where they do make candy canes onsite but you should call to find out when. 
Distance from Danville: 30 miles
Free (Donations appreciated)
Jingle Bell Rock Light Tour
Jimmy Nash Park isn't the only game in town when it comes to light displays in Martinsville. The city also hosts The Jingle Bell Rock Light Tour, which has undergone a rebranding from the Cuppa Christmas Challenge of years past. 
This tour provides an online interactive map of homes decorated for Christmas in Central Indiana. Competition sign ups started Nov. 10 and close Nov. 26.
You can sign up as a Jingle Rocker to gain access to the map, which goes live on Dec. 1 and will remain until Dec. 31. Jingle Rockers are encouraged to vote for their favorite light displays and spread some Christmas cheer throughout the season! 
Distance from Danville: 30 miles
Free