It most definitely feels like the dog days of summer, but this post is really about the actual dogs -- specifically, all the fun that can be had with them in Hendricks County. I wanted to share a few places and events that will help you have a little fun with your furry, four-legged friends.
Brownsburg's Bow Wow Bash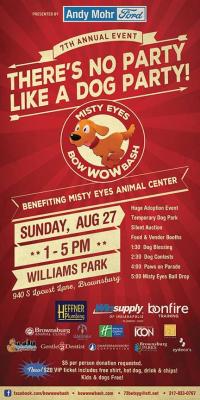 This summer festival is all about the dogs and is hosted by and benefits Misty Eyes Animal Center at Williams Park, 940 Locust Lane, Brownsburg. There is plenty of fun to be had by the whole family from 1-5 p.m. this Sunday, Aug. 27.
You'll find food trucks, vendor booths, tons of games, a silent auction and contests. Additionally, if you're looking to adopt a dog, this is an event you won't want to miss.
At 4 p.m. you can catch the spectacular "Paws on Parade" or better yet, bring your pup and walk in it. The event will close with the Misty Eyes ball drop at 5 p.m.
You can find more information and sign-up for contests here.
A true dog party. How awesome is that?
Puppy Pool Party at Splash Island
You read that right. It's a pool party for the pups. This is the 11th annual Puppy Pool Party at Splash Island, 651 Vestal Road, Plainfield. The party is so great, it spans the whole weekend of Sept. 9 and 10. Of course, Splash Island is always a guarantee when it comes to summer fun, but the opportunity to bring your sweet Fido? It can't get better.
Designated swim times are assigned based on weight. Small dogs are those 35 pounds and under. Large dogs, well, that's any dog over 35 pounds. On Saturday, small pups get the pool from 11 a.m.-noon and again from 2-3 p.m. Large dogs get their turn from 12:30-1:30 p.m.and 3:30-4:30 p.m.
If your Saturday is full, your small pups can swim from 1-2 p.m. and large dogs from 2:30-4:30 p.m. on Sunday.
Proof of current vaccinations is required. Call (317) 839-7665 to register and get more information. Admission is $10 per pup.
This pool party has become a tradition for many. Mark your calendars for this event, and make it your new end of-summer tradition.
Paw Street Bakery
Special events are always great, but there's good news. We have some year-around, pup-friendly attractions in Hendricks County, too. Head to Paw Street Bakery, 120 E. Main St., Plainfield, with your furry friend for some yummy treats.
As the name suggests, this bakery and shop celebrates and serves those with paws. Here, you'll find a vast selection of flavors, colors and sizes, something for every pup. They even stock a freezer of puppy frozen yogurt. What?
You'll also find a selection of pup gear and supplies.
Celebrating a special event and looking to include your pup? Want to give the kiddos a chance to get a special treat for your furry family member? You can special order a variety of treats.
Paw Street Bakery is open noon to 6 p.m. Tuesdays-Fridays, 10 a.m.-4 p.m. Saturdays and noon-5 p.m. on Sundays.
Dog Parks
Did you know that Hendricks County now boasts two dog parks? These parks offer a great opportunity for those looking to help their pup find some other four-legged friends, and those that need a little space to let their dogs run and play. Here are your options:
Paw Park - County Road 575 East, Avon. This was the first pup park in the county and is maintained by Washington Township Parks.  Annual membership costs $50 for one pup with a discount offered for additional dogs.
Bark Park - 1007 Longfellow Drive, Plainfield. This pup park is maintained by Plainfield Parks and Recreation. Members of the Recreation Center can get an annual Bark Park pass for $20 per pup. 
Both parks are well maintained and offer tons of year-around freedom and fun. Both require registration and proof of vaccinations for membership. Click on the links above for all the details.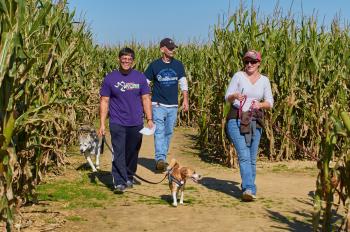 I realize this is still a few months away, but I couldn't leave out this fall favorite at Beasley's Orchard in Danville. On Oct. 28-29, the last weekend of the farm's annual 8-acre corn maze, Beasley's invites families to bring their dogs to enjoy the maze.
You can adopt a dog, participate in the pet costume contest, talent contest or many other activities. This annual tradition has become a family favorite, and raises money and awareness for local rescue groups.
Summer may be dwindling, but there is still plenty of fun to be had by all.
Happy dog days.