Fall is my favorite time of year in Indiana. I love to take pictures of my daughter outside in the fall. I love the colors, mums and pumpkins. Even though the leaves haven't turned yet (I'm sure we will have a follow-up story on places to find great fall color), I traveled around Hendricks County in search of great photo opportunities. Here are five places I suggest to take some great fall pictures: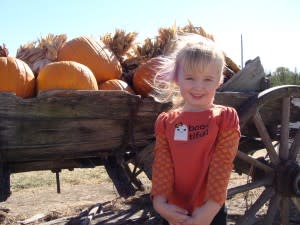 Beasley's Orchard and Gardens – 2304 E. Main St., Danville – We go to Beasley's every year for pictures. At Beasley's, you have several options such as pumpkins, apple trees and mums. I recommend visiting during the Heartland Apple Festival during the first two weekends of October. Also, be sure to try their award-winning apple cider. It is the best cider I have ever had.
Avon Gardens – 6259 E. County Road 91 North, Avon - You will have plenty of background choices when you visit the five acres of display gardens at Avon Gardens. These gardens are so beautiful that many couples get married there.
Avon Town Hall Park – 6570 E. U.S. 36 – You can always find great backgrounds at this park. But I was pleasantly surprised to see a great fall display at the Town Hall already. The front and back of the building are decorated for the season with hay bales, pumpkins and mums. While you are there, relax on the chairs that are set up as part of the display and enjoy the lake or take a walk and enjoy the fall colors.
Hummel Park – 1500 S. Center St., Plainfield – This 205-acre park offers plenty of great backgrounds from the trees to wooden bridge over White Lick Creek. I recommend packing a picnic and letting the kids play on one of the playgrounds while you are there. Then be sure to walk along one of the paved trails.
Arbuckle Acres – 200 N. Green St., Brownsburg – As we were scouting out a photo shoot area in Brownsburg, we discovered the water fountain at the entrance of the park. This actually can be a great spot for photos any time of year. But be sure to go back into the park to see the fall colors.
Do you have a favorite fall location to take pictures? If so, let us know in the comments section.