Editor's Note: The capacities mentioned below are without any restrictions. Please refer to state and local guidelines to determine the allowable number of people at the time you are planning your event.
As we ease back into life outside our homes, we face many changes. One of those changes is how we meet as a group and celebrate special occasions.  For now, we have to limit the size of our gatherings so that we can try to keep others safe. 
I've had the privilege of helping engaged couples along their journey to their dream day in Hendricks County for 10 years. If you have decided you want to host a smaller wedding or special event due to the current climate, here are some options in Hendricks County, Indiana:
1. The Hayloft at Beasley's Orchard
Everyone knows Beasley's Orchard for its fun Heartland Apple Festival, corn maze and amazing apples, but did you know they have a small venue upstairs in their barn? 
The Hayloft is available to rent now through the fall season. They host bridal showers, baby showers, corporate events, birthday parties, weddings and more. They have plenty of picnic tables on their front porch and yard, spaced 6 feet apart, that make great overflow space for events. 
People are encouraged to use the outside space to enjoy the beautiful weather while sipping on a delicious cider slushie made with their award-winning cider.
2. Ellis Park Train Station
We are fortunate to have many wonderful parks in Hendricks County. Danville Parks and Recreation manages several venues that offer a nice, economical option.
The Ellis Park Train Station has a full-size kitchen and fireplace, includes tables and chairs and has a capacity for up to 100 people. And since it's a park, I thought they didn't allow alcohol, but when I reached out for more information for this blog, I found out they do allow alcohol - as long as the planner obtains a permit. 
Check out this virtual tour of the Train Station:
Just a few yards away from the Train Station, you can also rent a gazebo. Depending on the time of year, you could have a ceremony in the gazebo and walk over to the Train Station for the reception.
3. The Blanton House
Danville Parks also boasts The Blanton House, which has been a wedding favorite for years. 
Traditionally people take advantage of the outdoor canopy they provide during the warmer months.
However, someone who wants an intimate reception in an old mansion, could choose to use the inside of this historic brick building surrounded by woods.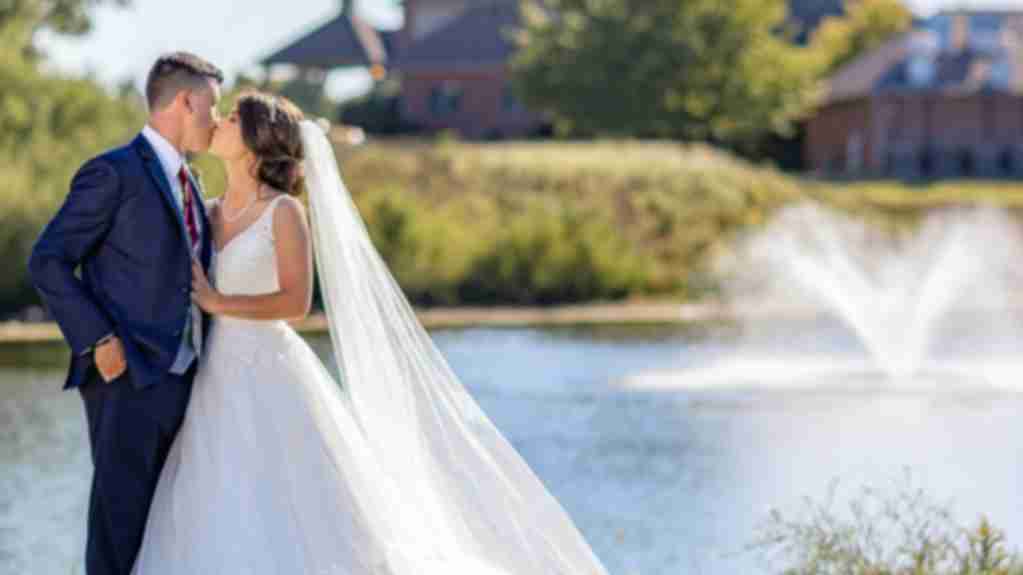 Free Wedding Guide!
Get your insider guide to all things Weddings in Hendricks County by ordering your FREE Wedding Guide.
4. Hummel Park
Another great park with wedding venue options is Guilford Township's Hummel Park in Plainfield. It even offers indoor and outdoor options for special events, but they do not allow alcohol. 
The Guilford Township Community Center is available year-round, and provides a great option for a wedding or a family reunion that provides a welcoming environment located near playgrounds, trails and a creek.
Hummel Park's outdoor facility, The Charleston Pavilion, is designed for weddings, company picnics and other large-scale outdoor events. It remains available for rentals taking place in the spring, summer and fall. I would suggest calling now to make a reservation for either location.
5. SpringHill Suites
A hotel that provides a nice option for a small wedding is the SpringHill Suites Indianapolis Airport Plainfield. 
The entire hotel was recently renovated and allows couples to use any caterer for events.
With doors that lead directly to an outdoor fire pit and patio with comfortable seating, you are able to expand your options for space to re-connect with friends and family in addition to the lobby bar throughout your stay.
6. Avon American Legion
If you are looking for a cozy, new building with nice rental space, you will find it here. The Avon American Legion opened in 2016 and offers a warming kitchen, TV, sound system and microphone. 
For a long time, I thought you had to know a member to hold an event in this non-smoking facility, but I learned that isn't the case. Anyone who is interested in renting the space can use it.
7. Interurban Depot
I must admit, the Interurban Depot in Plainfield is the only one on this list I've never visited. I have seen pictures and heard great things about it.
Built in the early 1900s, its original purpose was as a stop for Interurban passenger cars. It has been preserved and offers a full kitchen but only holds 50 people, and they do not allow alcohol.
It's great for bridal showers, baby showers and other family celebrations.
More Information/Help
If there is anything we can do to help you during your journey, please feel free to reach out and request more information. 
And if you do decide to get married in Hendricks County, we can help by finding the hotel room rates for out-of-town guests and by providing free welcome bags delivered to the hotel for those guests. Click here to request more information.