When my family moved to Hendricks County, Indiana, several years ago, we were unfamiliar with local parks or trails. As nature lovers, avid runners/walkers and "entertainment researchers" for the kiddos, it was necessary to seek out the best ones. 
Hands down, most locals suggested checking out Plainfield's trails system and parks located nearby. After visiting, we realized why it's so popular among Hendricks County residents and visitors.
I'll get to those reasons in a bit, but first, here's a quick explanation of how this trail/park system works.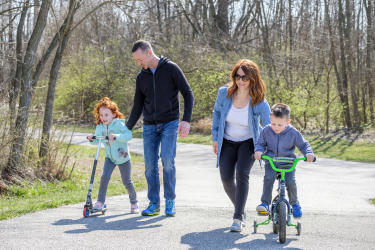 Plainfield's trail and park network is considered a linear system that extends along White Lick Creek, which runs North/South through the town. White Lick Creek Trail runs along the creek and links various parks and trails, such as the Vandalia Rail Trail. Secondary trails and other spurs ensure easy access to the trail system for Plainfield town residents.
Overall that's 20 miles of trails!
What Visitors Need to Know
Luckily for Plainfield visitors, the trail system is very easy to access and plenty of parking is available in the surrounding parks. I will have more on the three major trailheads and best places to park below.
But first, here are a few more reasons to visit and utilize Plainfield's trails system:
All 20 miles of trails are paved. It's perfect for cyclists, runners, walkers, rollerbladers and those with strollers.
Safety became paramount for the town as it planned its trail network. Trail users can get just about anywhere in town on the trail system, while rarely crossing busy roads or intersections. 
It's simple to navigate. Large maps can be viewed at various trailheads and along the trails. 
Natural surroundings offer beautiful views of wooded areas, creeks and wildlife.
People of all ages have something to enjoy throughout the trail system, such as playgrounds, gardens and historic bridges.
It's convenient to shops and restaurants. Plainfield Town Center is within walking distance and The Shops At Perry Crossing is a short drive.
Click here for a map of Plainfield's trail system.
As promised, three major trailheads help serve as ways for visitors or even locals who don't live near a trail to access it. I have also tried to include points of interest located near each one.
Distance goals for your walk/run/bike may influence where you want to start and finish. I've started at each trailhead and enjoy all of them equally. 
Franklin Park 
Plainfield's oldest park serves as a major trailhead as the White Lick Creek Trail and Vandalia Rail Trail meet near the park, 300 N. Mill St. Several parking lots and restroom facilities are available. Amenities in this 35-acre park include playgrounds, tennis courts and baseball diamonds.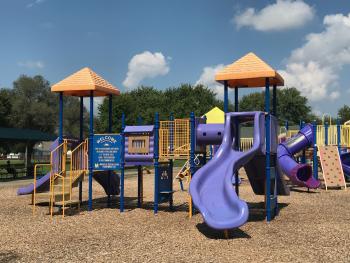 The Vandalia Rail Trail runs for 1.6 miles west of the park. Wooded areas, newer residential subdivisions and the Richard A. Carlucci Recreation and Aquatic Center are located along the trail.
Parking also is available to access the trail at the recreation center. Talon Stream, a secondary trail totaling a half mile, is north of the recreation center.
Going east from the Franklin Park trailhead, the Vandalia Rail Trail continues for 2.7 miles. It begins in Franklin Park, meanders through older neighborhoods, connects to Robert M. Ward Park and leads to wooded areas. 
The White Lick Creek Trail runs south along the creek and has several points of interest on this portion of the trail. The Plainfield Pedestrian Bridge offers beautiful creek views and leads to Duke Energy Gardens. This serene area offers picnic tables, benches, colorful gardens and a short wooded trail.
U.S. 40 is just a few steps away where you can check out Plainfield Town Center. This quaint downtown offers restaurants and shops. Local favorites, Oasis Diner and Al's Donuts, are located just off the trail. 
The White Lick Creek Trail continues south to Friendship Gardens Park. The distance from Franklin Park to Friendship Gardens is about 1 mile.  
Friendship Gardens Park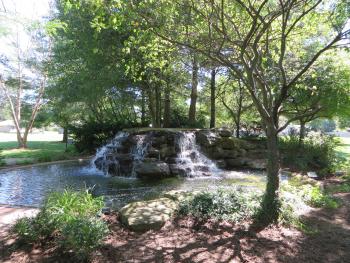 This is a can't-miss stop along your trail adventure. Once you cross the historic iron truss bridge, a relaxing oasis greets you. Enjoy the beautiful stone waterfall area, attractive gardens and a veteran's memorial. Parking is available at this trailhead, 850 S. Center St.
The next trailhead is located in Hummel Park, which is 1 mile south of Friendship Gardens on Center Street. You will notice a few parks along the way. Swinford Park, 1007 Longfellow Drive, is across the street and offers playgrounds, tennis courts, and a horseshoe pit. Plainfield Middle School and the library are located behind the park and can be accessed by secondary trails. A small Bark Park is located near Swinford Park. Parking is available.
Anderson Park (Home of the Skate Park), 1050 S. Center St., boasts open green space, a fit trail (various benches and equipment for exercises) and a skate park. The Skate Park is open April-October and provides ramps, rails and boxes for skateboards, rollerblades and bikes. 
Hummel Park
As you continue south on Center Street, you will see the entrance to Hummel Park. Ample parking is available. Follow the track to the west side of the park to find the trailhead. The track (1.1 mile) surrounds the park and encompasses a newly renovated playground, splash pad, athletic fields and a disc golf course.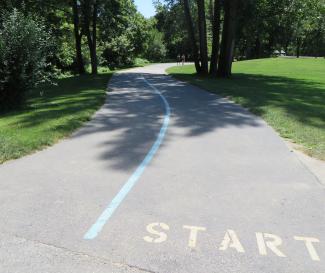 Red Maple Path bridge spans White Lick Creek and leads to two paths, the Cottonwood (.5 miles) to the north and Blue Heron (2 miles) to the south.
Blue Heron Path offers small paths to the creek, views of natural beauty and wildlife and leads to Blue Heron Lake. Also, this path caters to runners/walkers with start/finish lines and mile markers labeled on the trail. Blue Heron Lake is basically the last stop on this route forcing you to turn around after admiring the water views. 
White Lick Creek Trail continues south on Center Street to Hadley Road, where it ends. It's almost 1 mile from the Hummel Park entrance to Hadley Road.
If you want to continue your walk/run/bike ride, go east on Hadley Road to connect to the Clarks Creek Trail (4.2 miles). It meanders through various residential neighborhoods. 
The Plainfield Trails System provides a great way to explore the area! Visitors of all ages will enjoy the amenities of all the parks and trails!