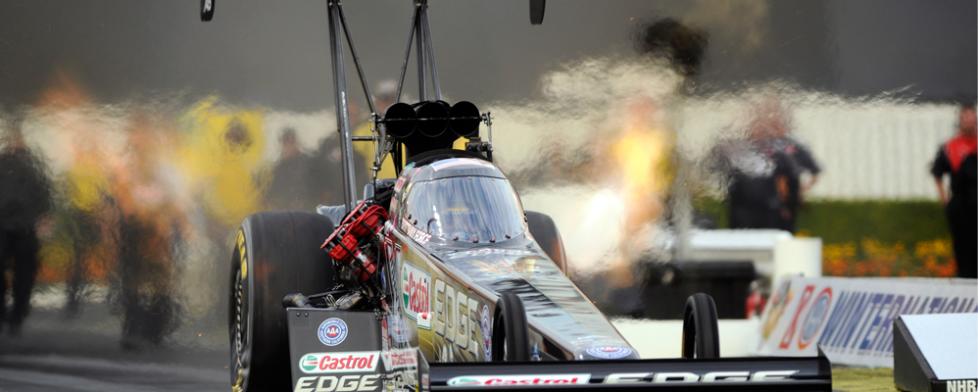 The National Hot Rod Association (NHRA) brings signature event -- the Chevrolet Performance U.S. Nationals -- to Lucas Oil Raceway in Brownsburg, Indiana, from Aug. 28 through Sept. 2, 2019, and we have everything you need to know and discounted tickets.
Whether you're a devoted nitro-in-your-veins racing enthusiast, a first-time visitor or anything in between, here are 10 things to know about this year's NHRA Chevrolet Performance U.S. Nationals.
The Big Go Block Party
Get the celebration of everything racing started early by heading to Brownsburg Town Hall on Tuesday, Aug. 20 from 6 to 8:30 p.m. for The Big Go Block Party.
See Top Fuel dragsters, Funny Cars and Pro Stock cars and motorcycles up close. Meet your favorite NHRA drivers and get their autographs. Enjoy the cruise-in hot rod show. Test your driving skills on the Pennzoil driving simulator. Rock out to live music, let the kids jump their energy out in the bounce houses and much more!
This family-friendly event is absolutely free to attend, and it's always a huge hit. Click here for more details.
Just the Facts
So you want me to get right to the point about the NHRA Chevrolet Performance U.S. Nationals, huh? No problem.
First Responders Get Discounted Tickets
I really love what the NHRA is doing -- honoring the first responders who rush to the aid of those in need during emergencies.
Their program called NHRA Salutes First Responders provides discounted tickets to medical professionals, law enforcement officers, firefighters, members of the armed forces and a number of other professions charged with the safety and well-being of the public.
If this applies to you, thank you very much for your service, and click here to learn how to get discounted tickets to U.S. Nationals.
Let's Go Camping!
If you've got an RV, camper or tent that you'd like to stay in during U.S. Nationals, you have three camping options -- trackside RV parking (less than 80 feet from the drag strip!!), camping on the grounds of Lucas Oil Raceway and camping across the street from the track at Raceview Family Campground.
For more information about camping options, click here.
(If your idea of camping is staying in a hotel, click here for a list of hotels in the area.)
Nitro Qualifying
There are race fans like my father-in-law who want to be at U.S. Nationals for every second of every day because he knows every driver's middle name, can rattle off stats from qualifying sessions 35 years ago and knows the specs of every lug nut on every vehicle at the track.
Then, there are race fans like me who just like to watch stuff go really fast.
If your fandom level leans more toward mine, here are the times that Nitro Qualifying will take place -- where you can witness 10,000-horsepower Nitro dragsters fly down the strip at speeds topping 300 mph, sending your heart up into your throat.
Friday, Aug. 30 at 8 p.m.
Saturday, Aug. 31 and Sunday, Sept. 1 at 2 and 5 p.m.
Wear Ear Protection
For the love of everything holy, wear ear protection. These dragsters are unbelievably loud.
I made the mistake a few years ago of absent-mindedly leaving my ear protection hanging around my neck when John Force stomped on the accelerator, and it took a week for my brain to stop rattling around inside my skull.
I'm pretty sure the thunderous avalanche of sound that slammed into my unprotected ears stopped time briefly and knocked a few dozen points off of my IQ. I definitely had to purchase a new pair of britches afterward.
Wear ear protection!
Race Day
If you want to be there to see the top 16 qualifiers battle it out in each class for the NHRA Chevrolet Performance U.S. Nationals championship, Monday, Sept. 2 is the day to be at Lucas Oil Raceway.
Pre-race ceremonies begin that day at 10 a.m. and then the first round of eliminations begins at 11 a.m. The Finals begin at 3 p.m. Of course, all times are approximate and could change.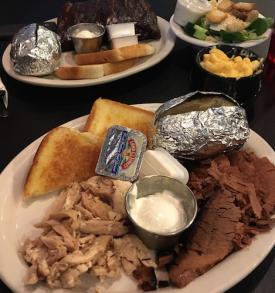 Great Food, Racing Theme at Pit Stop BBQ & Grill
On your way to or from Lucas Oil Raceway, there is a restaurant near the track that I highly recommend: Pit Stop BBQ & Grill. Race fans will love the racing theme of the establishment, and everyone will love their fantastic food.
Click here to learn more about Pit Stop BBQ & Grill from my fellow blogger, Kelly Wallace.
Discounted Tickets
In case you missed it above, you can purchase discounted tickets that are exclusive to readers of this blog by clicking here.
See you at the track!