The National Hot Rod Association (NHRA) brings its signature event -- the Denso Spark Plugs NHRA U.S. Nationals -- to Lucas Oil Raceway in Hendricks County, Indiana, from Sept. 3-6, 2020, and we have everything you need to know, plus discounted tickets!
Of course, we'll also discuss the elephant in the room: COVID-19.
Whether you're a devoted nitro-in-your-veins racing enthusiast, a first-time visitor or anything in between, here are 10 things to know about this year's Denso Spark Plugs NHRA U.S. Nationals.
Just the Facts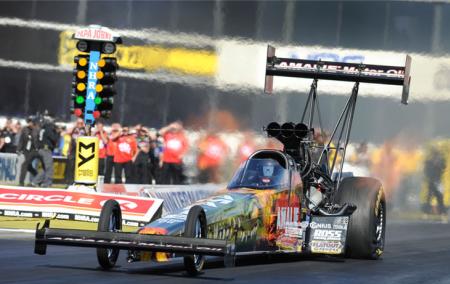 So you want me to get right to the point about the Denso Spark Plugs NHRA U.S. Nationals, huh? No problem.
Labor Day Weekend, Sept. 3-6, 2020 (A more condensed schedule than normal. More on that below.)
Ticket prices vary by day and by where you want to sit (click here for a full list of ticket prices)
General admission for kids age 12 and under is free
Every ticket is a pit pass (with some modifications due to COVID-19)
Military and first responders: click here for discounted tickets
COVID-19 Changes at the Raceway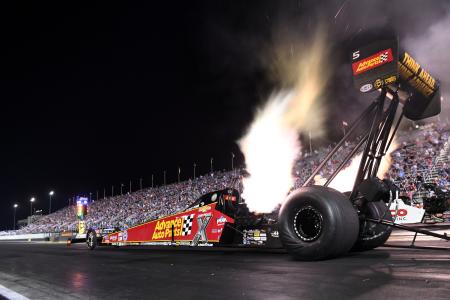 There will be some noticeable changes to this year's event due to COVID-19, but if we all follow a few additional rules as cheerfully as possible, everyone can enjoy several days of racing. Not a bad trade-off, right?
First, this year's U.S. Nationals will have a condensed schedule, starting a day late and ending a day early, with no racing on the traditional Labor Day Championship Monday.
Second, everyone 2 years or older must wear a mask or a cloth face covering that covers the nose and mouth while at Lucas Oil Raceway. I have yet to meet anyone who enthusiastically says, "You know what? I love wearing masks or cloth face coverings!" I totally understand how unpleasant they are to wear, especially while also wearing glasses. But I'll sure take wearing a mask over not having any racing!
Third, everyone must submit to a non-contact temperature check prior to entering Lucas Oil Raceway. Anyone with a temperature of 100 degrees Fahrenheit or above will not be admitted. If you are sick or not feeling well, please do not attend. You may be asked health-related questions, too, when you arrive.
Fourth, everyone must maintain 6 feet (or 2 meters) of distance between their party and others. I think we're all pretty darn familiar with social distancing at this point, so let's keep it up and stay healthy.
Finally, NHRA has a really good set of information about rules, safety measures, and other good stuff to know before you go on their Back on Track page.
COVID-19 Changes in the Pit Area
NHRA drivers and crew members want to stay healthy, too, so some changes have been implemented in the pit area, too.
There will be no hugs, fist bumps, handshakes, or any other contact allowed between fans and drivers or crew members. Please maintain 6 feet (or 2 meters) of social distance between yourself and others while in the pit area.
Also, drivers will be using pre-signed hero cards this year instead of autographing items upon request.
COVID-19 Changes in Hendricks County
Here in Hendricks County, as with everywhere else, we've had to adapt to some changes in everyday life, thanks to COVID-19.
Are you wondering about special requirements at various places? Are you looking for a dine-in restaurant, or are you more comfortable with takeout, instead? Would you like to know what local businesses, including hotels and restaurants, are doing to keep everyone as safe as possible?
Then you'll be very interested in checking out Visit Hendricks County's webpage with local COVID-19 guides and all sorts of additional valuable information ahead of your visit during U.S. Nationals.
Military and First Responders Get Discounted Tickets
I really love what the NHRA is doing -- honoring those who serve and protect our country, as well as the first responders who rush to the aid of those in need during emergencies.
This program provides discounted tickets to medical professionals, law enforcement officers, firefighters, members of the armed forces and a number of other professions charged with the safety and well-being of the public.
If this applies to you, thank you very much for your service, and click here to learn how to get discounted tickets to U.S. Nationals.
Let's Go Camping!
If you've got an RV, camper or tent that you'd like to stay in during U.S. Nationals, you have three camping options -- trackside RV parking (less than 80 feet from the drag strip!!), camping on the grounds of Lucas Oil Raceway and camping across the street from the track at Raceview Family Campground.
For more information about camping options, click here.
(If your idea of camping is staying in a hotel, click here for a list of hotels in the area.)
Wear Ear Protection
For the love of everything holy, wear ear protection. These dragsters are unbelievably loud.
I made the mistake a few years ago of absent-mindedly leaving my ear protection hanging around my neck when John Force stomped on the accelerator, and it took a week for my brain to stop rattling around inside my skull.
I'm pretty sure the thunderous avalanche of sound that slammed into my unprotected ears stopped time briefly and knocked a few dozen points off of my IQ. I definitely had to purchase a new pair of britches afterward.
Wear ear protection!
Race Day
If you want to be there to see the top qualifiers battle it out in each class for the Denso Spark Plugs NHRA U.S. Nationals championship, Sunday, Sept. 6 is the day to be at Lucas Oil Raceway. Please note that this is one day earlier than the traditional championship competition on Labor Day.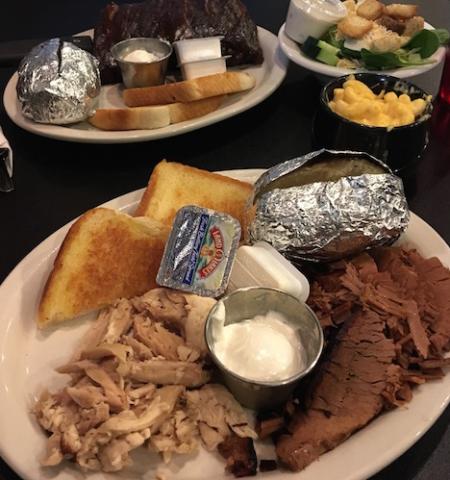 Great Food, Racing Theme at Pit Stop BBQ & Grill
On your way to or from Lucas Oil Raceway, there is a restaurant near the track that I highly recommend: Pit Stop BBQ & Grill. Race fans will love the racing theme of the establishment, and everyone will love their fantastic food. After checking the handy Visit Hendricks County Reopening Restaurant Guide, I learned that Pit Stop is currently offering both carry-out service and limited dine in.
Click here to learn more about Pit Stop BBQ & Grill from my fellow blogger, Kelly Wallace.
Discounted Tickets
In case you missed it above, you can purchase discounted tickets that are exclusive to readers of this blog by clicking here.
See you at the track!