Autumn, one of the most popular seasons in Hendricks County, Indiana, and my personal favorite time of year, has arrived.
What is there not to love about fall? We have the changing leaves, the cooler temperatures and of course some fantastic family-friendly festivals and events.
So, without further ado, here's our lineup of great festivals and events that give you every reason to visit Hendricks County this fall.
Sunflower Festival 
Beasley's Orchard in Danville is excited to invite you to their second annual Sunflower Festival from Sept. 10-19!  
Spend a day exploring seven acres of sunflowers at your leisure while also picking your own stems. Admission of $5/person includes one stem, but you can choose to pick a few more stems or a whole bucket of blossoms!
There are a limited amount of buckets, so you can purchase them ahead of time or upon arrival while supplies last. Additional stems may be purchased upon arrival.

For more information about the Sunflower Festival, click here.
Quaker Day Craft & Community Festival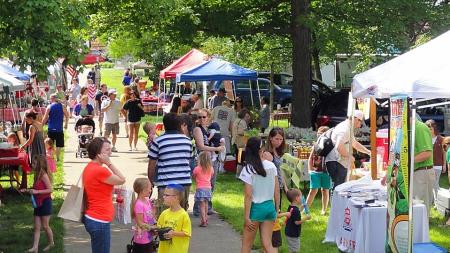 On Sept. 18, the Plainfield Friends Meeting Church hosts the Quaker Day Craft & Community Festival to celebrate the town's heritage.
Craft and community vendors will set up on the church's front lawn, and there will be food trucks there for hungry festival-goers as well as a car show.
A parade also marches through the heart of Plainfield at 10 a.m.
To learn more about Quaker Day, click here.
National Alpaca Farm Day Open House 
Did you know that we have alpacas in Hendricks County? Every year the Montrose Farms Alpaca Ranch, located in Brownsburg, hosts this event to educate the public about these beautiful animals. This year's event is planned for Sept. 25 from 11 a.m. to 3 p.m.
The event features tours of the farm, fun activities, up-close interactions with the friendly alpacas and more. Admission is $5 a person.
For more information, click here.
Avon Community Heritage Festival 
The Avon Community Heritage Festival has always been about creating a fun, family-friendly atmosphere where kids and adults can enjoy a day outside among friends and others in the community. This year's annual event takes place Sept. 25 at Washington Township Park in Avon.
The fun begins with the "Hue Are Essential" 5K Color Throw and Fun Run, followed by a trivia contest and a concert by Crowd Therapy. There will also be craft and business vendors, food trucks, a beer garden, a chance to connect with local officials on Democracy Row and fireworks to close the night.
To learn more about the Avon Community Heritage Festival, click here.
Beasley's Heartland Apple Festival 
One of the biggest and most popular fall festivals in Hendricks County, the Heartland Apple Festival at Beasley's Orchard in Danville will take place this year on the weekends of Oct. 2-3 and 9-10. 
This can't-miss fall tradition includes hayrides to the pumpkin patch, bounce houses, barnyard bonanza family activity area, face painting, a corn maze, food, entertainment, arts and crafts, wine tasting and much, much more.
Oh, and they have some apples there, too, including a u-pick section, apple cannons and make sure you try their award-winning apple cider.
For more information, click here.
Scarecrow Display 
Every year, scarecrows line the lawn on all four sides of the Hendricks County Courthouse in Danville during the month of October.
Families will truly enjoy checking out each and every scarecrow as the creativity by local organizations and individuals is truly amazing.
The display will remain on the Courthouse lawn from Oct. 3-29.
Nehemiah Ranch Fall Harvest Days 
Bring the entire family out to this 34-acre, secluded ranch for hayrides, a bonfire, hot dogs, s'mores, live music and pumpkins for kids ages 12 and under out of the pumpkin patch right there on the property.
Fall Harvest Days is free, but they do encourage donations of $5 a person or $25 a carload as they depend on donations to stay open. This ongoing event will be held three consecutive Saturdays on Oct. 2, 9 and 16.
McCloud Fall Colors Festival 
The foliage in Hendricks County explodes with color in the fall, and one of the best places in the state of Indiana to view fall foliage is at McCloud Nature Park, just south of North Salem.
On Oct. 19, make a point of visiting the McCloud Fall Colors Festival from 10 a.m. to 3 p.m. and try your hand at archery, throwing an atlatl (an ancient hunting weapon) or climb a tree.
You can also tackle the McCloud Prairie Maze, go on a hayride for a nominal fee, try an apple cider press, hike the trails and savor all kinds of tasty goodies.
For more information, click here.
Beasley's Dog Daze at the Maze 
Dog lovers will enjoy the annual Dog Daze at the Maze at Beasley's Orchard in Danville on Oct. 16-17.
Dog owners are encouraged to bring their canine companions to explore the corn maze, compete in a costume contest, take a hayride, adopt a pet and much more.
Families can also enjoy face painting, inflatables and the Barnyard Bonanza in addition to the usual fall activities at Beasley's.